Focus on the Family's Christian magazine The Daily Citizen was locked out of its Twitter account for a post that the social media giant accused of violating the platform's rules.
The alleged violation involved a quote from one of The Daily Citizen's articles that reported on Dr. Rachel Levine, President Biden's nominee for the Assistant Health and Human Services Secretary, who is transgender. Zachary Mettler, a staff writer for The Daily Citizen, wrote that "Dr. Levine is a transgender woman, that is, a man who believes he is a woman" in the lead paragraph of the article. A paraphrase of the paragraph was posted on Twitter and used to promote a link back to the full article.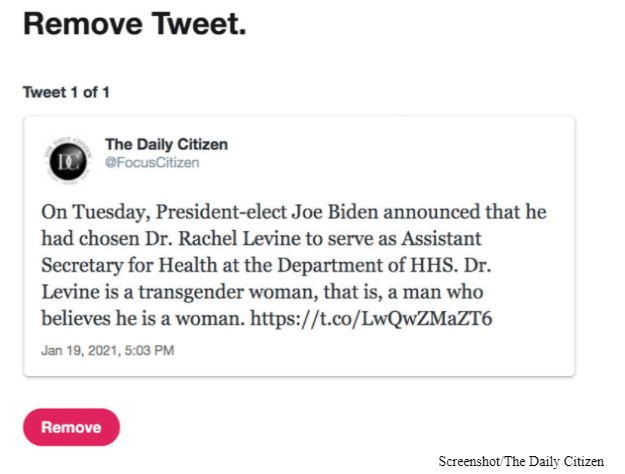 The Daily Citizen was sent an email from Twitter indicating their account had been locked because they violated Twitter's rules, which resulted in the magazine having to delete the tweet.
According to The Daily Citizen's article regarding the incident, the email from Twitter read as follows:
"Hi The Daily Citizen, your account, @FocusCitizen has been locked for violating the Twitter Rules. Specifically for: Violating our rules against hateful conduct. You may not promote violence against, threaten, or harass other people on the basis of race, ethnicity, national origin, sexual orientation, gender, gender identity, religious affiliation, age, disability, or serious disease. Please note that repeated violations may lead to a permanent suspension of your account," the email warned. "Proceed to Twitter now to fix the issue with your account."
The Daily Citizen appealed the violation sending Twitter an email that said:
We are writing to appeal Twitter's decision and contend we have operated within your organization's regulations. We did nothing of the sort…The tweet pointed to an article at our news outlet, The Daily Citizen, explaining the appointment and Dr. Levine's controversial history in dealing with the COVID-19 pandemic as Pennsylvania's Health Secretary.
Numerous outlets reported on Levine' appointment – including President Biden's White House – noting Dr. Levin's transgender identification. Many of the articles and tweets explained that Dr. Levin was born male, believed he is really a woman, had surgery and opposite-sex hormones, and now identifies as a woman.
Our tweet does not 'promote violence against, threaten, or harass' Dr. Levin.
Yet, we are deeply puzzled about how it was misconstrued to do so. Nowhere in our tweet or article did we encourage such action. As a Christian organization, we would never do so. We simply explained to our readers the appointment and defined what transgender women are – those born male who believe they are a woman, regardless of whether they have had opposite-sex hormones or surgeries.
We believe Twitter's blocking of this tweet and lockdown of our account discriminates against Focus on the Family's The Daily Citizen on the basis of our religious affiliation.
The Daily Citizen contests Twitter's characterization of our message and appeals this decision.
Twitter responded to the appeal concluding that "Our support team has determined that a violation did take place, and therefore we will not overturn our decision…" The social media giant gave instructions of how to restore their account after they delete the tweet calling transgender Dr. Rachel Levine a man which they claim violates their 'hateful conduct policy'.
The policy, which was implemented in 2018, says, "We prohibit targeting individuals with repeated slurs, tropes or other content that intends to dehumanize, degrade or reinforce negative or harmful stereotypes about a protected category. This includes targeted misgendering or deadnaming of transgender individuals."
The Daily Citizen reported this wasn't the first time they had been censored for posting on social media platforms. Facebook censored them in October of last year for posting an article about masks. YouTube also censored them by removing a video they posted earlier this month that included President Donald Trump's remarks claiming voter fraud.