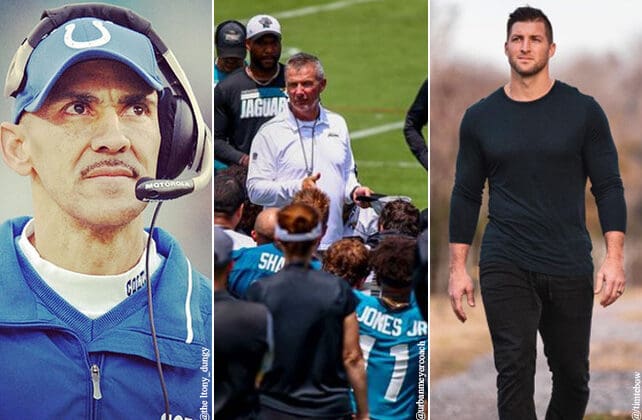 ESPN football analyst and former NFL quarterback Tim Tebow shared his thoughts after seeing his close friend and former college coach Urban Meyer in a compromising bar video. In the video, Meyer can be seen dancing inappropriately with a young woman.
Tim Tebow's Advice to Meyer
Tebow called the situation "disappointing" and "heartbreaking" as he spoke with ESPN's First Take hosts Molly Qerim Rose and Stephen A. Smith last Friday.
"My heart was hurting for Miss Shelley [Urban Meyer's wife]," Tebow shared.
"[Shelley] is someone I love very much and [Meyer's] daughters are whom I am very close with," the former NFL quarterback said, adding that he had spoken with all of them after the news broke.
Tebow's advice to Meyer was: "Apologize. Admit it. Learn from it. And to never, never repeat it." The coach told Tebow that this has been "one of the hardest times of his life."
"This has weighed so heavy on his heart, and he is hurting," Tebow said.
Related article: Respected Christian Football Coach Urban Meyer Caught in Compromising Video
Tebow then explained that Meyer will need to earn back trust and respect in the locker room with some of the Jacksonville Jaguars' players, adding that Meyer is determined to do so.
"This is not something that anybody in his family takes lightly," Tebow said. "This is a very serious situation [and] a very disappointing situation."
Tebow shared that he believes that the coach "wants to make amends," which will be very hard and take time.
"Giving Coach a chance to earn that respect back is something I want to do because of how much I love Coach and his family," Tebow said. "But at the same time, not condoning those actions — [I want to be] someone that gives people a chance to change, to grow, to be able to earn back that trust and respect."
"A reputation takes a lifetime to build and a moment to lose." – Tebow
"I'm praying for them in this hard time, because it's so much bigger than football will ever be," the former first-round draft pick told the First Take hosts.
Tebow tried out for the Jacksonville Jaguars' tight-end position this past offseason, attempting to make an NFL comeback. Had Tebow made the roster, he would have been reunited with his Florida Gators coach. Meyer and Tebow previously won two National College Championships together.
Related article: Gene Simmons Defends Tim Tebow, Slams His Critics in Viral Tweet: "Shame on the NFL & Rest of the World"
This is Meyer's first year of coaching in the NFL. He was a head coach for four different college teams across 17 years. During that time, he had an overall record of 187 wins and only 32 losses. This season, the Jacksonville Jaguars are currently 0-5. Last year, prior to Meyer taking over as head coach, the team went 1-15.
Tony Dungy's Reaction
Tony Dungy won a Super Bowl as a player with the Pittsburgh Steelers in 1979 and as the Indianapolis Colt's head coach in 2007. The Hall of Fame coach is open about his faith and recently spoke out on social media about President Biden's pro-choice policy stance.
Dungy is the author of a number of marriage and leadership books, and he criticized Meyer's lack of leadership, which placed him in the compromising position that resulted in the viral video.
"I played football for probably 16 years, total. I coached for 28 years," Dungy told host Michael Holly on Brother From Another. "I never went to a game where the head coach didn't come back with my team. Me and myself for 13 years as a head coach, 15 years as an assistant, 15 years playing. When the head coach went to a game, when we returned, the head coach came back with us. I just don't know how you do that."
Arguing that Meyer's failure was in not being there for his players, Dungy said, "That was the mistake to me!"
"What happened in the bar or whatever, that's secondary. You go back with your team," Dungy explained. "We finish by getting home. It's your responsibility as the head coach to make sure everybody lands on that plane safe [and] everybody gets back to the facility. Then you do what you have to do."
Trevor Lawrence Responds
During the Jacksonville Jaguars' media press day,starting rookie quarterback Trevor Lawrence responded to questions regarding Meyer's inappropriate video.
"I think [Meyer] has handled it well to this point," Lawrence said. "Obviously it's not an easy situation, and you don't want to be in this situation, but I think he's done right by us — [he's been] up front with us and apologized."
Lawrence explained that when a team is in a situation "that puts a little stress on it, that doesn't mean you just give up and you go your separate ways. You figure it out and work through it."
Related article: Trevor Lawrence Is One College Student Who Goes to Church
The rookie quarterback, who is also known for speaking openly about his faith, told the media in the room, "He's still my head coach. I still respect him regardless of what happens."