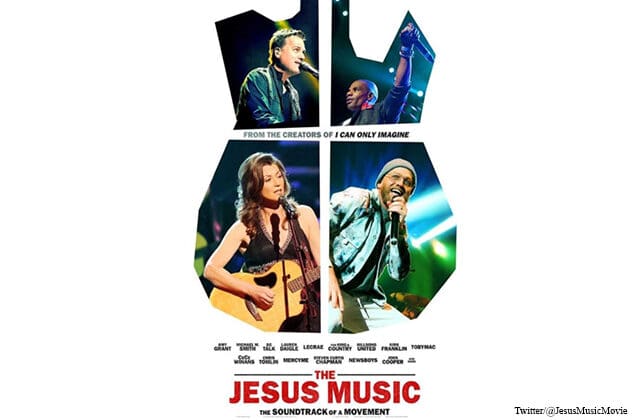 Andrew and Jon Erwin, the two brothers known for their successful Christian film "I Can Only Imagine," have released a new film documenting the history of Christian Contemporary Music (CCM) titled "The Jesus Music."
The film, which can only be seen in theaters, opened to a surprising $548,848 weekend, even only being shown in 249 theaters. (For reference, the most recent James Bond film was shown in 4,407 theaters.)
"The Jesus Music" chronicles the birth of the now multimillion-dollar industry that has impacted most American Christians alive today.
The Erwin brothers came up with idea for the film during the pandemic while most in-person events were indefinitely postponed, including music concerts. During that time, many musical artists were left searching for ways to connect with their fans while also making ends meet. Many are still experiencing the effects of canceled tours and events to this day.
The Erwin brothers reached out to Christian music icons Amy Grant and Michael W. Smith to share their idea about making a historical documentary about Christian music. Soon, the CCM veterans signed on as executive producers.
'The Jesus Music'
The film features footage from the late 1960s to present day, describing how CCM was born and focusing particularly on Calvary Chapel in Costa Mesa, CA. Many were drawn to the church because of Lonnie Frisbie, whose "hippie" style and love for Jesus help to launch a movement.
Frisbee also mentored Harvest Chapel's founder and senior pastor Greg Laurie.
The era was known as the "Jesus Movement" produced bands that turned their love for sex, drugs, and rock-n-roll into praise songs that came to be known as "Jesus Music."
In 1972, the late Billy Graham embraced many of these bands during an event organized by Campus Crusade for Christ called Explo '72, which was held in Dallas, Texas. Some notable artists who performed were Johnny Cash, Larry Norman, Love Song, Andraé Crouch, and Kris Kristofferson.
The week-long Explo '72 drew over 200,000 young people and called attendees to place their trust in Jesus. It had been referred to by some as a "Christian Woodstock."
The film includes interviews from a number of influential Christian artists such as Amy Grant, Michael W. Smith, Steven Curtis Chapman, CeCe Winans, Newsboys, Mercy Me, Skillet, DC Talk (Toby McKeehan, Michael Tait, Kevin Max), Love Song, Lecrae, Lauren Daigle, Micheal Sweet (Stryper), for KING & COUNTRY, Mark Stuart (Audio Adrenaline), Hillsong United, Kari Jobe, Phil Wickham, and Chris Tomlin. 
Christian Rock Accused of Being 'Devil Music'
The documentary explores how some churches were hesitant about, if not outright hateful toward, CCM artists and rock bands, specifically throughout the early 1980's into the late 1990's.
Stryper frontman Michael Sweet shared how he felt betrayed by the very pastor who led him and his family to Jesus in the mid 1970s.
When The Yellow and Black Attack singer was 12 years old, Sweet put his trust in Jesus along with his family after hearing televangelist Jimmy Swaggart preach on television. Shortly after, he found a local church to attend.
Originally calling band Roxx Regime, Sweet and his brother became disconnected from the Church until a friend encouraged them to reconnect with their faith.
It was then that the band changed their name to Stryper to reflect the words of Isaiah 53:5, "But He was wounded for our transgressions, Hewas bruised for our iniquities: the chastisement of our peace was upon Him; and with His stripes we are healed."
The band's Christian lyrics encouraged fans to praise Jesus. "The hair is long and the screams are loud and clear. The clothes are tight, earrings dangling from the ears. No matter how we look, we'll always praise His name. And, if you believe, you've got to do the same," they sang in their song Loud 'n' Clear.
Critics claimed the band wasn't actually Christian, because they opened for "secular" acts like Bon Jovi and Ratt. Nevertheless, they went on to become the first Christian band to achieve platinum status with their third record To Hell With The Devil.
Sweet recalled that after Stryper had become successful, he was watching Swaggart on television only to find the preacher talking about him. Swaggart said that Christian rock music was "of the devil. It's of the powers of darkness. It's not of God…It's the voice of the dragon under the guise of Christianity. It produces no better results within the church than it does within the world."
Swaggart singled out Stryper by holding up one of their albums during his sermon.
Amy Grant Relates
Stryper wasn't the only Christian artist who felt shunned by the Church. Amy Grant recounted how she also experienced pushback from other Christians. Grant described her motivation to write Christian music, saying, "A lot of hymns are, close your eyes singing to God. I wanted to sing songs with my eyes wide open, singing to each other."
When the 15-year-old Grant released her first album in 1977, she felt embraced by the Church. That began to change in the 80's when she grew in popularity and became known as the "Christian Madonna."
"She's not always wise in the way she says things," Grant's pastor said during a Christianity Today interview. "She doesn't want to be a sex symbol, but wants sex to be seen as a good thing, a godly thing."
Related article: Did Amy Grant Affirm the LGBTQ Community on Apple Music's Proud Radio?
In 1991, the multi-Grammy Award winning artist released her album Heart in Motion, which is included the #1 hit Baby Baby. The song was about her newborn daughter Millie. The album was considered a crossover from the Christian market to the mainstream, as Grant became popular outside the Christian community.
Grant's ninth studio album went on to become the bestselling Christian music album to ever be released, selling over 5 million copies. However, many within the Christian music world sharply criticized the album for not talking about Jesus enough.
Grant's best friend and Christian music icon Michael W. Smith recalled wanting to "duke it out with the critics" for the things they were saying about Grant's album and personal faith.
In 1999, Grant and her husband Gary Chapman, who was also a CCM artist, divorced after 17 years of marriage, citing irreconcilable differences. Grant was rumored to be in a romantic relationship with country singer Vince Gill since 1994, but the two maintained that they were only friends. Grant and Gill married in 2000 and had a daughter together in 2001.
Grant's divorce and remarriage resulted in some Christian radio stations taking her songs out of their rotations. CCM Magazine interviewed Grant in 2002, and afterward Grant said the interviewer misrepresented her by only quoting the portions of the interview that would reflect poorly on her.
Grant once said during an interview, "Let's get real. You want to know what my real black ugly stuff is? Go look in the mirror and everything that's black and ugly about you, it's the same about me. That's what Jesus died for."
CCM in the 1980's and 1990's
Even though Billy Graham embraced "The Jesus Music" scene, many Christian parents did not.
Eddie DeGarmo, CCM artist and one of the founders of highly successful Forefront Records, said in that that CCM came into its own during the 1980's. "It had gotten over the growing pains," DeGarmo said. However, the pushback didn't come from the mainstream culture. It came from within the Church. "The Church didn't accept us, " DeGarmo said.
Skillet's frontman John Cooper joked that his Christian parents would have rather him to go jail for murder than listen to Christian rock music.
In the 1990's, Gospel singer Kirk Franklin experienced a similar type of pushback to what Stryper received from Swaggart a decade earlier. Franklin recalled a time when he was at a conference where speaker harshly criticized his hit single Stomp, which had gotten more airtime at nightclubs than on Christian radio.
When remembering the criticism, Franklin said, "God told me if they don't have scars on their hands from the nails or on their foreheads from the crown of thorns, then you don't owe them an explanation."
Related article: "I'm not perfect." Kirk Franklin Apologizes After Angry Call With Son Goes Viral
During an interview with NPR's Arun Ruth in 2015, Franklin said, "It's very hard when you hear churches talk about you. Some people start to question your heart, and when some people start to question your motives, it could be very hard for you because you're in your early 20's, and you don't really understand what all the fuss is about — because you're doing just what's real to you."
Why DC Talk Broke Up
The film also sought to answer a 20-year-old question: Why did the members of DC Talk go their separate ways after becoming the most influential Christian bands of the 1990's? The hip-hop Christian band is best known for their rock-rap style album Jesus Freak, which released in 1995.
The Jesus Freak album, which sought to reappropriate a slur often used to describe the people of the "Jesus Movement," reached #16 on the Billboard 200, selling over 2 million units. This success is historically noteworthy, since the album was only ever featured on Christian radio.
Interviews with Toby McKeehan, Michael Tait, and Kevin Max are scattered throughout the film. The Grammy Award winning trio shared that they didn't get along offstage as well as their onstage personas would seem to indicate.
The three detailed one instance where McKeehan and Max got into a physical altercation on the tour bus, resulting in Max's absence from the stage during the show.
Related article: Newsboys Lead Singer Michael Tait Discusses Deconstruction, Racism and Taking a Stand
Max described McKeehan's temperament as "driven" and "controlling," which caused friction. The band's differences of opinion eventually led to the deterioration of their friendships. "We were three individuals on stage and not a unit," Max shared.
McKeehan admitted that he didn't do everything right, saying, "I don't think you're ever ready for success." Tait reiterated, "Fame and fortune isn't something I'd wish on anyone."
The film also focuses briefly on McKeehan's son's death, a devastating event that has been formative for him and his family.
Related article: TobyMac Issues Statement About Son Truett's Death
God used people who are broken to reach out to those who are broken. – Toby McKeehan
Audio Adrenaline's original lead singer Mark Stuart said the DC Talk "was held together with duct tape — it was fragile."
After DC Talk disbanded, McKeehan achieved solo success in CCM, and Tait went on to become the lead singer of the iconic Christian rock band Newsboys. Max served as lead singer for an Audio Adrenaline album in 2012, and he is preparing to release an album with his new band Sad Astronauts.
Related article: DC Talk's Kevin Max Says He's Been Deconstructing His Faith for Decades
McKeehan didn't give a direct answer when asked about the possibility of a DC Talk reunion tour. A 2020 reunion was rumored when the band performed together in 2017 and 2019. The pandemic has since put that possibility on hold.
Stuart, who was married to McKeehan's late sister, said that his brother-in-law has shaped Christian music more than anyone else.
The Future of Christian Music
The film ended by looking into the future of the Christian music, featuring commentary from Chris Tomlin, David Crowder, Hillsong United, Phil Wickham, Lauren Daigle, and for KING & COUNTRY.
"There is nothing more beautiful to me than hearing people singing about Jesus," Wickham said. Likewise, Crowder called singing to Jesus "a refection of God's breath on the planet."
When speaking about his worship concerts, the Grammy Award winning Chris Tomlin put it this way: "What we are doing tonight is eternal."