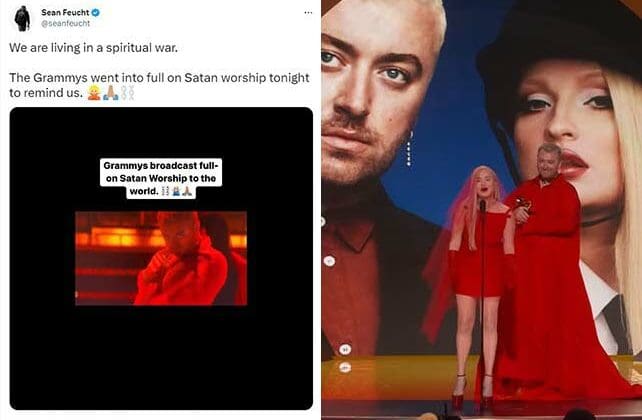 On Sunday (Feb. 6), Sam Smith and Kim Petras performed their song "Unholy" at the 65th Grammy Awards, a display that has been labeled "satanic" by a number of Christian leaders.
Smith came out as gay in 2014, changed to genderqueer in 2017, and came out as non-binary in 2019. Smith collected a fifth Grammy Award alongside Petras for their song "Unholy" Sunday night, making Petras the first transgender woman to ever receive a Grammy.
Seven-time Grammy Award winner Madonna introduced the pair's performance, describing them as "incredibly talented artists" and "rebels" while praising them for "forging a new path." The controversial "Like a Prayer" singer received a roaring ovation for saying, "All you troublemakers out there need to know that your fearlessness does not go unnoticed. You are seen, you are heard, and, most of all, you are appreciated."
During the performance, Smith wore red leather pants and high-heeled boots while the duo sang their #1 charting song. Petras sang from inside a cage set in the foreground of a burning stage. Dancers dressed as demons brandished whips.