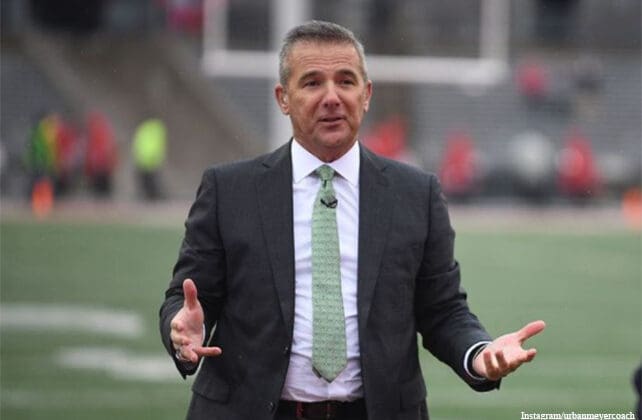 Known for his Christian faith, Jacksonville Jaguars' head coach Urban Meyer has been the center of sports conversations this week after a questionable video began circulating on social media last weekend.
Urban Meyer's Faith
Meyer sat down with Columbus, Ohio's Rock City Church's pastor Chad Fisher in 2019, just months after finishing his tenure as the head coach of Ohio State's football team. The successful coach helped the team get to two college football playoffs. The team had not lost to their rival Michigan since Meyer had assumed the role in 2021.
Fisher asked Meyer what his "proudest moment in life" was. Without hesitation, Meyer replied, "That's an easy one. I have three children — that God's in their life." He explained that God is non-negotiable in their family and that one of his daughters married a God-fearing man.
Meyers offered parents a tip for raising Christian daughters: "Every boy that has ever been in my house has to lead prayer at dinner. I don't warn them — and if they babble and all that, he's out," he joked.
"They are all believers," Meyer said, referring to his children. The pastor affirmed Meyer's authenticity, recalling that Meyer had often proudly said, "Every person in my family loves the Lord" in their private conversations.
The interview also focused on Meyer's book Above the Line: Lessons in Leadership and Life from a Championship Program. Fischer praised the book, saying, "I think it is one of the best leadership books I've personally taken our team through."
Related article: 12 NFL Players Who LOVE Jesus (and Football)
Meyer said in the interview that his biggest pet peeve is the "vile hatred" and "attacks" that are at times directed toward him. When Fischer asked if he'd ever coach again, he replied, "I don't believe so."
At the conclusion of the interview, popular athlete-turned-sportscaster Tim Tebow joined them onstage and prayed over Meyer. Tebow was a Florida Gator during his college football days and played under Meyer's leadership, winning two BCS championships.
During his prayer, Tebow said, "One of the tricks that the enemy always presents itself is to tell us that the best is behind us. And we all know that's not the truth, because heaven is in front of us, because you are in front of us. And I want to encourage Coach that the best is not behind him. That the times of influencing young men aren't behind him — of being a dad, of being a grandfather — are not behind him, but the best is in front of us and our purpose is never done until we are there in heaven."
Urban Meyer's New Chapter
Less than two years after saying he didn't believe he'd ever coach again, the three-time college football national champion decided to come out of retirement, becoming the NFL's Jacksonville Jaguars' head coach in January 2021.
Tebow attempted to join his former coach, announcing he had signed with the Jacksonville Jaguars on May 20, 2021, in the hopes of playing tight-end in the upcoming season. However, the former quarterback's comeback attempt fell short. He was released from the team in August.
The 'Inappropriate' Video
Meyer, a respected mentor, father figure and leader is facing backlash this week after a video surfaced of him in a nightclub in Columbus, Ohio, following a loss to the Cincinnati Bengals on Thursday. In the video, Meyers can be seen allowing an unknown woman to dance provocatively against him. The woman is not his wife.
The video also shows Meyer putting his hand between the young woman's legs. Although Meyers remains on a bar stool throughout the video, he never attempts to stop the woman or move from the situation.
After the video became public, Meyer issued an apology to the team and staff, calling what he did "just stupid," adding that he should not have put himself "in that kind of position."
Related article: Gene Simmons Defends Tim Tebow, Slams His Critics in Viral Tweet: "Shame on the NFL & Rest of the World"
Meyer shared that he has always warned his players to be careful about allowing themselves to be placed in compromising situations. "I've always been so defensive of [the players]. I remember when Trevor [Lawrence] told me he was going to go to Vegas for his bachelor party. I was just like, 'My gosh, man. Be careful and surround yourself, because I've seen this happen.'"
Critics have been pressuring Meyer to resign as the Jacksonville Jaguars' head coach because of their dismal 0-4 start to the season. That pressure has since intensified as a result of the video, which many see as a distraction.
Christian author Jared C. Wilson offered the coach some encouragement, tweeting to him, "@CoachUrbanMeyer I don't know much about coaching football, but I do know Jesus pretty well, and he said to tell you he loves you. If you're feeling so low you don't know where to go right now, you can turn to him."
Urban's Wife Shelley Addressed the Video
The coach's wife addressed the video on her Twitter page, also letting her followers know that it would be her final post on the social media site.
"This will be my last post on Twitter [cry emoji]. Frankly, I don't need the hate, vitriol, slander, trash that will @ me," she wrote and made note this has never stopped anyway.
Explaining we are all sinners Mrs. Meyer said, "We all make mistakes — we are all sinners. If you think you aren't? Then cast the first stone."
She thanked her wonderful followers and friends for their love, support, friendship, and laughs. Sharing that she'd miss the laughs the most. "I love you all and I wish God's blessings on you. Thank you."
ChurchLeaders reached out to Meyer for comment but have not received a response.