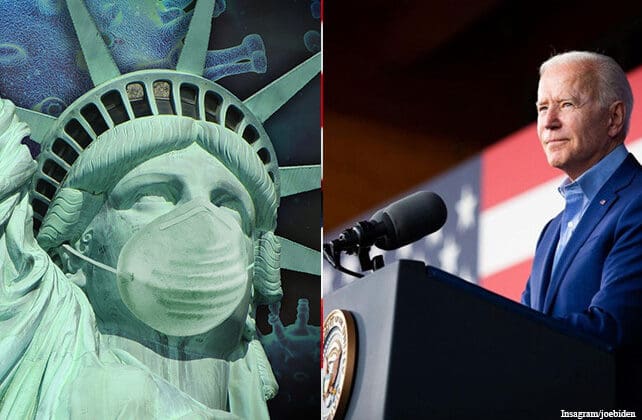 On Thursday, President Joe Biden announced sweeping vaccine mandates that will affect over 100 million working Americans and hundreds of thousands of businesses nationwide, sparking cheers from vaccine advocates and harsh criticisms and threats of lawsuits from those who oppose such government mandates.
Less than a year ago, then President-Elect Biden was asked whether COVID vaccines should be mandatory; his answer at the time was no. (See his response below.)
In a presidential address on Thursday, September 9, Biden told Americans that all federal workers and contractors must be vaccinated. He also issued a mandate that all companies with more than 100 employees require employees to be vaccinated or be tested for the virus weekly.
Biden, who prematurely heralded the "independence from the virus" in July, said on Thursday, "This is not about freedom or personal choice. It's about protecting yourself and those around you, the people you work with, the people you care about, the people you love." The virus found a new foothold among the American population with the delta strain, which now accounts for 99% of new cases.
"My job as president is to protect all Americans," Biden continued, addressing the nation from the White House. "So tonight, I'm announcing that the Department of Labor is developing an emergency rule to require all employers with 100 or more employees, that together employ over 80 million workers, to ensure their workforces are fully vaccinated or show a negative test at least once a week."
Related article: Franklin Graham Urges Christians to Get the COVID-19 Vaccine Before It's 'Too Late'
"We've made vaccinations free, safe and convenient. The vaccine has FDA approval. Over 200 million Americans have gotten at least one shot. We've been patient. But our patience is wearing thin. And your refusal has cost all of us. So please, do the right thing."
Biden put down the hammer on all federal employees and contractors, saying, "If you want to work for the federal government, get vaccinated. If you want to do business with the federal government, get vaccinated." Critics say the mandate will potentially force those who haven't received the vaccine to either go against their convictions or find another means of employment.
Companies that ignore the Department of Labor's Occupational Safety and Health Administration's (OSHA) forthcoming vaccine requirements could face up to a $14,000 fine per violation.
The leader of the free world also mandated that all workers at healthcare facilities receiving federal funds (i.e., Medicare or Medicaid reimbursements) must be vaccinated. "If you're seeking care at a health facility," Biden said, "you should be able to know that the people treating you are vaccinated."
The new mandates also increased fines for air travelers who refuse to wear masks.
The President responded to rumors of Republicans threatening to file lawsuits against the Biden administration on Friday morning over the new vaccine mandates, saying, "Have at it. I am so disappointed that, particularly some Republican governors, have been so cavalier with the health of these kids, so cavalier with the health of their communities."
It's estimated that over 655,000 people in the United States have died from COVID-19 related symptoms since the onset of the pandemic. The disease is currently killing over 1,000 people per day as the highly contagious delta strain has become widespread. ICUs in hotspots across the nation are overflowing, with many regions surpassing the highest numbers of COVID victims early on in the pandemic. Currently, unvaccinated people account for 90 to 95% of hospitalizations and deaths.
Faith Leaders' Reactions
Al Mohler posted his statement as the Southern Baptist Theological Seminary's president on Twitter, which read: "We encourage vaccination but oppose mandated vaccination. We are watching the situation closely and fully expect multiple legal challenges to be filed against the President's announced mandate to private employers. The President's words and attitude were profoundly unhelpful and his actions will surely be challenged in the courts. We will be in ongoing consultation with the other SBC entities about this matter and our proper response."
President and founder of 'For the Gospel' Costi Hinn says the President's mandate is just a "dress rehearsal" for things to come in the future, posting on Twitter: "The slow boil of tyranny continues. One day it won't be a vaccine mandate. It will be prohibition for openly living out our faith. This is the dress rehearsal."
Greg Locke, the controversial pastor who tells congregants to leave if they wear a mask during Global Vision Bible Church's worship gatherings, tweeted: "Forced vaccination is a war crime!"
Related article: Greg Locke Tells Church Members 'I Will Ask You to Leave' If They Wear a Mask Again
"Let Us Worship" leader Sean Feucht, who is hosting a worship event in Washington D.C. on the anniversary of 9/11, tweeted: "It's called NATURAL IMMUNITY. It's God-given and it works for millions. #HoldTheLine"
Tom Buck, senior pastor at the First Baptist Church of Lindale, Texas, posted: "Tyrannical talk didn't show up yesterday. It's been there all along, even in the election. But many evangelicals were okay with tyrannical talk as long as it was soft-spoken. Tone's been more important than substance of words. Both tyranny and heresy often come in gentle tones."
Minister and author Samuel Deuth posted: "Biden has no actual constitutional authority to do what he says in this clip. But, this is the way that Satan works, he only has the authority we willingly hand over to him in response to fear. [sic] If we stand on the truth and resist this tyrant—we will win! #ImpeachBidenNow"
Founders Ministries President Tom Ascol wrote: "As I sit here listening to @POTUS talk like a tyrant with his draconian steps re. vax mandates, I thank God for @GovRonDeSantis. Governor, stand against this tyranny & between him & the people of Florida!"
Jack Graham, pastor at Prestonwood Baptist Church in Plano, Texas, posted on his Twitter page: "Americans will unite around the eternal principle and promise of freedom and reject the the chains of government control."
American Idol finalist, Christian musician, and Dove Award winner, Danny Gokey said, " 'My body my choice' was the perfect argument to manipulate people into an agenda to further killing babies. Somehow now it no longer applies today. I'm [sic] noticing the people who create the rules (and conveniently change them) only have one agenda in mind. Divide, kill, and destroy."