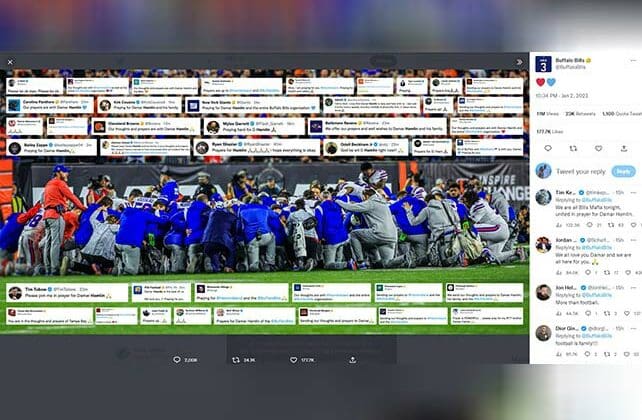 On Monday, the world witnessed of horrific injury to 24-year-old Buffalo Bills safety Damar Hamlin during the NFL's final game of week 17 against the Cincinnati Bengals.
With approximately six minutes left in first quarter, the Bengals were leading the Bills 7-3 when Hamlin tackled Bengals' wide receiver Tee Higgins near the 50-yard line.
Anticipating Hamlin's tackle, Higgins legally drove his shoulder into Hamlin's chest. Hamlin made the routine tackle and stood to his feet, but roughly three seconds later, he shockingly collapsed to the turf at 8:55 P.M.
An official immediately signaled for an injury timeout as players ran to his aid, waving and shouting to the team's trainers for assistance. After stabilizing Hamlin to be moved, medical personal had to lower him back down and administer CPR for nine minutes. Hamlin was placed in an ambulance on the field at 9:25 P.M. and transported to University of Cincinnati Medical Center.