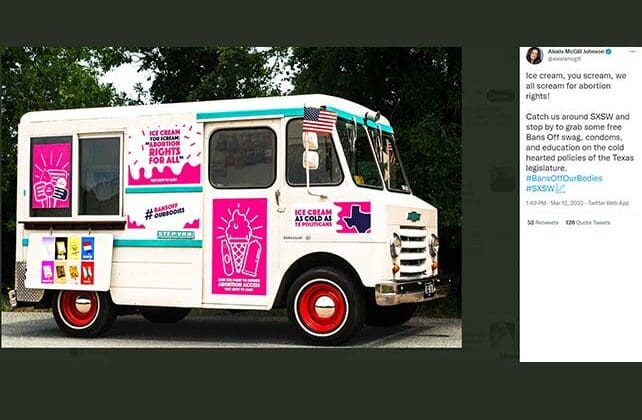 President and CEO of Planned Parenthood Alexis McGill Johnson posted an image of ice cream truck the company used promote abortion rights at South by Southwest (SXSW)—an annual festival of film, media, music performances, and conferences that takes place in Austin Texas.
On the second day of the festival, March 12, 2022, Johnson posted the image on Twitter, saying, "Ice cream, you scream, we all scream for abortion rights!"
"Catch us around SXSW and stop by to grab some free Bans Off swag, condoms, and education on the cold hearted policies of the Texas legislature," she wrote.
The truck is reminiscent of one that someone might see driving around neighborhoods playing an enticing children's tune in order for them to beg their parents to buy them an ice cream treat.
Bright white with popping pink graphics, the ice cream truck flies an American flag attached to its driver's side, and passenger's side mirrors contain logos referencing both abortion and women's rights.