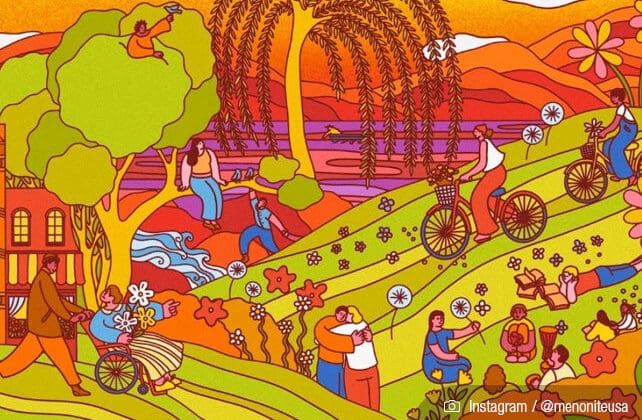 The Mennonite Church USA (MC USA), an Anabaptist Christian denomination in the United States that has an estimated 530 congregations and 62,000 members, released a curriculum this week entitled "Defund the Police? An Abolition Curriculum" that addresses issues of systemic police brutality. The church's curriculum ironically launched the day before former Minneapolis police officer Derek Chauvin, who killed George Floyd while responding to a police call, was read a guilty verdict for second-degree murder, third-degree murder, and second-degree manslaughter.
The free nine-week study "Defund the Police? An Abolition Curriculum" is aimed at challenging its participants to "think creatively about personal and community safety in a biblical context."
MC USA Executive Director Glen Guyton said, "As Anabaptists, we are called to extend God's holistic peace even when the state sanctions violence and injustice." He explained that police shootings of Black, Brown, and Indigenous people across the nation sparked calls from clergy and congregations for an Anabaptist-oriented response, which in turn then birthed the curriculum.
Guyton criticized police for using military tools and tactics saying, "We as peacemakers need to think deeply about the intersection of our theology and our view of community policing."
The curriculum, advertised as being rooted in Scripture, was developed to be used for virtual or online adult Sunday school classes, Bible studies, small/cell groups, family groups or even as an individual study. Teaching techniques include audio and video storytelling, hands-on activities, and discussion prompts.
The aspect of "defunding the police" is often misunderstood, Guyton said and that "police abolition is a process that requires communities to create alternatives to policing. We hope this curriculum will educate, inform and transform our thinking concerning justice, mass incarceration and how we live in harmony as a society."
Article 22 of the "Confession of Faith in a Mennonite Perspective" states that peace is the answer even in the face of violence and warfare. The beginning of the confession of faith reads: We believe that peace is the will of God. God created the world in peace, and God's peace is most fully revealed in Jesus Christ, who is our peace and the peace of the whole world. Led by the Holy Spirit, we follow Christ in the way of peace, doing justice, bringing reconciliation, and practicing nonresistance even in the face of violence and warfare.
Developed by a diverse team of Anabaptist writers and abolition experts, one of the authors Melissa Florer-Bixler of Raleigh (N.C.) Mennonite Church said, "We hope people feel empowered by this curriculum. Abolition is not just an ending; it's about building a different kind of world. Wherever people are in their journey of disengaging in state violence, we hope that this would move them a few steps ahead."
Florer-Bixler said, "It will be uncomfortable until you get into what that really means." She explained that "our imaginations are so shaped by policing that it is almost impossible to imagine other ways to keep us safe."
In an article written by Mennonite pastor titled 'Defund the police' Is Deeply Anabaptist, Hillary Watson wrote, "The phrase "Defund the Police" is the most Anabaptist term to enter popular American social discourse in decades. As pacifists, we ought to be rushing full speed to join the movement."
Watson explained that "Anabaptists cannot be police officers, because they would have to carry a gun," and she mentions that other police tools like pepper spray, tear gas, riot gear and rubber bullets are violent as well.
Stating why she believes the statement "Defund the Police" makes one uncomfortable, she radically says, "It is, most likely, because of our commitments to our own privilege, and not our commitments to God."
This isn't the first peacemaking initiative MC USA has been a part of. In the past year their initiatives included "Undoing Racism," "Justice Fund," "Learn, Pray, Join: Cost of War," and a "Collaboration with RAWTools, Inc."
In 2018, the Lancaster Mennonite Conference, the largest conference of churches within the MC USA, left due to the MC USA changing their views on homosexuality.
SBC's President J.D. Greear Thinks Otherwise
SBC president J.D. Greear said last year during his annual address last year that "we need to say it clearly as a gospel issue: Black lives matter." Greear was clear, though, when he said he could not support the Black Lives Matter movement because the organization's views were at odds with his and the movement supports defunding the police. He stated that he believes our systems do need to be reformed, but not defunded.