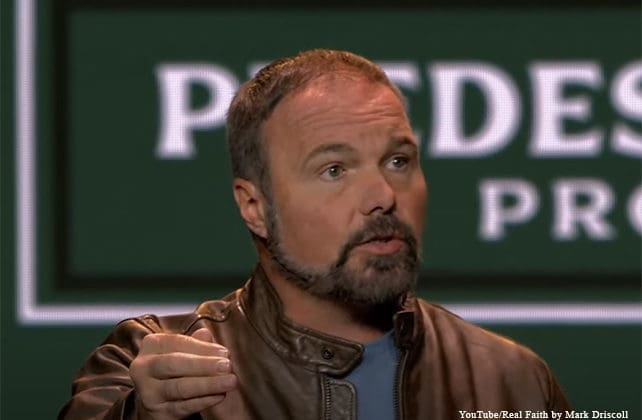 In a video called "Dear Closed Churches" uploaded to his YouTube account, Mark Driscoll made a comment that he is concerned that so many churches are still closed. Driscoll is the former senior pastor of Seattle's Mars Hill Church and current founding and senior pastor of The Trinity Church in Scottsdale, Arizona.
Taken from his sermon this past Sunday where he preached out of Romans 10on predestination, Driscoll made the point that people will use the sovereignty of God as an excuse not to be on mission for God. Observing that type of thinking leads to a lazy, indifferent, unmotivated Christian, he said, "I don't like to go super negative, but I do have a real concern…so many churches are still closed. Where is the sense of urgency?"
"Churches that even could be open…they're still not open," Driscoll said and explained the reasoning for his concern and plea for urgency was, "People don't know Jesus and the church is a place where we have this great opportunity to love people and to serve people and to tell people about Jesus."
The typical response to that statement is, "Well we don't want anybody to get sick," the "Doctrine: What Christians Should Believe" author shared.
In vintage Mark Driscoll fashion, the pastor told his congregation his view on the true sickness of the world, saying, "100 percent of people are infected with sin and will die because of sin, and the only remedy for them is Jesus Christ. So sin is still a bigger problem than COVID."
Mark Driscoll explained that he isn't against people taking preventative measures not to spread the COVID-19 virus. "If we want to wear a mask, wear hand sanitizer, get a vaccine, get a tape measure [to] stay six feet apart," Driscoll said, people would not see judgement from him.
"You're still gonna die because of sin and Jesus is your only hope," he said, making sure the people listening understood the larger problem in the world isn't the virus but their need for Christ:
God's people can't overlook the one message that is our unique contribution to the world. There's a lot of places you can go to get a sandwich or a vaccination or an after-school program, but there's only one place that can tell you about Jesus Christ, and it needs to be open!
Driscoll tied his concern that some churches are still closed to his warning of misinterpreting God's sovereignty, the combination of which he feels can lead to a lazy, indifferent, unmotivated Christian. He explained, "When we think God is in charge, we think that we don't matter, and we do because God has chosen to work through us to love and to serve others."
Watch Driscoll's entire sermon from Sunday here.
Mark Driscoll serves with his family at The Trinity Church in Scottsdale, Ariz., which they planted in 2016 after leaving Mars Hill Church amid controversial circumstances. While he serves as the senior pastor at The Trinity Church, his wife Grace leads the women's ministry. His oldest daughter Ashley serves as the executive director of Real Faith, his son Zac serves as the director of interns, and his son-in-law Landon Chase (married to Ashley) serves as Trinity's Next Generation leader.