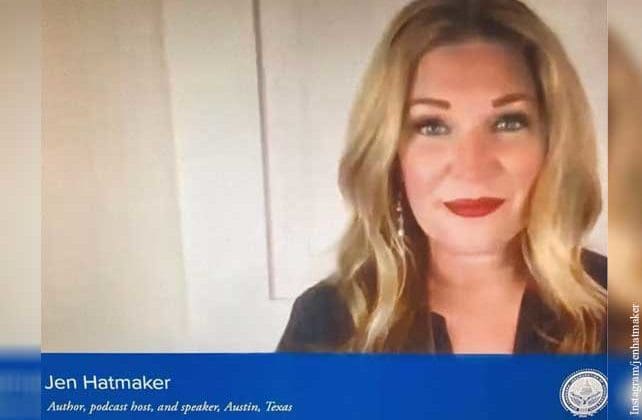 Popular Christian author Jen Hatmaker apologized on social media for something she said during the interfaith inaugural prayer service last Thursday, January 21, 2021.
Hatmaker said on social media that she "was proud to offer the final liturgical prayer which was written by the organizers to serve as an anchor," in the online service that lasted for almost 90 minutes.
Her prayer is written below:
"Almighty God, you have given us this good land as our heritage. Make us always remember our generosity, and constantly do your will. Bless our land with honest industry, in an honorable way of life. Save us from violence, discord and confusion, from pride and arrogance, and from every evil way. Make us that come from many nations with many different languages a united people. Defend our liberties, and give those who we have entrusted with the authority of government, the spirit of wisdom that there might be justice and peace in our land. When times are prosperous, let our hearts be thankful. And in troubled times do not let our trust in you fail. In your holy name we pray, Amen.
The progressive Christian author posted on Facebook and Instagram later than day, apologizing for saying God gave us the land writing, "I have one regret and thus apology. The very first sentence thanked God for giving us this land as our heritage. He didn't. He didn't give us this land. We took this land by force and trauma. It wasn't an innocent divine transaction in which God bestowed an empty continent to colonizers. This is a shiny version of our actual history. If God gave this land to anyone, it was to the Native community who always lived here."
She continued on writing, "That line. I knew it as soon as I said it. And I panicked and froze and then just kept going. I am so sorry, community. Primarily sorry to my Native friends. It MATTERS to me that we reckon with our history of white supremacy and the lies we surrounded it with, and I am filled with regret that I offered yet another hazy, exceptional rendition of the origin story of colonization. Ugh."
She continued on writing, "That line. I knew it as soon as I said it. And I panicked and froze and then just kept going. I am so sorry, community. Primarily sorry to my Native friends. It MATTERS to me that we reckon with our history of white supremacy and the lies we surrounded it with, and I am filled with regret that I offered yet another hazy, exceptional rendition of the origin story of colonization. Ugh."
After that first sentence she wrote, "I meant every word," and gave Rev. William Barber II's message high praise making the comment, "he will take you all the way to church."
Her Facebook post has received over 700 comments, most of her followers thanked Jen Hatmaker for her apology:



Other's voiced their displeasure with Hatmaker's and questioned her social media post: