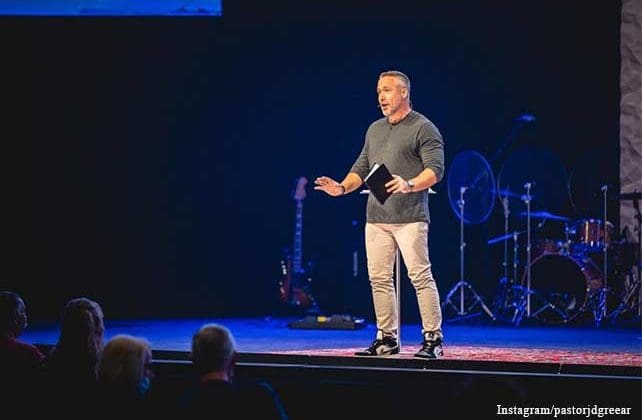 Southern Baptist Convention's (SBC) President J.D. Greear posted on Twitter earlier this week opposing those who have been comparing Vice President Kamala Harris to Jezebel.
In January, fellow SBC Senior Pastor Tom Buck of First Baptist Church in Lindale, Texas and SBC Senior Pastor Steve Swofford of Rockwall First Baptist located in Rockwall, Texas have both referred to Harris as "Jezebel."
Pastor Buck posted a tweet on January 22, two days after VP Harris was sworn into office, that read, "I can't imagine any truly God-fearing Israelite who would've wanted their daughters to view Jezebel as an inspirational role model because she was a woman in power… To be clear, if Trump had been the first white man to hold the office of President, I wouldn't have wanted my sons to look up to him as a role model… certainly not because of the color of his skin."
The pastor's tweet ignited instant backlash, not just because of who Jezebel is in the Bible (a pagan queen who married King Ahab of Israel and introduced worship to pagan gods. She is also mentioned in Revelation 2:19-22, when Christ is addressing the Church of Thyatira). Calling a woman Jezebel was also a racist term that was used during slavery. 
Pastor Buck followed up his 'Jezebel' comment a couple days later saying he stands by his original tweet. 
Even before the inauguration of President Biden, Pastor Steve Swofford said in one of his sermons, "What if something happens to him [Biden] and Jezebel has to take over? Jezebel Harris, isn't that her name?"
People on Twitter were quick to circulate Swofford's words, including Robert Downen, who contributed to the Houston Chronicle's expose' on the Southern Baptist Convention and sexually abusive pastors.
Last year, J.D. Greear said, "We need to say it clearly as a gospel issue: black lives matter," during his SBC presidential address in the midst of the pandemic and America's racial unrest. In response to Buck's opinion of Harris, Greear wrote the following on Twitter:
"I realize that some pastors are likely unaware of the history of certain racial stereotypes in calling or comparing our Vice President to Jezebel, but that doesn't make such statements any less unwise.
There are times we will critique policies, but that should not include personal attacks on a newly elected official God has told us to honor and pray for.
Let us speak clearly and boldly for righteousness, but in a way that honors what the Scriptures say about honoring our leaders. We don't correct one sin through another."
The SBC President's response comes a week after SBC Pastor Dwight McKissic called on Greear to "repudiate these men." McKissic referred to their statements about Harris as "un-Christlike" and emphasized the pastors needed to be disciplined. McKissic recently pulled the Texas church he pastors out of one of two of the state's SBC-affiliated conventions because of the recent decision to denounce critical race theory.