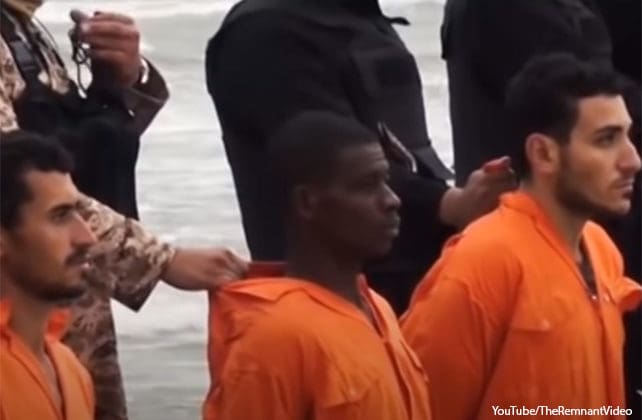 The remains of Matthew Ayariga were laid to rest with the rest of his Coptic brothers in Egypt. Ayariga was a Christian migrant worker from Ghana who was beheaded by the Islamic State in the widely publicized brutal Libyan beach execution of 21 Christians in orange jumpsuits because of their faith in February 2015. The Copts are an indigenous Christian ethno-religious community located primarily in Egypt but are spread throughout the world. An estimated 60,000 live in Libya today.
A Cairo reporter posted the news on Twitter Friday, Tuesday 29, 2020 that "Matthew Ayariga, a migrant worker from #Ghana, was beheaded by #ISIS in #Libya in 2015 along with 20 Copts in a gruesome video. His remains finally arrived today to #Egypt to be laid to rest, w/his Coptic brothers, after 5+yrs of his body not being claimed."
A Coptic Christian favored newspaper reported that the families of the martyrs "expressed their joy at the return of the remains of the martyr, saying 'Our joy is complete.' " In 2018 the twenty other Egyptian martyr's bodies arrived in Egypt which didn't include Ayariga's remains, which brought great sadness to the Coptic families according to the Watani Newspaper.
A mother of two of the martyrs said, "We collapsed with great joy because the martyr Matthew is dear to us, and he is one of our children because he was martyred with our children and adhered to his Christ. We thank our master because he succeeded in returning the remains of the martyr so that he would be next to his sisters in the church."
Majid Shehata, a daughter of one of the martyrs, said, "It was a surprise to all of us that we see the remains of the martyr Matthew inside the Church of the Martyrs, and this is a long-awaited news and all the families are in great joy and we thank God for having responded to us in the return of the martyr."
The men were working in Libya to support their families back home in Egypt. In January 2015, Islamic State fighters went door to door looking for Christians among Muslim migrant workers and took them into captivity until they were executed on the Libyan beach.
It has been reported that Matthew Ayariga rejected the terrorists' demands to convert to Islam, and told them "Their God is my God" referencing Christ. His bold statement came before the terrorists beheaded him with a large blade as they did to the others.