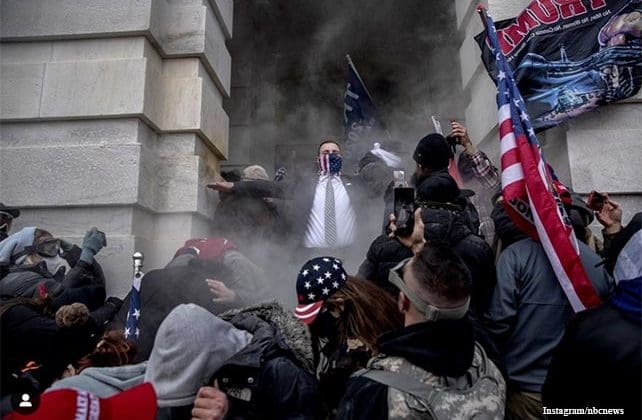 Yesterday's events in Washington D.C. came as a surprise to many, but not to others. Evangelical leaders, both those who supported President Donald Trump in his bid for reelection and those who did not reacted to the violence that broke out inside and surrounding the U.S. Capitol building. The Capitol Riot, as it is increasingly being referred to, represents a dark and sad day in recent history.
Those with a track record of supporting the president, whether it was endorsing his reelection campaign or his effort to have the results of the election overturned, focused on condemning the actions of some of the president's supporters yesterday. On the other hand, evangelical leaders who have gone on record warning fellow Christians about the problems they've observed with the President's behavior and particularly his rhetoric, were more pointed in their comments.
Evangelical Leaders React to Capitol Riot
Franklin Graham: President of Samaritan's Purse and the Billy Graham Evangelistic Association
Ronnie Floyd: President of Southern Baptist Convention Executive Committee
Thabiti Anyabwile: Pastor at Anacostia River Church
Johnnie Moore: CEO of The KAIROS Company and President of The Congress of Christian Leaders
Samuel Rodriguez: President of the National Hispanic Christian Leadership Conference and Senior Pastor of New Season Christian Worship Center
Dr. Robert Jeffress: Senior Pastor of First Baptist Church and adjunct at Dallas Theological Seminary
John Hagee: Senior Pastor of Cornerstone Church
Tony Evans: Senior Pastor of Oak Cliff Bible Fellowship and President of The Urban Alternative
J.D. Greear: Pastor of Summit Church and President of the Southern Baptist Convention
Rick Warren: Senior Pastor of Saddleback Church
Russell Moore: President of the Ethics & Religious Liberty Commission
Daniel Darling: Senior Vice President for Communications at NRB
Albert Mohler: President of the Southern Baptist Theological Seminary
Beth Moore: Author, speaker, teacher, and founder of Living Proof Ministries
Jack Graham: Senior Pastor of Prestonwood Baptist Church
Lecrae: Recording artist, author, and President of Reach Records
Kirk Franklin: Gospel musician, Grammy Award winner, and choir director
Dr. Eric Mason: Lead pastor of Epiphany Fellowship and founder and president of Thriving.
Greg Laurie: Senior pastor of Harvest Christian Fellowship
Costi Hinn: Pastor at Redeemer Bible Church
Carey Nieuwhof: The founding pastor of Connexus Church
Jentezen Franklin: Senior pastor of Free Chapel and Director of JFM Media.
Ray Ortlund, Pastor of Immanuel Church and President of Renewal Ministries.
Mika Edmondson, Pastor Christ Presbyterian Church.