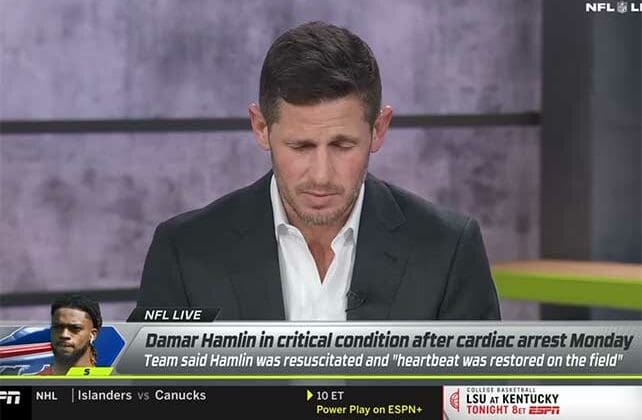 On Tuesday (Jan. 3), ESPN analyst Dan Orlovsky told viewers, "Maybe this is not the right thing to do, but I want to," right before praying for Buffalo Bills safety Damar Hamlin during an episode of NFL Live.
Hamlin was injured during the first quarter of Monday night's game against the Cincinnati Bengals after tackling Tee Higgins. Hamlin appeared to be unaffected by the tackle, but roughly three seconds after rising to his feet, he fell lifelessly to the ground because of cardiac arrest.
Medical crews and team trainers worked on Hamlin, administering CPR, while teammates and Bengals' players helplessly surrounded their injured brother on the field.
As the ambulance pulled off the field, Bills' players and team personnel were seen kneeling and praying where Hamlin had been seconds before—an image that was later released on the Bills' social media and has become a rally cry for people's prayers about the 24-year-old's athlete's health.