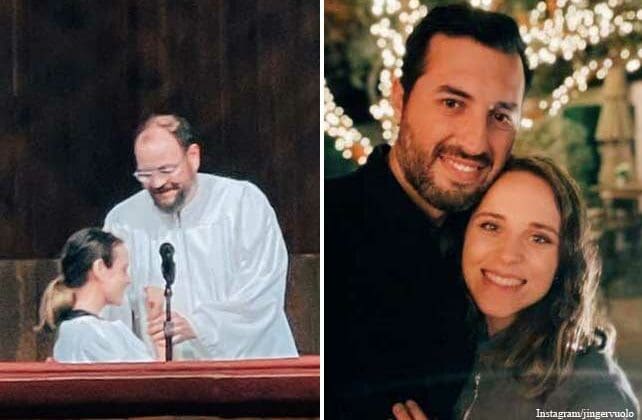 Jinger Vuolo, the sixth child of the famous Jim Bob and Michelle Duggar clan (19 children in all), told her 1.4 million Instagram followers that she recently got baptized. The announcement came as a surprise to many since Vuolo was baptized at a young age on TLC's hit television shows "19 Kids and Counting" and "Counting On" from 2008-2021.
TLC announced the cancellation of "Counting On" earlier this year due to Jinger's brother Josh Duggar being charged with receiving and possessing child pornography. The network said it is giving the family privacy as they address the situation.
The former television star and her husband Jeremy Vuolu, a former professional soccer player she met on a Central America missions trip in 2015 and later married in 2016, hosted an Instagram live session last week informing viewers of Jinger's recent baptism.
On Sunday, September 5, 2021, which was Jeremy's birthday, Jinger got baptized at Grace Community Church where the couple serve in the church's college ministry. Jeremy currently attends Master's University and Seminary, where John MacArthur is Chancellor. MacArthur is also lead pastor of Grace Community Church.
"I love that you're being baptized," staff pastor Austin Duncan told Jinger. "There's probably a lot of people in this room that need to think about being baptized because they weren't believers when they were baptized. So it's a great example to us of baptism coming after conversion."
Related article: John MacArthur's Church Wins Legal Battle Against CA, LA County
Posting images of her baptism, Jinger said, "Sunday was a very special day. I came to realize that although I was baptized at the age of 11, I didn't really come to know and love Jesus until I was 14 years old. On Sunday, I was able to publicly declare that I have been joined to Jesus Christ in His life, death and resurrection. Soli Deo Gloria."
Jinger who grew up in a devout Independent Christian Baptist household, shared that when she was 6, she prayed a prayer that led her to believe that she was saved. "At that moment when I was six I just kind of did it because my sister was doing it and I just repeated some words and asked Jesus into my heart type thing," Jinger explained. "But I was not truly saved from my sin. So whenever I was 12, 13, 14, I was wrestling with a lot of things and at that time I kind of realized that I knew that I wasn't saved from my sins — I realized I need a savior and none of my good works are going to get me to get me to heaven."
Being raised in a Christian home, she said she would read her Bible and attend church but didn't like to do either. It wasn't until she turned 14 that she came to the understanding that if she died at that moment she was not going to spend eternity with Jesus. After a discussion with her mother, Jinger cried out to God to save her and truly repented of her sins.
"It was amazing that after that time I just saw in my heart a deep love for the Word of God," Jinger said. "It was like I was so hungry for it. I just wanted to be in the Word and to read the Bible and see what God had to say about everything in life." She started to then live her life according to God's Word, not because she had to, but because she wanted to, reflecting her true heart change toward God.
Related article: TLC Cancels ' Counting On ' Amid Josh Duggar's Child Sexual Abuse Charges
Jinger explained that she was baptized at 10 before she was "truly saved" at age 14. Clearly stating to her audience that baptism doesn't save anyone, "Baptism is just an outward symbol of a heart transformation…in God's Word is says that we are to be baptized after we are saved. It's an outward declaration of us being buried with Christ, raised, and walk in newness of life."
"[We] celebrated your spiritual birth and my physical," Jeremy joyfully recalled. Jinger shared that standing up in front of the church and sharing her testimony before her baptism was "one of the most nerve-racking things" she's ever done.
The husband and wife duo released a book in May 2021 titled "The Hope We Hold: Finding Peace in the Promises of God" that shares the history of their relationship, the ups and the downs, to share the hope Christ has given them with readers.
Watch Jinger's baptism testimony below: