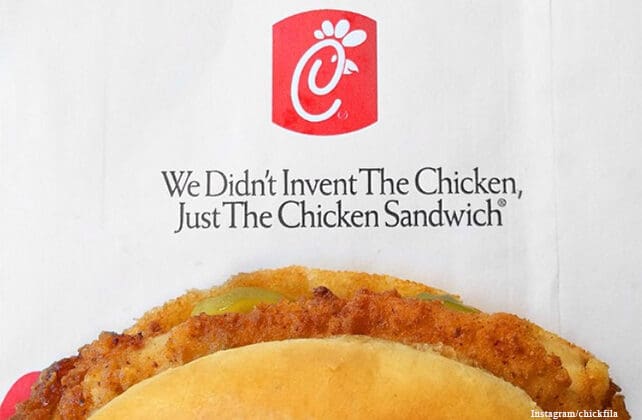 Chick-fil-A kept its title as America's favorite fast food restaurant for the seventh-consecutive year, according to the American Customer Satisfaction Index (ACSI®) Restaurant Study 2020-2021.
The ACSI reported: "Customer satisfaction is a driving force that impacts the financial outlook of individual firms and the health of the U.S. economy at large." This year's study interviewed 19,423 random customers who were contacted by email between April 1, 2020, and March 29, 2021.
The restaurant, known for its Christian values and top-notch customer, service fell from its 2020 ACSI score of 84 to 83, but still managed to lead the #1 full-service restaurant, LongHorn Steakhouse, which received a score of 81.
Despite being mocked by other fast food chains for closing on Sundays, those surveyed don't seem to be bothered by the hours. Most recently, Burger King (12th on the list with an ACSI score of 76) took a shot at Chick-fil-A in a Twitter post that read, "the #ChKing says LGBTQ+ rights! during #pride month (even on Sundays ) your chicken sandwich craving can do good! We are making a donation* to @HRC for every Ch'King sold."
Popeyes, the other fast food restaurant known for subtly shooting social media arrows toward its chicken sandwich competitor, was 19th on the survey. The Louisiana-based fried-chicken restaurant received am ACSI score of 73.
Chick-fil-A's Strong Family Values
Chick-fil-A has always closed on Sunday since opening its first restaurant in 1946, a tradition started by founder S. Truett Cathy and continued to this day by his son and current CEO Dan Cathy. The website explains why they are closed on Sundays, stating that their founder recognized the importance of Sundays being a day set aside so he and his employees could rest and worship if they choose.
In a Baptist Press article, Dan Cathy commented on Chick-fil-A's support of the traditional family. "Well, guilty as charged," Cathy said. "We are very much supportive of the family — the biblical definition of the family unit. We are a family-owned business, a family-led business, and we are married to our first wives. We give God thanks for that."
"We operate as a family business," he continued. "Our restaurants are typically led by families; some are single. We want to do anything we possibly can to strengthen families. We are very much committed to that…we intend to stay the course," Cathy said. "We know that it might not be popular with everyone, but thank the Lord, we live in a country where we can share our values and operate on biblical principles."
In 2020, the company announced it was refocusing its charitable giving to battle hunger, homelessness, and support education. With the new focus, Chick-fil-A will no longer contribute funds to Fellowship of Christian Athletes or the Salvation Army, two organizations publicly scrutinized because of their anti-LGBTQ positions.
The announcement came after various venues and cities banned the restaurant because of its "biblical marriage" stance.