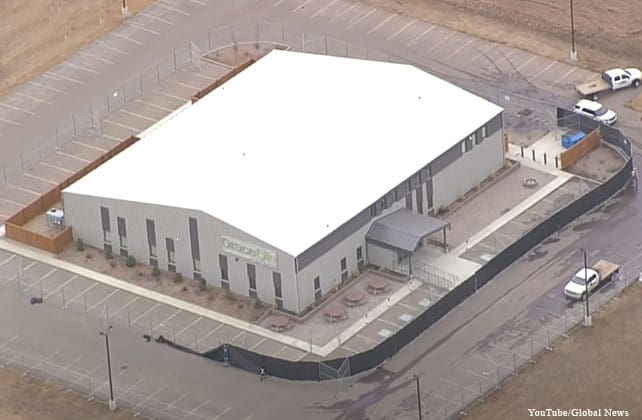 Just two weeks after GraceLife Church's Pastor James Coates was released from serving 35 days in prison for not adhering to COVID-19 restrictions and just two weeks back in the pulpit, a convoy of about a dozen police (RCMP) vehicles assisted in erecting fencing around the property of GraceLife Church early Wednesday morning.
The Edmonton Journal reported that Alberta Health Services (AHS) released a statement saying it has, "physically closed GraceLife Church (GLC) and has prevented access to the building until GLC can demonstrate the ability to comply with Alberta's Chief Medical Officer of Health's (CMOH) restrictions."
Alberta announced on Tuesday they were going back to step 1 of their public health restriction framework to slow the continuing spread of the COVID-19 virus. Premier Jason Kenny said, "The only responsible choice to save lives and to protect our health-care system is to take action."
The heighten restrictions will still allow for area churches to meet as long as they adhere to only 15% capacity, mandatory face coverings, and social distancing.
In their statement AHS said they have "attempted to work collaboratively with GLC to address the ongoing public health concerns at the site," but that the church "has decided not to follow these mandatory restrictions, nor have they attempted to work with AHS to reduce the risk of COVID-19 transmission," which led to authorities taking drastic measure to ensure at least GLC building would not as a facility to spread the virus.
Kenney shared his fears of Alberta becoming the home to a dominate COVID-19 strain within the next week.
Eza Levant from Canada's Rebel News posted video on Twitter and said, "I count thirteen vehicles as part of this police raid on a church. They're erecting steel fences around it. Like China does when they uncover an illegal "house church". Except this is in Edmonton, Alberta, Canada. The same church whose pastor was thrown in prison for 35 days."
Pastor James Coates' wife Erin posted on her Instagram page with a photo of the fence around GLC's building saying, "They are putting up a private screen on the inside fence. I've heard there is a tactical and de-escalation team behind the building because AHS thinks this will cause anger and uproar with our people. Oh @albertahealthservices have you not learned who we are by now? Our pastor walk himself to the RCMP headquarters and turned himself in. We have openly and privately prayed for you and our government. We've honoured and respected the RCMP every step of the way. Why create a narrative to make us look evil? Anyone who shows up on our property taking their moment of fame with MSM and is not inline with how our elders conduct themselves is not a representative of GLC."