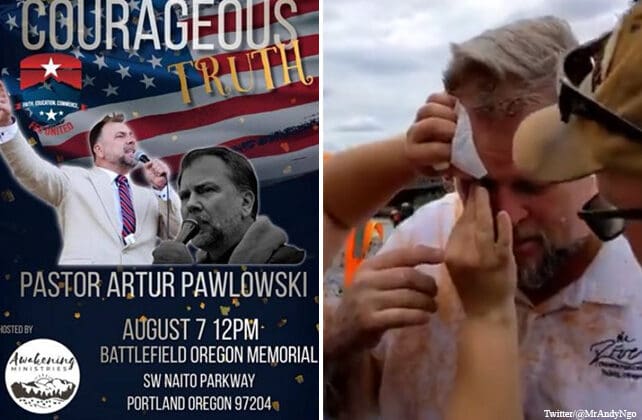 A Christian prayer and worship event that was planned to take place at Tom McCall Waterfront Park in Portland, Oregon, over the weekend resulted in an unwelcome confrontation with a mob of violent Antifa protestors.
The event was intended to feature Polish-Canadian pastor Artur Pawlowski. Pawlowski is known for his clashes with the Royal Canadian Mounted Police when he called them Nazis during an Easter service as they confronted him for violating COVID-19 public health orders. Pawlowski also made news when he was dragged away in handcuffs for holding a worship service that again violated public health orders.
Last month, when the Portland event was announced, an Antifa member told Pawlowski over Twitter: "Welcome to Portland, you won't like it here, Pastor [purple devil face emoji]."
Related article: Pastor Coates and Others Attend Rally Outside of Pastor Tim Stephen's Prison
Antifa Mob Armed and Violent
Dressed in all black and wearing face shields, masks, gloves, and military-style boots, Antifa protesters carrying riot-type police shields and armed with melee weapons, pepper spray, rocks, fireworks, and flash bombs descended upon what had been a peaceful gathering of men, women, children, and infants.
In disturbing video that captured the majority of the attack, attendees can be heard asking, "Why are you doing this? For what?" Members of the Antifa group yelled that they were protesting fascism, while an unidentified event attendee yelled back that the pastor in attendance was a victim of fascism himself. "What are you doing? They arrested this pastor! What are you doing?"
The protestors continued to yell at event attendees and hurl rocks. They charged and physically intimidated worshippers and ripped down sound equipment and speakers. They also dumped food on attendees and sprayed them with pepper spray.
Victims can be heard coughing and screaming as they distanced themselves from the event area, some with children in their arms.
"Where is your God now?" one of the Antifa members can be heard shouting.
One of the pastors who tried to reason with the Antifa protestors said, "It's about knowing differences; it's not about all that, you know," referring to the violence and destruction the group was perpetrating. The pastor, who had been pepper-sprayed, told the person recording the video: "When I'm trying to tell them I'm here to love people…give you a hug…I'll tell you I love ya. And then I get this [pointing to his pepper-sprayed face]. So it's all one-sided, unfortunately." The pastor told the camera that the protestors did not care to engage in conversation or know the group they were attacking.
Another pastor close to the camera said, "They don't even want to talk. They have their own mindset and that's it."
A woman who was helping a pastor who got peppered sprayed was asked by independent reporter Andy Ngô, "What happened?" She then described the incident, saying, "We were about to have a worship event and Antifa just rolled in like angry mobs [and] started throwing flash bombs at everybody, macing everybody, [throwing] rotten eggs at everybody, and black paint at everybody. They threw a flash bomb in a group of kids that were out there from that four months old to like 10. They were ruthless."
*Warning: Graphic language and physical altercations can be heard and seen in the videos that follow.
Another pastor said he walked up to ask the angry mob to stop throwing things at the children, and he said they sprayed him, too.
Police were called but did not intervene. During the end of the video, a police siren sounds, but no law enforcement is shown. In one of the videos, a woman says the authorities would not come because no one was hurt.
Pastor's Boy Tells What Happened
Ngô asked a pastor's young son who was at the event a series of questions, starting with whether he got flash-banged. The boy nodded affirmatively. "Did you get maced?" He nodded yes. "Did you get hurt?" He shook his head no. "I know your mom," Ngô said. "She blocked the fireworks from hitting you, huh?" The boy nodded yes again. "That was scary yesterday, wasn't it?" Ngô asked. Confidently, the boy shook his head no, and Ngô called him a tough guy.
Antifa Member Saved at Sean Feucht's 'Let Us Worship' Event
On Sunday, August 8, 2021, Christian musician Sean Feucht brought his "Let Us Worship" evangelical Christian gathering to the same spot Antifa destroyed the family prayer event a day earlier.
Feucht posted: "Members of Antifa showed up in Portland last night to threaten, harass, bully and intimidate us. A mom and her baby were tear-gassed," he said, referring to the event the day before. "Antifa stood 10 feet from me as we lifted our voices in praise, but we didn't back down. We kept worshipping and God moved powerfully!"
"One member of Antifa who came to disrupt our service was SAVED giving his life to Jesus," Feucht said."It's a time for a BOLD & BELIEVING church! God has not given us a Spirit of fear but of POWER & GRACE! The Church is on the move and the gates of hell will not prevail against it!"
Feucht also shared a photo of drug paraphernalia thrown on stage saying, "Though ANTIFA is surrounding us on both sides working to intimidate, God is setting people free!! KEEP PRAYING!! Needles, pills, drugs, blades, dope, marijuana being thrown on the stage!!!!"
Thanking the security team, Feucht posed in a photo with a handful of ex-military, ex-police, and private security that helped protect the event on Sunday. "If you mess with them or our 1st amendment right to worship God – you'll meet Jesus one way or another," the worship leader tweeted.
Antifa Attacked Attendees Leaving the Concert
The "Let Us Worship" event ended without Antifa protests or incidents until the concert was over. Ngô posted video of violent altercations taking place as Christians attempted to return home.