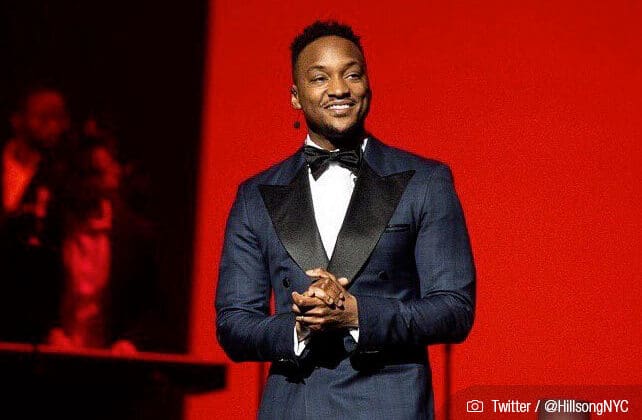 Hillsong Church has lost another leader. Darnell Barrett, creative director of the Hillsong New Jersey Montclair campus, announced his resignation on Tuesday due to being unfaithful to his wife.
After being approached by DailyMail.com outside of his New Jersey home, Barrett said the reason for his resignation was "infidelity" and that he and his wife are in the process of working on "healing and repairing [our] marriage."
Hillsong New Jersey Leader Resigns
Barrett said, "We thought it was best for me to move on. I don't want to get into the details." His announcement comes after sharing an inappropriate photo on Instagram with a 30-year-old former Hillsong female volunteer, which he claims was an accident.
The former creative director, who is married with two children, said he had no intention of meeting up with the former volunteer. The "gym photo," as Barrett calls it, which highlighted his washboard abs and private parts [he had workout tights on], was sent to a private group on Instagram to encourage others to join a gym challenge.
The Hillsong New Jersey leader told the DailyMail.com that he wasn't "trying to lure" the former volunteer, but he understands how she could take it that way, saying, "I get that she, within the context of what's happening with Hillsong, that she would draw those conclusions, but I barely know her. That was not my intention."
The former volunteer told DailyMail.com that it was no accident. She said Barrett contacted her earlier this year saying he was going to be near where she now lives and inquired about areas that were "off the grid" but still had a liquor store close. The unnamed female said she blocked his account after receiving the lewd photo, but grew angry and unblocked him to vent her frustration over the photo.
"I'm not the only person you've probably done this to," she angrily messaged him and said, "I'm actually horrified by the thought of how many other innocent girls you've manipulated with this ploy of yours."
Prior to Barrett joining Hillsong in January 2019, he made national headlines when he reconciled with his biological father in December of 2018. Because of their parents' drug addictions, Darnell and his brother Daniel where adopted as infants. Appearing on the Steve Harvey's talk show Barrett told Harvey that since his biological parents chose drugs over him, "I still struggle with this idea of being enough for someone to stay in my life. So it's something I'm working on and I'm in therapy for and lots of prayer."
Other Recent Hillsong Resignations
This past January, Reed Bogard and his wife Jess resigned as pastors of Hillsong Dallas after an investigation led to their pastoral duties being suspended due to allegations of inappropriate use of church funds. The result of their resignation led to the closing of the Dallas campus earlier this month after Hillsong's global senior pastor Brian Houston decided to "pause all operations" for the time being.
In November 2020 Hillsong fired popular Hillsong East Coast Pastor Carl Lentz for what Houston called "moral failures." Lentz was close friends with celebrities like Justin Bieber, Kevin Durant, and Tyson Chandler. The pastor was exposed for living a double life when his then girlfriend broke her silence, not even knowing he was a pastor. Lentz is still currently married to his wife Laura (17 years), and they have three children together.
Leadership Matters
Yet another headline about a church leader's moral failure raises questions about what good Biblical leadership really means. Biblical leaders are not perfect leaders, but they are leaders that aim to live a life that reflects Jesus Christ. Leaders, as you disciple others so that they can then disciple others (as we are commanded to do in the Great Commission), please make sure you are investing in the only thing that matters: Jesus.