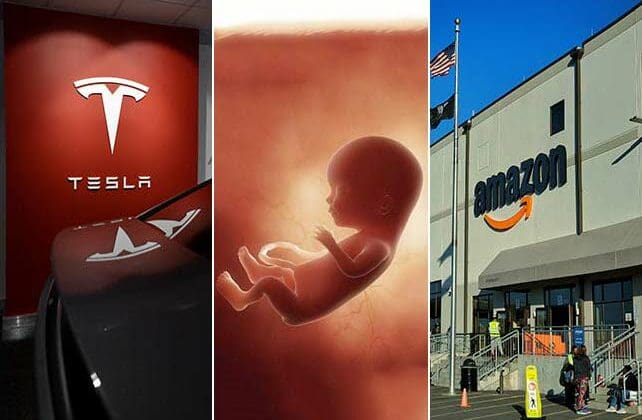 Well-known companies including Amazon, Tesla, and Apple are among a growing list employers offering to pay travel expenses for employees who need to go out of state for an abortion.
This trend comes in light of last week's leak of a draft opinion written by Supreme Court Justice Samuel Alito foreshadowing the overturning of Roe v. Wade, a decision that made abortion a constitutional right in America.
Tesla relocated to Texas, a state that recently banned abortions after a heartbeat is detected, last December from California, a state that now financially helps its residents get an abortion.
RELATED: 'Sure. I'll Be Saved. Why Not?': Elon Musk
The $1 trillion company expanded their "Safety Net program and health insurance" in 2021 to include travel and lodging support for employees who "may need to seek healthcare services that are unavailable in their home state (pg. 31)," according to the "Tesla 2021 Impact Report," which the company tweeted last Friday.
Tesla CEO Elon Musk responded to Texas' abortion law last year, saying, "In general, I believe government should rarely impose its will upon the people, and, when doing so, should aspire to maximize their cumulative happiness. That said, I would prefer to stay out of politics."