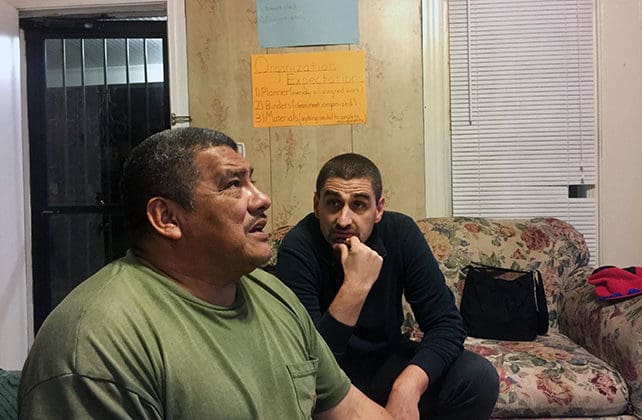 DURHAM, N.C. (RNS) Jose Chicas, a native of El Salvador who has been living in church sanctuary for more than three years, will move out Friday (Jan. 22) after President Joe Biden signed an executive order temporarily halting the deportation of undocumented immigrants.
Chicas, 55, has been living in an old clapboard house next door to St. John's Missionary Baptist Church in Durham and is eager to return home to his wife and U.S.-born children, who live in nearby Raleigh.
"I'm so happy," said Chicas, who has been living in the United States for 35 years. "I feel good."
Dozens of others who took sanctuary in churches after former President Donald Trump's aggressive efforts to find and deport undocumented immigrants are now talking to their lawyers to see if it might be safe for them to leave.
"Each person claiming sanctuary will make their own decision on next steps in light of the recent memo that includes a pause on deportation — a critical step in the right direction as we continue to work to stop deportations and liberate people in sanctuary," said Noel Andersen, grassroots coordinator for Church World Service, which has tracked sanctuary cases.
There are approximately 38 people who have publicly taken sanctuary in religious congregations across the country to avoid deportation. Churches — along with schools and hospitals — are considered "sensitive locations" where federal immigration enforcement officers are unlikely to arrest, search or interview people under most circumstances.
On Wednesday, after  a flurry of executive orders issued by Biden, David Pekoske, the acting secretary of the Department of Homeland Security, issued a memo outlining a 100-day pause on deportations — with the exception of those suspected of terrorism or espionage, or otherwise posing a danger to national security.
(Biden also bolstered the Deferred Action for Childhood Arrivals program that protects from deportation immigrants brought to the United States as children. And he called on Congress to enact legislation providing a path to citizenship for those so-called Dreamers.)
In North Carolina, half a dozen people have taken sanctuary in churches in the wake of the Trump administration's hard-line immigration policies. Many have lived in the United States for years and were issued deportation orders soon after Trump took office in 2017.
At least two others have been talking to their lawyers to see if they might safely leave now. They include Juana Luz Tobar Ortega, a Guatemalan grandmother who has taken sanctuary in an Episcopal church in Greensboro since May 2017.
"I think it would be the greatest thing in the world if she could go home," said Randall Keeney, vicar of St. Barnabas Episcopal Church, where Ortega has been living. "She's a remarkable person to put up with this for more than three years."
Many living in sanctuary are are hesitant to leave because they distrust Immigration and Customs Enforcement. In 2019, ICE imposed on sanctuary dwellers hundreds of thousands of dollars in civil penalties for disobeying orders to leave the country. They were later mostly lifted. In other cases, ICE baited people in sanctuary to their offices, only to arrest and deport them.
"ICE has a history of being a rogue agency, so many might want to continue to advocate for their own stay of deportation to ensure they will not be deported and can stay united with their families and communities," said Andersen.
Chicas, however, feels confident he can go home. On Friday, the School for Conversion, an interfaith community-building organization that sponsored him, will hold a socially distanced send-off for him.