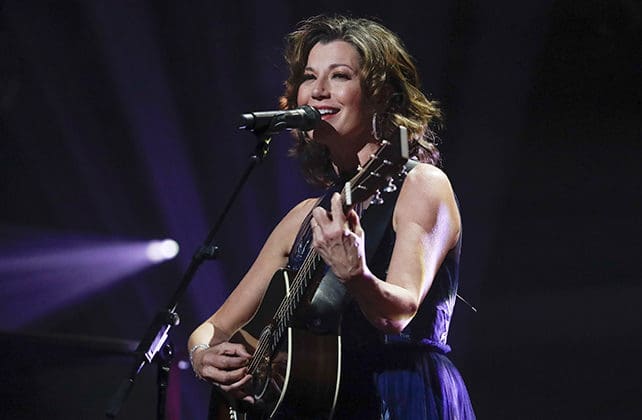 by Maina Mwaura
(RNS) Amy Grant and Annie F. Downs are both evangelical Christian women who have become household names, each in their own time and in their own way. The two have something else in common. Amy and Annie both have you at hello.
On a cool January morning, Grant invited me into the Nashville home she shares with her husband, Vince Gill, as if we were friends. Suddenly there is a Southern breakfast of coffee and apple pie baked from scratch. Her homespun welcome worked its effect: I forgot for a second that I'm hanging out with a legend who kickstarted Christian rock, collected too many Dove Awards and Grammys to mention and sprinkled the charts with No. 1 hits.
The story that had brought me to Nashville was a nostalgic look back at " Heart in Motion," Grant's 1991 crossover classic, as it hit its 30th anniversary. As one who still holds the earlier "El Shaddai" Grant as my favorite, I have made my peace with "Baby, Baby," but it occurs to me that I'm here because Grant is more than a musician. She is a leader. She has influence in a bygone meaning of the word.
In the evangelical community, the norm is for men to be given the platform, but, perhaps because I've always been the minority in my home gender-wise, I've long known that women can and should lead. Nibbling on apple pie in Grant's kitchen, I realized that it's past time for evangelical men like me to learn from women like her about leadership.
How Grant leads is amazing to watch. She listens, courageously and actively, and pulls other people into conversations. At one point, in response to a story she was telling me, I mentioned a conversation about race that I'd had earlier in the week with Sixpence None the Richer front-woman Leigh Nash and gospel singer Shirley Caesar. Amy wanted to know more about the topic and ended up texting Nash on the spot. Now we were all talking about race.
Grant also made clear that she listens to the spirit, admitting to me that it has been a force that has guided her in overcoming heart surgery she had earlier in the year. (She is doing fine now and feels better than ever.)
But she has always listened to the spirit. During the making of "Heart in Motion," as she was coming off her Lead Me On tour, she said she began feeling overwhelmed. She turned to a simple prayer her former mother-in-law gave her: "Lord, lead me to those that I need, and to those that need me, and let something that I do have eternal significance."
Grant also can teach leaders about staying true to a calling. She knows that God called her to influence culture, to make the name of God known through music. Allowing the spirit to control her witness has given her staying power. Thirty years after "Heart in Motion," Grant seems to know only how to live an authentic life.
When my time with Grant was up — thankfully, as I was about to start singing some of my old Amy favorites — I headed to Music Row, and the office of Annie F. Downs, whose book " That Sounds Like Fun " debuted this week on Publisher's Weekly's bestseller list. Her weekly podcast of the same name makes almost every list of top Christian listens, pulling in mainly young adults to listen to her conversations with guests that range from Jemar Tisby to Tim Tebow.
Downs is a different kind of leader: She runs a company of men and women in the challenge to reach as many people as possible for God. Her purpose and passion are immediately evident, and she explained that she wants her audiences to have it, too.
She is keenly aware that if we are going to make a change, we cannot just be about talking it; we have to inform and motivate. On her podcast particularly, Downs wants to inform her audiences about what is going on in culture today. Race is a big topic on her show — not only via Tisby but others such as Latasha Morrison, founder of Be the Bridge, a race reconciliation network.
Far too often in the body of Christ, we avoid letting the larger world inform our discussions. Downs seems to sense that information motivates people, especially, perhaps, other women.
It struck me, as I was leaving, when Downs handed me a copy of a couple of her books to give to my daughter: Grant has also pressed a favorite devotional on me. Both women felt the impulse to give, as they know they've been put in their position because of the gifts that God has given them. What's more, they seem to be okay knowing that. It's a fresh trait that I believe we need more of in Christian culture.
Leadership itself is a gift, one that God has ordained for all of us to partake in and experience for the betterment of the kingdom to come. We should and can ask women to speak into our culture more.
(Maina Mwaura is a speaker and writer. The views expressed in this commentary do not necessarily reflect those of Religion News Service.)