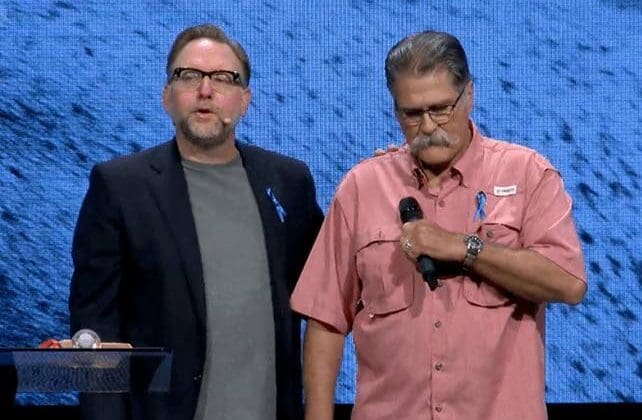 HOUSTON (BP) – Three days after a grandfather and four of his grandsons were found murdered at the family ranch, family members stood before Houston Northwest Church and encouraged others not to lose hope or forget that God is gracious.
"I lost my best friend. He kept me sharp," said Glen Collins of his brother, Mark.
Mark Collins, 66, was found dead at the property west of Centerville alongside his grandsons Waylon, 18, Carson, 16, Hudson, 11, and Bryson, 11. The group had gone there Thursday, June 2, to do some fishing at the conclusion of the school year. Investigators believe they were killed by a prison escapee who then stole their truck and was killed later that evening by police in a shootout.
Hundreds of mourners gathered the next day at a baseball field in Tomball, northwest of Houston, to commemorate the victims. Waylon Collins was a recent graduate of Tomball High School and an umpire for Little League baseball.
Speaking June 5 at Houston Northwest Church, Glen Collins urged attendees and viewers to find comfort in the Lord, as he has.
"My message is encouragement," he said. "This is my home and you are my people, and this is where I find solace and comfort. God is still God, and we're not.
RELATED: Ed Stetzer: How to Pastor People in an Age of Outrage
"There was a purpose when His son suffered so much more than my family [has]. … That purpose is why I know I will see my loved ones again."
Keith Mitcham, Mark Collins' brother-in-law, also addressed the congregation.
"Evil did visit our doorsteps," he said. In those times, he added, it is important to remember where to gather strength in tragic situations.
"Jesus said, 'Abide in me.' And by abiding in Him, we're letting Christ abide in us. We're connected to the vine. You realize that serving God is easier, then, because you're no longer the one producing the fruit. You're just connected to the vine.
"Yes, we live in an evil world, but God is sovereign. For Him to have allowed this to happen, there's a greater good that He will accomplish through all of this."
A cross, flowers and a box to hold letters of encouragement for the family sit at the start of the driveway to the property, Mitcham said. A sign will soon be added to the fence announcing Romans 5:20 – "But where sin increased, grace abounded all the more."
Houston Northwest pastor Steve Bezner told Baptist Press that the comments mirrored the faithful disposition of the Collins family.
RELATED: The Bondage of the Will, the Sovereignty of Grace and the Glory of God
"They are just heartbroken," he said. "But they are hopeful, because they believe in a God larger than any tragedy."
Glen Collins' words reflected that assessment.
"Let me tell you how we make it through this – because we have a hope grounded in the cross. That is our saving grace.
"… Let's use this for God's purpose, to bring others to His Son."
This article originally appeared at Baptist Press.