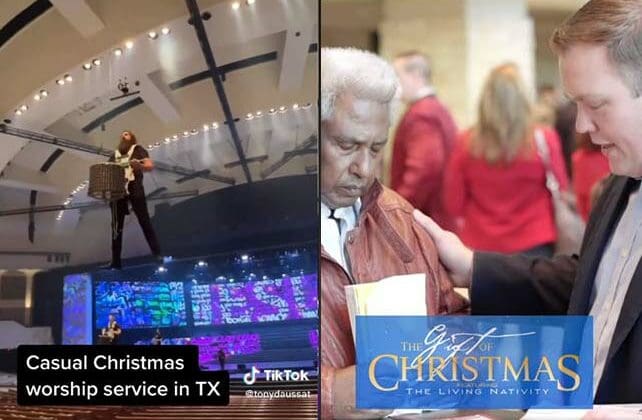 Earlier this week, Tony Daussat posted a video on TikTok taken at Prestonwood Baptist Church in Plano, Texas, showing drummers suspended from the ceiling of their auditorium, practicing for their annual "The Gift of Christmas" program.
Daussat's caption read, "Casual Christmas worship service in TX." The video has been viewed over 2.3 million times and has over 201,400 comment, many of which blasting Prestonwood for its elaborate Christmas production.
"Who needs Cirque du Soleil when you can get it for free at church services," one person wrote. Another said, "Tell me the preacher has a private jet without telling me the preacher has a private jet."
Prestonwood's "The Gift of Christmas" includes a live 50-piece orchestra, a cast and choir of nearly 1,000 people, flying angels, live animals, a living nativity, a massive LED video wall, and more. The church performs 14 shows in December. All but three of the showtimes are currently sold out.