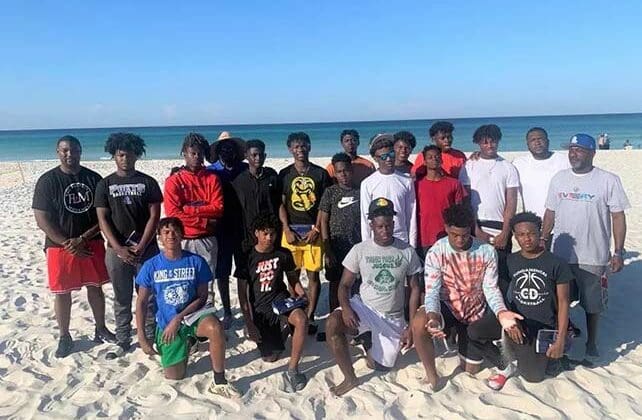 MONTGOMERY, Ala. (BP) – Pastor Dewayne Rembert considers himself from the "country ghetto." Born in 1975 in rural Linden, he had no running water or indoor toilet but ran illegal drugs in urban housing projects to buy food to eat.
Economic poverty, fatherlessness and a mother who retreated to the streets weeks at a time have given him a Gospel perspective that led 67 urban teenagers to profess Christianity in one month through the Flatline Movement and Flatline Church at Chisholm, both of which Rembert founded.
"If you don't have the right bait on the hook," Rembert said of outreach to urban youth, "you're not going to catch (them). We know what the problem is, and the church has the solution to the problem. We've got to put the right bait on the hook for them to get clean. And then urban guys, we need support."
Rembert's "bait" is the Gospel message in sermons and in the latest genre of rap music from "the hard guys from the streets that got saved," not the contemporary Christian rap that Rembert says typically reaches Anglo youth.
RELATED: What's Evangelism: The Key to Outreach That No One Talks About
"They're playing songs from back in 2012," Rembert said of contemporary Christian rap often used in church youth groups. "That sound is not even popular no more, to the young people."
Rembert saw the salvations in June at two summer camps, the first held in Panama City, Fla., at a Fellowship of Christian Athletes and Flatline Movement camp. There, 40 students from four inner-city Alabama schools made decisions for Christ, their trips provided with donations from several Southern Baptist churches.
In a girls camp three weeks later in Panama City, 20 of the approximately 40 girls in attendance professed Christ as their Savior. The following Sunday at Flatline Church, seven teenagers accepted Christ and were baptized on the spot.
"Through the grace of God I was able to reach out to quite a few of our SBC churches, and they made donations for us to take down four of our local inner-city schools' (sports) teams down to Panama City," Rembert said. "We do things at the church as well, but it's something about bringing children from the inner-city and taking them to the beach. When I was in high school, I never went to the beach. It was only a dream for me. It was not a reality.
"My mom was, sadly, in and out of the streets and there was no dad around and all my uncles were under the bondage of alcohol. And my grandmother had dementia. So I was just in the streets."
RELATED: Evangelism Experiences: 10 Wild Adventures in Sharing the Gospel
Rembert had begun "holding drugs" for drug dealers in the ghetto who would later sell them, he said, in his teenage years after his grandmother began suffering dementia. The two would run out of food after the first two weeks of each month.
Rembert moved to Montgomery at age 19 with the clothes on his back and a change of underwear and an extra shirt in a plastic bag, he told Baptist Press. He got a job at Wendy's and, for the first time in his life, had running water and could take a hot shower.
Now a "tri-vocational" pastor, Rembert told BP he knew that getting inner-city youth away from their environments of stress and lack for just a season "and evangelistically (engaging) them with the Gospel through culture, the same culture that they come from, would be very, very effective. So that's what we did."
In partnership with Chisholm Baptist Church, a fading congregation of 20 worshippers between the ages of 62 and 93, Rembert began Flatline Church at Chisholm in 2019. Through the Montgomery Baptist Association, Chisholm Baptist gifted Flatline Church at Chisholm with a 22,000-square-foot building, looking for an African American pastor to reach the changing community.
RELATED: 9 Ways a Pastor Might Prioritize Evangelism
Rembert had begun in ministry teaching Bible study weekday mornings at a local public high school before leaving for work at 7 a.m. as the general manager of a local hotel.
"The Bible study started growing so big, we had to move it to the auditorium," he said. "And then, the school, they stopped making me cut it off at 7 o'clock, because guys were coming out of gangs, girls were keeping their babies when they were going to have abortions."
School coaches and administrators began calling Rembert to intervene when students were going astray, promising to give the students another chance if Rembert could sway them to change.
"I would go over to the school and share my story," he said. He resonated with the students because he was once in their shoes, dealing with life without a father or a father's rejection.
The outreach led Rembert to found the Flatline Movement an urban ministry, in 2015, based on Romans 6:11. In its earliest days, the ministry focused on football teams, engaging them in Bible study over dinner after team practice. In 2021, he revamped the movement to engage the culture with the Gospel through the arts, assisted by a team of seven rappers and musical artists who worship at Flatline Church at Chisholm.
RELATED: Kevin and Sherry Harney: Why It's a Problem If Our Discipleship Does Not Lead to Evangelism
Rembert is church-planting strategist for the Montgomery Baptist Association, works part time at the front desk of a local hotel, and also does part-time work at the Elmore Baptist Association in Wetumpka.
The married father of three children is continuing his education at New Orleans Baptist Theological Seminary after attending Troy State University of Montgomery and Birmingham Theological Seminary.
He doesn't earn a salary in the Flatline Movement or the pastorate, estimating the average annual income is $12,000 for families within a mile radius of the church.
"Can you imagine living off of $1,000 a month? That's household income."
Rembert encourages Southern Baptists to listen to inner-city youth when trying to reach them with the Gospel.
RELATED: How I Use the Pilgrim's Progress in Evangelism
"I would like for Southern Baptists to listen to them and to realize that everything that's not like (Southern Baptists) in regards of culture is not demonic, again, like rap," Rembert said. "Rap is in the Bible.
"Rap stands for rhyme and poetry. If you look in the Book of Psalms, it's a what? Poetic book. What about Proverbs? Poetic Book. Ecclesiastes, poetic book. Job? Poetic Book. And the Book of Psalms is rhyming. And the Bible says David danced out of his clothes.
"Now, we don't know what kind of music he was listening to, but he was worshiping the Lord."
This article originally appeared at Baptist Press.