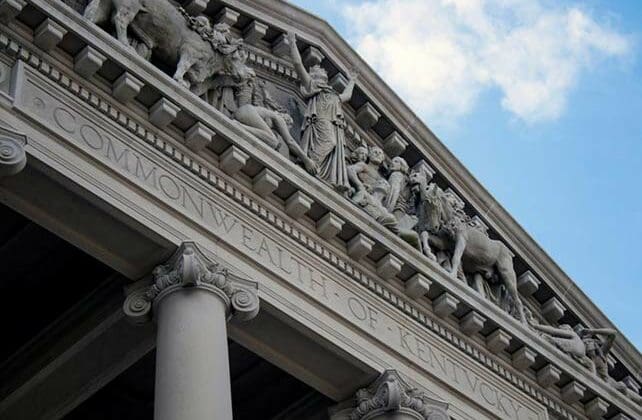 NASHVILLE (BP)—State lawmakers continue to adopt pro-life protections this year in hopes the U.S. Supreme Court will return abortion policy to their jurisdictions in a ruling expected by this summer.
Florida and Kentucky are the latest states to enact abortion prohibitions during legislative sessions that have seen more than 500 pro-life measures introduced in 2022. Those states, which both approved bans on abortion after 15 weeks gestation, joined others that have enacted pro-life laws that include a nearly total prohibition on abortion and bans at different stages of pregnancy.
Various states have taken such actions as the country awaits a decision by the Supreme Court regarding Dobbs v. Jackson Women's Health Organization, a case regarding Mississippi's 15-week abortion prohibition. Many pro-life and abortion-rights advocates believe the justices are likely not only to uphold the law but to reverse the 1973 Roe v. Wade opinion that legalized the procedure nationwide. Such a ruling by the Supreme Court would return abortion policy to the states.
"As states continue to pass laws to protect preborn life, we eagerly await the Supreme Court's decision in the Dobbs case and are hopeful that a culture of life will be established in all states," said Chelsea Sobolik, director of public policy for the Southern Baptist Ethics & Religious Liberty Commission (ERLC).
RELATED: Pro-life Christians Urged To Remain Hopeful at ERLC Event
"We must continue to advocate for laws that protect life, and Christians should simultaneously be working towards a day when abortion is also unthinkable and unnecessary," she said in written comments for Baptist Press.
Denise Burke, senior counsel for Alliance Defending Freedom, told BP, "[T]his has been one of the most consequential pro-life legislative years we have seen in a decade, demonstrating yet again that the vast majority of Americans oppose the Roe regime of unrestricted abortion-on-demand and that our officials are anticipating a significant ruling in Dobbs.

"Our laws should protect all innocent lives because life is a human right," she said in written remarks. "Over 60 million American lives have been lost since Roe was decided in 1973. This devastating loss of innocent life results from refusing to recognize the dignity and worth of every human person."
Burke also said, "Overturning Roe will place demands on all of us – the church, the state and the broader pro-life community — to resource, equip and build the vital institution of the family. Those that have worked to promote the pro-life cause are demonstrating true leadership and dedication to protecting the lives and health of unborn children and their mothers."
Florida Gov. Ron DeSantis signed into law a 15-week abortion ban April 14, a day after Kentucky's legislature overrode a veto by Gov. Andy Beshear of legislation that included prohibitions on abortion after 15 weeks gestation and the mailing of abortion pills. The enactment of Kentucky's new law prompted the state's two licensed abortion providers to close for the time being.
Florida and Kentucky are among nine states that have enacted a total of 33 pro-life laws so far this year, the Guttmacher Institute reported April 15. Another 28 pro-life protections have gained passage by at least one legislative chamber in 11 states, according to Guttmacher. A total of 536 abortion restrictions have gained introduction in 42 states in 2022, according to the report.
Guttmacher is a research and policy organization affiliated with the abortion-rights movement.
Among other pro-life laws enacted this year in addition to those in Florida and Kentucky in preparation for a possible post-Roe era:
— Oklahoma prohibited abortion except to save the life of the mother in a bill signed April 12 by Gov. Kevin Stitt. A person convicted of performing or attempting to perform an abortion may receive a maximum prison sentence of 10 years and/or a fine of as much as $100,000.
RELATED: Pro-Life State Legislators Preparing for Post-Roe Era
— Arizona banned abortion after 15 weeks gestation in legislation signed March 30 by Gov. Doug Ducey.
— Idaho outlawed the abortion of an unborn child whose heartbeat can be detected in a bill signed March 23 by Gov. Brad Little. A heartbeat can be detected as early as five to six weeks gestation. Like a 2021 Texas law, the measure authorizes a private citizen – in this case, a family member — to bring a civil lawsuit against someone who performs a prohibited abortion.
— South Dakota barred mail-order abortion drugs in a proposal endorsed March 23 by Gov. Kristi Noem.
— West Virginia banned abortion based on the diagnosed disability of an unborn child in a measure signed March 21 by Gov. Jim Justice.
— Wyoming enacted a prohibition on abortion that would be triggered if the Supreme Court overturns Roe in legislation signed by Gov. Mark Gordon and announced by his office March 15.
Meanwhile, abortion-rights supporters have both criticized the actions of pro-life lawmakers and gained adoption in some states of measures protecting or expanding access to the procedure.
After Florida's enactment of its ban, Mini Timmaraju, president of NARAL Pro-choice America, called it "a shameless step towards what could be a terrifying new future for reproductive freedom in the country. Anti-choice politicians across the United States, emboldened by the Supreme Court's anti-choice supermajority, are clamoring at the opportunity to enact abortion bans like Mississippi's."
Seven states have enacted 11 abortion-supporting laws in 2022, according to Guttmacher. Among these:
RELATED: I Was Almost Aborted (But That's Not the Biggest Reason Why I'm Pro-Life)
— Maryland mandated $3.5 million in the yearly budget to provide training for abortion providers when the General Assembly overturned Gov. Larry Hogan's veto April 9.
— Colorado enacted a law signed April 4 by Gov. Jared Polis that guarantees the decision to abort an unborn child is a "fundamental right" and bars state and local governments – and any other "public entity" – from interfering with a woman's right to an abortion. Some observers contend the law goes so far as to legalize infanticide of newly born children.
— New Jersey adopted legislation in January to protect abortion as a fundamental right.
— The Vermont House of Representatives passed in February an amendment to the state constitution that would enshrine abortion rights. Vermont voters are expected to endorse the amendment in November.
— Four states – California, Maryland, New York and Oregon – have approved bills to require health plans to provide abortion coverage or to designate state money for abortion services, according to Guttmacher.
Abortion-rights backers have introduced 231 proposals in 29 states and the District of Columbia this year, Guttmacher reported.
RELATED: Pro-Lifers Celebrate SCOTUS Decision on Texas Abortion Law
In the case being considered by the Supreme Court, Mississippi and many pro-life organizations, including the ERLC, asked in briefs filed with the justices that they reverse not only Roe but the 1992 Planned Parenthood v. Casey opinion that affirmed that decision.
This article originally appeared at Baptist Press.