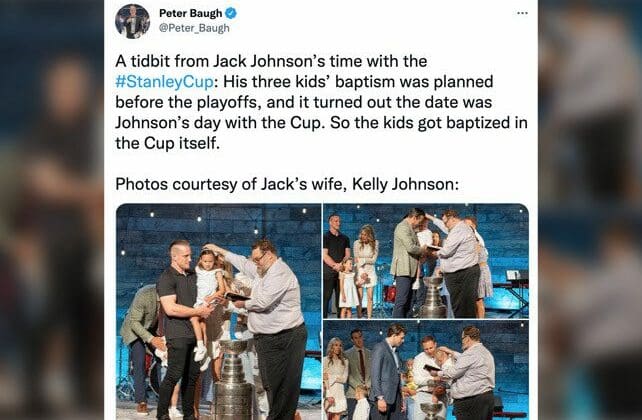 The most revered trophy in sports always has a busy summer, traveling the world with championship hockey players and coaches. Each member of the Stanley Cup-winning NHL team is allowed 24 hours with the 35-pound trophy, which frequently serves as a food bowl and drinking chalice.
Lord Stanley's iconic Cup has been atop mountains and at the bottom of a swimming pool. Players have taken it to movie premieres, the Kentucky Derby, and even a strip club. Now, for the fourth time in its venerable history, the Stanley Cup has been used as a baptismal font.
Stanley Cup: Baptisms of Player's Kids Were Already Scheduled
On June 26, the Colorado Avalanche defeated the Tampa Bay Lightning in Game 6 of the Stanley Cup Final, clinching its first championship in 21 years. Avs defenseman Jack Johnson, who signed a one-year deal with Colorado in October 2021, had a standing promise with his kids: If he ever won the Stanley Cup, they could eat ice cream out of it.