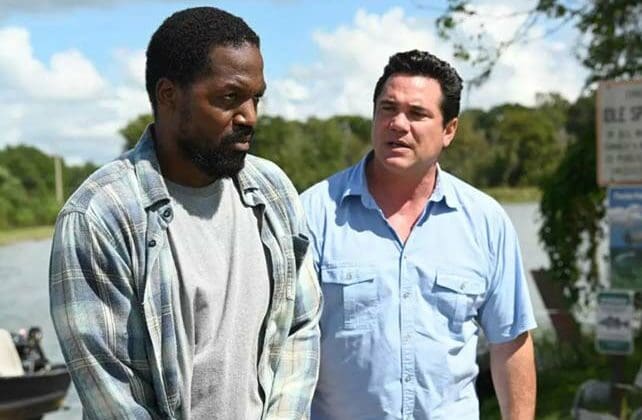 LEESBURG, Fla. (BP) – Love, listen and love again. That's the formula Christian actor T.C. Stallings of "War Room" fame uses in describing the journey of agape love depicted in his latest film, "No Vacancy."
In the true story of the ministry of First Baptist Church of Leesburg, Fla., Stallings plays real-life Cecil Johnson. He enters the film as a gun-wielding drug dealer, crack cocaine addict and former prisoner without a home, but by movie's end is a sober, born-again business owner, deacon and leader of First Leesburg's 12-step recovery ministry.
"I hope that when people see Cecil, they see the Cecils that are in their neighborhood or on their blocks that they may or may not drive by every single day," Stallings told Baptist Press. "And some people don't even want to do anything to help them, and other people want to help them, but maybe they are hesitant or don't feel like they have any answers for them, like the problem is just too big.
RELATED: First Leesburg's 'No Vacancy' Exhorts Churches to 'Stay on Mission'
"There are other people who probably don't even like the homeless and hungry and strung out on drugs to even be in their neighborhood. And a lot of those types of people are reflected in this film."
No Vacancy is the 2008 story of First Leesburg's struggles and triumphs in buying a blighted motel adjacent to its downtown campus and converting the property into housing for the homeless. The motel is now Samaritan Inn, one of many outreaches through nonprofit Christian Care Center founded by First Leesburg and supported by many area churches.
Stallings sees in No Vacancy the potential to change the way many approach godly love.
"I'm hoping that for people in the real world that are seeing this in their neighborhood, when they see what can happen when you just simply take time to love somebody, listen to their problems, and them love them again," Stallings told Baptist Press. "But this time you're going to love them the way that the Lord leads you to love them, that it could change that person's life. And then that person change the lives of so many others, because that's exactly what happens in this film."
No Vacancy marks the first time Stallings portrays a real-life character. Cecil suffered poor opportunities and poor choices. By the time he first met his earthly father, according to the story, the older man's body lay in a basket for burial. Cecil's struggles are captured in his mother's impassioned prayer petitioned in their Florida home as he smokes crack in another.
RELATED: Tiny Cottages, Compassion Tackle Homelessness in Church-Community Partnership
"I buried three boys, I ain't letting this one go. The devil has a strong hold on him. It's going to have to be You to break the devil's knuckles," Cecil's mother pleads. "Please, please Lord."
Cecil ministered at First Leesburg until his death in 2019.
Moviegoers have seen Stallings as the hellbent gangster T.J. in 2011's "Courageous," the repentant husband Tony to Priscilla Shirer's character in the blockbuster "War Room" and a dependable, faithful assistant pastor in 2017's "A Question of Faith." Stallings also is detective Tre Millwood in the faith-based crime drama Vindication.
The former college football star sees God's clear leadership in his calling to acting and film. After viewing the Kendrick Brothers' "Fireproof" in 2008, he asked the Lord to open a door to work with the filmmakers as validation of his call to the industry. That door came in his role in Courageous, followed shortly afterward by War Room.
But Stallings, who leads his wife Levette and their two children to read through the Bible annually, doesn't require his film roles to be faith-based.
"I never really had an attraction to do specifically faith-based movies," he said. "What attracts me is clean content, whether it's mainstream, whether it's faith-based, no matter what the genre, it just needs to be clean.
"There are some genres that I'll never touch because I just don't see any way it could ever be clean," he said, "like evil stuff, horror stuff, you'll never catch me in anything like that. … Clean for me is, if Jesus was sitting right next to me, I could still do the role. That's literally how I choose my roles. It can't be something that He would disapprove of.
RELATED: Oregon Church Continues to Offer Daily Meals for Homeless, Despite City Restrictions
"I can do anything as long as if I turn and see Jesus, I can keep doing it."
Stallings travels frequently to speak on God's Word, tells his life's story in the autobiographical "Eyes Fixed: My True Life Story," is promoting his Scripture-based documentary "24 Counter: The Story Behind the Run," and this year will launch his latest podcast "Eyes Fixed."
He describes the portrayal of Cecil as his favorite role to date.
"I am always drawn to those types of movies," he said. "I love true stories. I think it's one of the most challenging things you can do, to play a real person. It made for something that I knew would challenge me in such a way that could really take me to another level as a performer. And then, it could impact people around the world with the story. So it was a no-brainer for me, and I gladly accepted the role."
Stallings is grateful to Art Ayris, No Vacancy's writer and producer who is also First Leesburg's executive pastor, who eyed him for the role.
"It's always an honor when someone thinks of you, writes something with you in mind, feels like there's no one else they want to play the role," Stallings said. "The other thing is when I got the script and then I read the story and was just able to see what the church in Leesburg had done, how it had impacted people, Cecil's story, and I just wanted to be a part of telling it, because I knew it had the ability to start a movement around the world in looking after people the Bible terms the least of these."
First Leesburg embarks on its Welcome to Hope campaign in September to encourage churches to stream the film as a ministry outreach through Kingstone Studios.
RELATED: From Homeless to America's Chess Master, Meet 10-Year-Old Christian Refugee Tanitoluwa Adewumi
"We're trying to catalyze churches to deal with the issues right there in their communities," Ayris, Kingstone's founder and CEO, has said of the film. "Drug addiction is such a huge one, and homelessness is such a big one, and we deal with both of those in the movie. It's just really an encouragement to our brothers and sisters to just really look out for the least of those that are literally right there in our neighborhoods."
Stallings expounds on the process of loving, listening and loving (again) as a community outreach captured in No Vacancy.
"When you go to show love, meaning you stop what you're doing, go and sit down with that person, ask that person to tell you about what they're going through, when they start telling you what they're going through, you make it a point to just have an open heart and listen to it," Stallings said. "Then you take everything you're listening to, and just ask God what you should do about it. When you ask God what to do about it, God loves the homeless, the hungry. He loves the least of these. He wants to help them, and He wants to use us to do it."
This article originally appeared at Baptist Press.