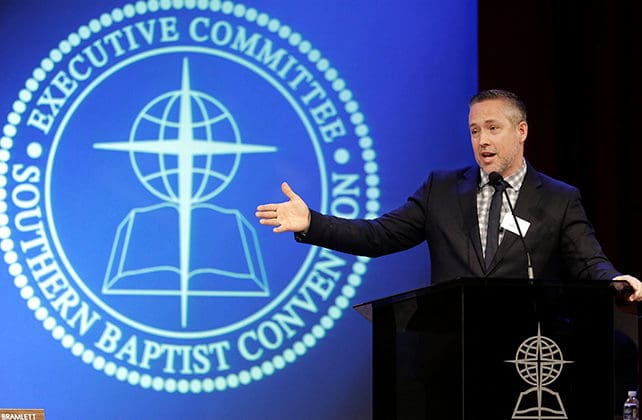 by Bob Smietana
NASHVILLE, Tenn. (RNS) Four churches were disfellowshipped by the Southern Baptist Convention's Executive Committee on Tuesday (Feb. 23).
The denomination's credentials committee determined that four congregations are "no longer in friendly cooperation" with the denomination. Those churches are Towne View Baptist Church in Kennesaw, Georgia; St. Matthews Baptist Church in Louisville, Kentucky; Antioch Baptist Church in Sevierville, Tennessee; and West Side Baptist Church in Sharpsville, Pennsylvania.
Meeting in executive session, the Executive Committee voted to remove all four churches.
Towne View and St. Matthews were removed for "affirming homosexual behavior" in their standards for members and leaders.
Antioch Baptist Church "knowingly employs as pastor a man convicted of statutory rape," according to the credentials committee. That committee also told the Executive Committee members that West Side Baptist "knowingly employs as pastor a registered sex offender."
St. Matthews was previously removed from the Kentucky Baptist Convention in 2018 for its support of the Cooperative Baptist Fellowship, after the CBF decided to allow some gay employees, according to the Louisville Courier Journal.
Towne View was notified earlier this year that the Executive Committee would review its status. At issue is Towne View's decision to affirm John and John M. Reynolds as full members. 
"We felt strongly that we wanted our boys to have the opportunity to attend a Bible-based church," John M. Reynolds told Religion News Service earlier this year, "to have the best opportunity to develop their own personal relationship with God."
The Reynoldses have since moved and are no longer at the church.
Executive Committee members also received a report from a task force that investigated the SBC's Ethics and Religious Liberty Commission. That report concluded that the ERLC was a distraction for the SBC and its actions had led to a loss of donations. The committee took no action on the report.
Executive Committee member Rod Martin, a noted critic of ERLC President Russell Moore, asked if the agency was still needed, given that the denomination faces division on a number of issues and the ERLC does not focus primarily on evangelism or missions.
West Side, St. Matthews and Antioch did not immediately respond to a request for comment.