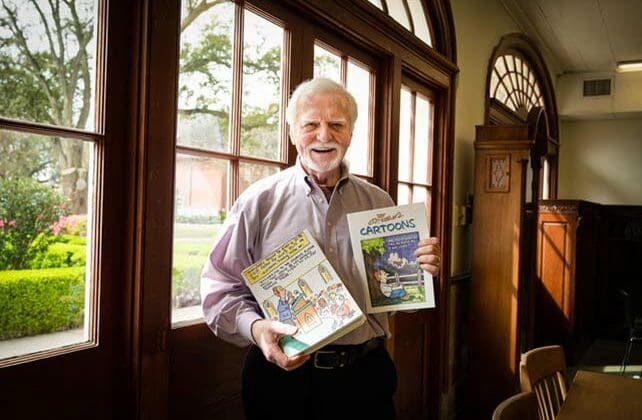 NEW ORLEANS, La. (BP) – Joe McKeever, a well-known Baptist minister famous for drawing cartoons and caricatures for Baptist publications, has announced his intention to donate his entire archive of cartoons and other works to the John T. Christian Library at New Orleans Baptist Theological Seminary (NOBTS).
A two-time graduate of NOBTS, McKeever, 82, will be donating his entire archive featuring thousands of cartoons and caricatures as well as many sermons, articles and posts from his extended ministry career of more than 50 years.
When the idea came up about donating all of his "papers," to a particular location, McKeever told Baptist Press "if New Orleans was interested in having them, that would be the appropriate place for them to be."
Mark Hagelman, director of development for NOBTS, told Baptist Press, "the highest compliment we can receive ever is when Alumni give back to the seminary."
"Joe has been gifted in the medium of cartooning, and it's just one of the ways he has communicated the Gospel and just one of the ways he has contributed to New Orleans."
McKeever's journey of ministry, including his passion for drawing biblically influenced cartoons, goes all the way back to his time as a student at New Orleans in the 1960s.
Even as a young child, McKeever loved drawing and cartoons, but never used them in any ministerial way.
RELATED: The Gospel is NOT Results May Vary
After feeling a call toward ministry as a 21-year-old, he attended NOBTS and learned to combine his passions for art and ministry.
"I came to seminary at New Orleans because it was such as strategic place," McKeever said. "People from all over the world come there, so if you wanted to touch the world for Jesus that was a great place to start."
He recalls his first time connecting drawing cartoons and biblical ministry when he snuck into his classroom before anyone was there and drew a humorous cartoon about the previous day's lecture on the rapture.
Both his classmates and the professor really enjoyed the cartoon, and McKeever was eventually asked by the school newspaper to contribute a cartoon for each issue.
McKeever told Baptist Press his cartoons have always been designed for good-natured fun, rather than making fun of particular people or issues.
"They were nothing profound, and certainly not anything of a put-down in nature or meant to include any satire. They were just to have fun," McKeever said.
When McKeever began pastoring a local church in New Orleans, he began submitting cartoons, as well as spiritual devotionals, to a newspaper located near the town he was pastoring.
His devotionals and cartoons in the newspaper ended up helping increase attendance at the church as people saw him listed as the pastor in the paper.
The combination of serving in vocational ministry while also producing cartoons and caricatures continued throughout McKeever's life.
McKeever would go on to pastor churches in Mississippi, North Carolina and Louisiana. He and his first wife, Margaret, have three children and several grandchildren.
RELATED: My Single Biggest Regret From a Lifetime of Ministry
She passed away in 2015, and he later married his second wife, Bertha. They often travel together to his ministry engagements, and live together in what they call their "happily ever after."
His cartoons and illustrations have garnered him much notoriety among Southern Baptists as they were featured in various state publications including The Alabama Baptist over the years.
A book containing many of his drawings was released in the 1980s and drawings from McKeever are currently circulated and released daily under the comics tab on the Baptist Press site.
He returned to New Orleans as the director of missions in the Greater New Orleans area during the early 2000s, just before the tragedy of Hurricane Katrina in 2005.
Gary Myers, director of communications for NOBTS, has known McKeever for over 20 years. He has seen his ministry of artwork and preaching make an impact both on the city of New Orleans and in his own personal life.
"He loves the school (NOBTS) because God moved in his life while he was here and even came back later in his life to minister in the area," Myers said.
"He was a connection point to offer New Orleans hope and information about what was going on during that difficult time. He's a special person in my life because of what he's done for the city."
In addition to creating cartoons and illustrations for Baptist publications, Myers said McKeever's drawing ministry has taken on an even more personal element.
McKeever will often visit various events, including the SBC annual meeting, and draw sketches of people with a notepad, frequently using this time to encourage or evangelize to the particular person.
RELATED: 100 Tips for Leaders That Everyone in Ministry Should Know
Myers recounted one example from a previous annual meeting in Indianapolis. While eating at a local restaurant, he noticed a sketch of his server on a napkin on the table and found out McKeever had already visited the restaurant and was drawing caricatures of some of the staff and interacting with them.
"When he's drawing someone it is truly a ministry for him during that time," Myers said. "He used his time of drawing ability for the Gospel many times."
"He has the heart of a pastor and he wants to build people up so that they can be more effective in the Kingdom. I think his legacy is one of discipling, shepherding and pastoring, even in his artwork."
McKeever retired from full-time ministry in 2009, but still continues to travel to speak or draw at various churches, schools and conferences around the country. He also writes devotions on his blog.
As a cancer survivor, he now speaks with a slight speech impediment because of work done on his tongue. Despite this limitation, McKeever said he plans to continue doing ministry-type work long into his retirement.
"God called me into ministry and even though I now have a speech impediment I am using every opportunity that I can," McKeever said during an interview on the way to speak at a conference.
"It (ministry) is important to still do because God has given me a message to tell."
RELATED: 10 Big Things Jesus Said Which We Keep Forgetting
When asked what legacy he hopes his donated content will leave, McKeever said he simply hopes they will encourage future generations.
"I hope people are inspired, blessed and entertained," McKeever said. "I hope the content encourages people to just rejoice in the Lord. The kind of joy the Lord gives is superior to anything else."
This article originally appeared at Baptist Press.