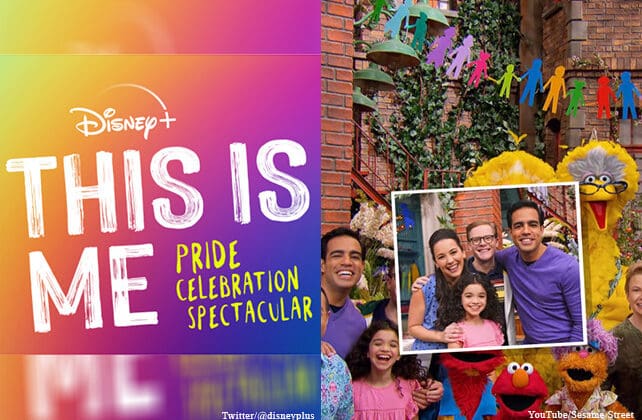 Popular children's entertainment giants Disney and Sesame Street announced this past week that they will celebrate Pride month with children's programming that includes a drag queen and a family with two gay fathers. (Following the precedent of recent U.S. administrations, President Biden officially proclaimed June as a month to recognize LGBTQ individuals across America. The Clinton and Obama administrations made official proclamations about Pride month while former President Trump proffered a less-formal acknowledgement by tweet in 2019, becoming the first Republican president to recognize it.)
Sesame Street
The 52-year-old iconic children's educational television show introduced a family with two fathers during an episode titled "Family Day" on Friday June 18, 2021. The episode portrayed two gay fathers with a daughter. The producer said, "I am so honored and humbled to have co-directed this important and milestone episode. Love is love, and we are so happy to add this special family to our Sesame family. Happy Pride to all!"
During the "Family Day" episode, one of the gay dads named Frank says, "There are all kinds of different families, but what makes us a family is that we love each other."
This isn't the first time Sesame Street has featured LGBTQ themes and guests. Last year Satan Shoes-collaborator Lil Nas X appeared as a musical guest on the show. Ellen DeGeneres, Billy Eichner, and Billy Porter have also appeared on the iconic children's show.
More Disney…
Disney+ announced it will throw a #DisneyPlusPride party by hosting a special event titled "This Is Me: Pride Celebration Spectacular" that will air on June 27, 2021, on Facebook and YouTube featuring the drag queen from the Nickelodeon's Blue's Clues LGBTQ song and parade, Nina West.
Muppets star Kermit the Frog will join the event, which aims to bring awareness to GLSEN, a non-profit organization founded by a group of teachers working to create bully-free school environments for LGBTQ students.
In response, Southern Baptist Theological Seminary's Ethics and Public Theology professor Andrew T. Walker posted on Twitter: "Disney is in the business of catechizing your children."
---
ChurchLeaders original article written on June 3, 2021, below:
President Joe Biden declared on Tuesday, June 1, 2021, that the month of June would be recognized as Pride Month. The tradition was halted during former President Trump's administration, and observed during all of former President Obama's presidency.
President Biden's proclamation said, "Pride is both a jubilant communal celebration of visibility and a personal celebration of self-worth and dignity. This Pride Month, we recognize the valuable contributions of LGBTQ+ individuals across America, and we reaffirm our commitment to standing in solidarity with LGBTQ+ Americans in their ongoing struggle against discrimination and injustice."
"This Pride Month, we affirm our obligation to uphold the dignity of all people, and dedicate ourselves to protecting the most vulnerable among us," President Biden said.
Last month, President Biden reversed the Trump administration's decision to not fly the Pride flag at U.S. Embassies, allowing diplomats to make the decision to fly it or not.
The History of Pride Month
June has been dubbed Pride Month, when the LGBTQ community remembers those who were involved in the Stonewall Riots (also known as the Stonewall Uprising), which took place June 28, 1969. The riots were a series of demonstrations by members of the LGBTQ community after police raided the Stonewall Inn, a gay club in New York City. The riots took place for six days, resulting in violent clashes between demonstrators and law enforcement. A year after the riots, thousands of marchers took to the streets of Manhattan starting at the Stonewall Inn and ending at Central Park. This would be considered America's first gay pride parade.
President Barack Obama declared Stonewall Inn, along with nearby streets and sidewalks, a National Monument in 2016, recognizing the area's gay rights symbolic nature.
Pride Day is celebrated by many LGBTQcommunities on June 28th, which is the same day in 1970 where the first gay pride parade took place. National Today, a website dedicated to "special holidays and moments from around the world" tells Pride participants to "don the colors of the rainbow, get glitter out, and be true to yourself during Pride Month every June."
Children's Entertainment and Toys Display Pride
Lego Toys
Lego toys launched an 'Everyone Is Awesome' set that celebrates diversity. The 346-piece model displays the rainbow flag and includes 11 monochrome mini-figures, each with an individual hairstyle and rainbow color. "I wanted to create a model that symbolizes inclusivity and celebrates everyone, no matter how they identify or who they love," said Lego designer Matthew Ashton. He continued, "Everyone is unique, and with a little more love, acceptance and understanding in the world, we can all feel more free to be our true AWESOME selves! This model shows that we care, and that we truly believe 'Everyone is awesome!' "
Blue's Clues Series
Nickelodeon's Blue's Clues kids' series released a music video that features a drag queen singing along with other animals who appear to be from all descriptions of the LGBTQ community while marching in a parade.
The description on their YouTube page reads, "It's the Blue's Clue's And You Pride Parade and we need you to sing-along as the 'Families Go Marching' proudly!"
Rugrats Series
Nickelodeon announced the reboot of their popular Rugrats cartoon, which will now include a favorite character as openly gay. The cartoon mom has twins voiced by 'Parks and Rec's' queer actor Natalie Morales. Morales said in an interview with The A.V. Club, "Cartoons were hugely influential for me as a kid, and if I'd been watching Rugrats and seen Betty casually talking about her ex-girlfriend, I think at least a part of me would have felt like things might be okay in the future."
Disney
Disney has released products celebrating the June Pride month. Products include apparel from some of their iconic brands, including Mickey, Star Wars, and Pixar.
Disney recently announced the reboot of the favorite kids show 'Proud Family' which will air on Disney+. The reboot will feature an interracial gay dad couple who have a daughter. The gay couple will be voiced by outspoken LGBTQ actors Zachary Quinto and Billy Porter.
Marvel
Marvel announced that their newest Captain America is openly gay. 'The United States of Captain America' will be first LGBTQ-identifying character in the 80-year history of the franchise. The character will be known as "Captain America of the Railways" who is known for protecting runaways and homeless youth.
Kelloggs
The company known for 'Snap, Crackle, and Pop' Rice Krispies, Tony the Tiger, and the iconic Froot Loops' mascot Toucan Sam released a limited edition cereal called 'Together With Pride.' Kellogg's ad slogan reads, "No matter who you are, who you love, or what pronouns you use, you're too awesome to fit in this box."
Lucasfilm
Lucasfilm revealed that Lando Calrissian, the famous 'Empire Strikes Back' character, is a member of the LGBTQ community. StarWars.com released six comic book covers for Pride month highlighting Star Wars characters it says are LGBTQ.
PBS
Taxpayer-funded Public Broadcasting Service (PBS channel) features a drag queen who goes by the name of 'Little Miss Hot Mess.' The character sings a song called "The Hips On the Drag Queen Go Swish-Swish-Swish" to the children's tune "Wheels on the Bus Go Round and Round." The drag queen tells kids: "I think we might have some drag queens in training on our hands." Little Miss Hot Mess said after dancing and singing for the virtual audience, "Being a drag queen is about being bold, shining bright, and showing a little bit of bravery, being willing to step outside the box and to dance to our own beat sometimes."
U.S. Army
The U.S. Army uses an animated ad to inspire youth to join the army. The ad tells the story of real-life Corporal Emma Malonelord, who grew up with two moms, depicting their marriage and a Pride parade. Corporal Malonelord identifies herself as a 'intersectional cisgender millennial.'
The Church and LGBTQ Community
ChurchLeaders Podcast Series
ChurchLeaders.com's new podcast series addresses the LGBTQ community and the church, offering perspectives from important Christian voices like Ed Shaw, Dr. Sean McDowell, Dr. Preston Sprinkle, Rachel Gibson, and others. Listen here.
Biblical Marriage: 'Hate Speech'
In March 2021, a church rally called "Prayer, Faith & Freedom Rally to Celebrate the Natural Heterosexual Family" in Sandy, Oregon hit national news because it was dubbed as hate speech. The rally was held because the Rivers of Living Water United Pentecostal Church said the natural heterosexual family designed by God was under attack "spiritually, politically & socially." They said "Satan wants to destroy the natural family & the unborn."
The rally sparked an LGBTQ community protest that took place directly across the street. In an interview conducted by a YouTube journalist who talked to both parties, a girl from the LGBTQ side said what the church's rally was hate speech. The LGBTQ supporter said, " I was taught that Jesus loves everybody regardless of who you are. So when I see Christians out here saying, spouting, like hate messages, like, 'You're not natural if you're gay,' it's really hurtful and I just hope that we can teach our youth that, you know, Jesus loves you no matter who you are."
Street preacher John Sherwood was arrested in London on April 23, 2021 for making "homophobic statements" while preaching out of Genesis 1 about Biblical marriage. Pastor Sherwood said, "I was doing what my job description says which is to preach the gospel in open air as well as in a church building."
*This article was written to inform readers. It is not an endorsement of any of the mentioned organizations.