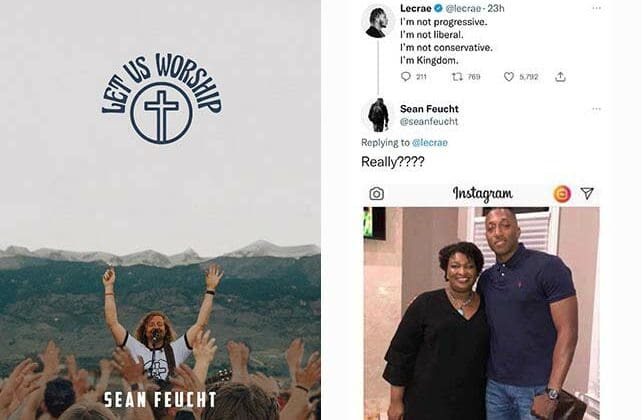 Grammy award-winning Christian hip-hop artist Lecrae told his followers on Twitter last Thursday (Sept. 29), "I'm not progressive. I'm not liberal. I'm not conservative. I'm Kingdom," making it clear where he stands when it comes to the topic of politics.
Political activist and "Let Us Worship" leader, Sean Feucht, posted an image of Lecrae with his arm around lawyer and pro-abortion politician, Stacey Abrams (D), with the caption, "Really????"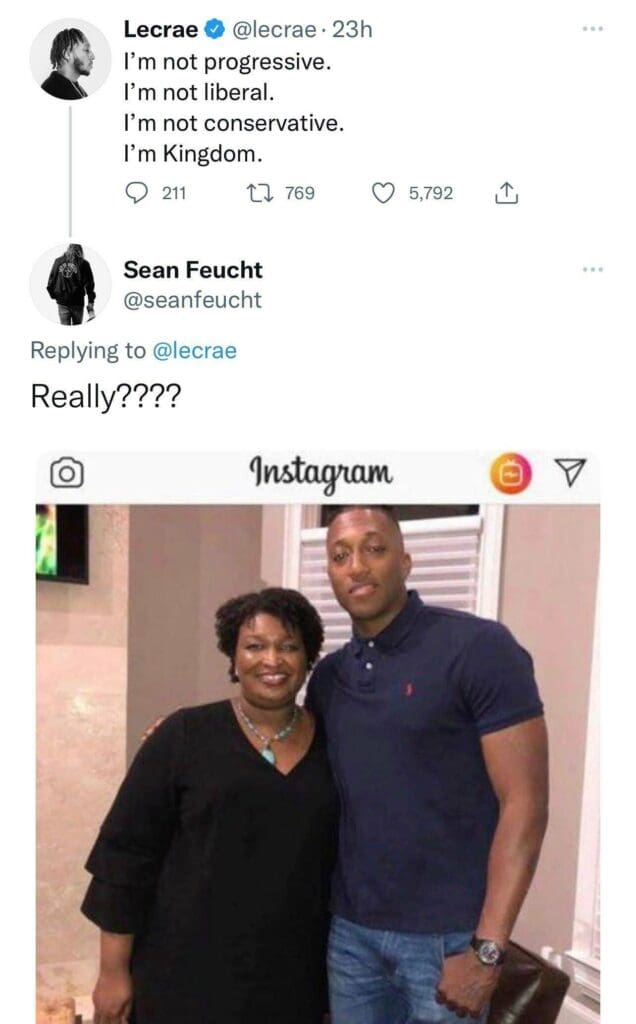 Feucht continued, "What's confusing to believers is that you've even campaigned with extreme progressive pro-abortion candidates (Raphael Warnock (D) and Jon Ossoff (D)) and then claim to be apolitical."
Feucht was referring to a "vote early" rally in Georgia, which was held ahead of Georgia's state Senate runoff elections. Lecrae shared on Phil Vischer's "Holy Post'" podcast that he was under the belief that the event was bipartisan—mistaken information he wasn't unware of until after his performance.
RELATED: EXCLUSIVE: Lecrae and Andy Mineo Talk Deconstruction, Being Labeled Christian, Swearing in Music, and More With ChurchLeaders
Lecrae told those there to support Warnock and Ossoff at a 2020 rally, "We all have a very unique opportunity to continue making a difference in this city [and] continue making a difference in this country and that's exercising our right to vote. So I want to continue to promote that this is a reality of freedom that we get to cherish, especially here in the state of Georgia in the city of Atlanta. In a city of many great historic figures who laid their lives down for us to take right, take ownership of this opportunity. So in the spirit of Dr. Martin Luther King and in the spirit of Andrew Young, I want to continue to remind us that we're free. We are free now to vote. So let's get out there and make sure we do that."
The rapper then performed his song "Set Me Free" from his album "Restoration" singing tot the for the small crowd, "You can pick a side if you wanna You already know who I roll with. You don't want no problems with me. Get these shackles off of my feet."
Both Warnock and Ossoff went on to win their campaigns, Ossoff defeated David Perdue (R) and Warnock defeated Kelly Loeffler (R) to become United State Senators.
Feucht told Lecrae that he would love to understand why he showed support for them at their rally, "I would honestly love to know/understand why (along with probably many others). Feucht then sincerely asked Lecrae if he'd e open to any sort of dialogue.
Lecrae responded to Feucht explaining that the image of him and Abrams was taken four years ago, "I'd hate to think people aren't allowed change their views. One thing I can say for myself I live by my views. They may change but when I believe it I'm all in."
RELATED: Over 5,000 Join Sean Feucht, Eric Metaxas in Times Square: 'There's a Church That's Rising Up That's Refusing To Back Down'
"Dear @staceyabrams, My daughter looks up to you and she's 9," Lecrae captioned under the image of him and Abrams. "Not because she's familiar with your stances and policies, but because you're a highly educated woman of color who fights for what she believes in despite opposition. She sees that she can be more than what society says. Thank you."
ChurchLeaders reached out to Lecrae, who has since hid Feucht's photo. Lecrael's team politely declined to comment any further on his brief interaction with Feucht.
Feucht Explains Why Interacted With Lecrae
Feucht told ChurchLeaders that he doesn't believe that Lecrae is a "bad guy but he knows what he's doing," when he performs at rallies or posts images with politicians on his social media.
RELATED: GOD TV Calls Sean Feucht 'Blasphemous' for Posting Ron DeSantis Tweet; Feucht Leads 11,000 in Worship Over Weekend
"We can't just let these guys, influential people like Lecrae, act like they don't know the stances of the people they're campaigning with and they don't know their agenda they're pushing.," Feucht said. "He 100% knows. He can't claim that he doesn't."
The "Let Us Worship" founder explained, "That would be like me saying, 'I'm not political' and I don't know what the people views that I stand behind are. I have a problem with people that claim that they're not political, but then appear that they deeply are."