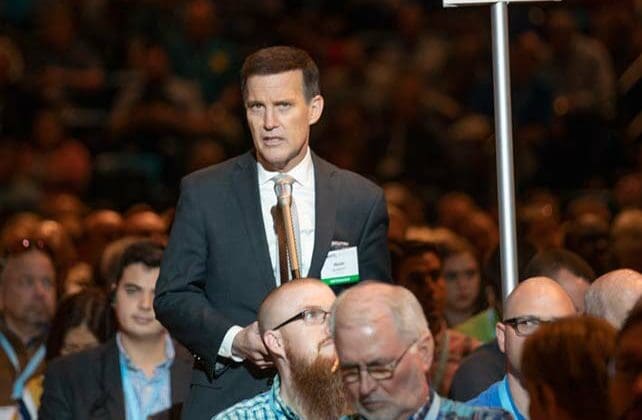 ENID, Okla. (BP) – Proclaiming a platform built on the concept of liberty, Southern Baptist pastor Wade Burleson has announced his intention to run for the United States Congress out of Oklahoma's 3rd District.
"In the fall of 2021, I was approached by Doug Pethoud, a well-connected conservative grassroots organizer about running," Burleson told Baptist Press today. "Doug is a member of the church I pastored. I initially said, 'No, Doug, I have a great number of writing projects and speaking opportunities in churches after I retire. I'm not interested.'"
Burleson, who led Emmanuel Baptist Church in Enid, Okla., for 30 years before announcing in January 2021 plans to retire, changed his mind about political service after speaking with his wife, Rachelle.
"My wife said, 'You'd make a fantastic congressman. Our country needs men like you in Washington.' So I credit my wife for being used by God to give me direction in running for Congress," he said.
Burleson officially made the announcement on Twitter last night, Jan. 31.
RELATED: Ed Litton Urges SBC Executive Committee To Regain Trust of Southern Baptists
In addition to being a pastor, Burleson served twice as president of the Baptist General Convention of Oklahoma from 2002-04 and as a trustee of the International Mission Board from 2005-08. In 1996, he was appointed to the northwest Oklahoma Higher Education Program Board by then-Governor Frank Keating.
Burleson cited a threat of revising history as one motivation for running.
"I have seen an overt, agenda-driven attempt to ruin the reputation of our Founding Fathers, remove from history books the remarkable stories of how our country was formed on the principle of liberty for all, and a creeping socialism in economics, education, agriculture, business and military," he said.
Burleson's knack for publicly voicing his opinions coincided with the rise of blogging platforms in the mid-2000s and eventually placed him at odds with fellow IMB trustees. He disagreed with trustee actions regarding doctrinal requirements for potential missionaries related to "private prayer languages" and issues regarding baptism.
The public airing of those disagreements and conversations with fellow trustees violated the group's standards of conduct and led to Burleson's censure and suspension in November 2007. A letter sent to trustees the next month wasn't accepted as an apology, leading Burleson to resign after the Jan. 30, 2008, trustee meeting.
Burleson was also an advocate for elevating women in ministry and in 2007 made a motion at the SBC annual meeting in San Antonio for the creation of a database of Southern Baptist ministers who had been credibly accused of abuse. That motion was referred to the SBC Executive Committee, which delivered a report during the 2008 annual meeting.
RELATED: SBC Pastor: Denomination Has 'moral obligation' to Fund Database
That report stated that the EC Bylaws Workgroup, tasked with studying Burleson's motion, agreed early on that such a database should be made available to churches. The existence of an established national registry for sexual offenders, however, and issues including church autonomy ultimately changed the workgroup's position. Eventually, it maintained that "prevention of sexual abuse, and proper response when victimization occurs, are best accomplished by churches diligently utilizing procedures, information, and resources already available."
"In 2005, many people had the wrong impression that I am a 'liberal' because of my views on the equality of women and my advocacy for tracking sexual predators in the ministry," Burleson said. "Now, many people consider me a 'hard-core conservative' because of my outspokenness on issues like Critical Race Theory and government intrusion. I'm the same man. The times have changed."
The Republican primary vote is slated for June 28. The general election will take place Nov. 8.
This article originally appeared at Baptist Press.