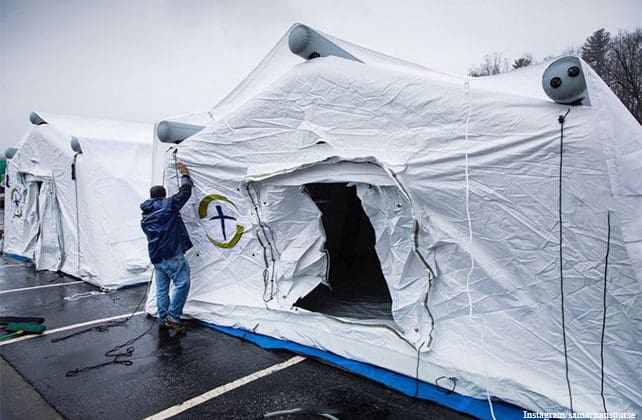 (RNS) Seven months after closing its COVID-19 field hospital in New York City's Central Park, Samaritan's Purse is opening another one to treat overflow patients suffering from the coronavirus in western North Carolina.
The evangelical humanitarian relief organization headed by Franklin Graham will open a scaled-down 30-bed field hospital to help five small hospitals in the region treat COVID-19 patients.
It will be located in Lenoir, in the foothills of the Blue Ridge Mountains, on the grounds of Caldwell UNC Health Care.
Graham, son of the late preacher the Rev. Billy Graham and a staunch supporter of President Donald Trump, was not immediately available for comment.
North Carolina has seen a spike in coronavirus cases this month. As of Thursday (Dec. 31), a record 3,472 people were hospitalized with COVID-19, according to the state Department of Health and Human Services, stretching some hospitals beyond capacity. Some 539,545 coronavirus cases have been reported in the state, and 6,748 have died.
In April, as New York became the epicenter of the pandemic, Samaritan's Purse set up a 68-bed COVID-19 unit in a series of white tents close to New York's Mount Sinai Hospital. The field hospital was outfitted with a respiratory care unit, including up to 10 intensive care beds with ventilators, plus a pharmacy and a lab. Samaritan's Purse doctors treated more than 300 people before the field hospital shut down on May 5.
Later, Samaritan's Purse airlifted a 30-bed field hospital to King Salmon, Alaska, but that hospital was never assembled because the need wasn't great enough.
Samaritan's Purse came under fire from some in New York City after it was reported that contractors working at the hospital — doctors, nurses and other health care workers — had to sign a statement of faith opposing same-sex marriage. The city's Commission on Human Rights demanded that Samaritan's Purse explain in writing how it offers aid to ensure it did not violate the city's nondiscrimination laws.
Graham assured New Yorkers that the field hospital would not discriminate against LGBTQ people in offering care.
Samaritan's Purse will almost certainly find a more receptive response in western North Carolina, where the organization, whose headquarters is just 30 miles north, is well-known and appreciated. Many churches in the area contribute to Samaritan's Purse's "shoebox ministry," which sends Christmastime packages filled with personal care items and small toys to needy children all over the world.
"On behalf of all the health systems participating in this effort, I'd like to thank Samaritan's Purse for making this investment in the well-being of our communities. Planning for this added capacity now will help us provide the level of care our communities need as volumes continue to grow in our region," said Laura Easton, president and CEO of Caldwell UNC Health Care.
The tent facility will take 48 hours to construct and will be ready to begin treating patients next week. It will be limited to those who are COVID-19 positive but do not need the support of a ventilator.