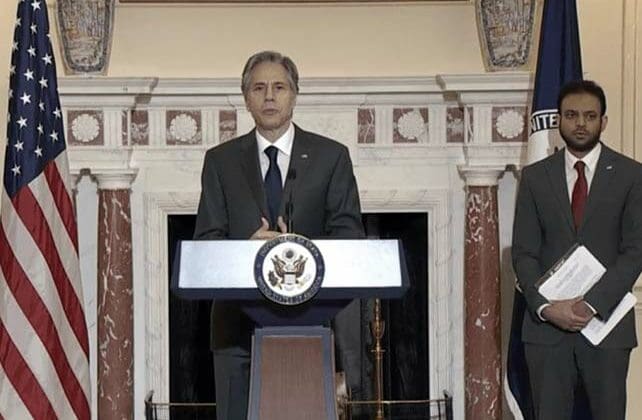 WASHINGTON (BP) – Governments and societies throughout the world continue to violate religious freedom, but progress was made in some countries during the last year, U.S. State Department officials said Thursday (June 2) upon the release of an annual report.
Secretary of State Antony Blinken and ambassador-at-large Rashad Hussain offered their assessments of the global state of the right to believe and practice faith in presenting the State Department's 2021 Report on International Religious Freedom. The report, which is required each year by a 1998 law, evaluated the condition of religious liberty in nearly 200 countries and territories.
"In many parts of the world, governments are failing to respect their citizens' basic rights," Blinken said, adding all societies "must do more to combat rising forms of hate, including anti-Semitism and anti-Muslim sentiment."
Afghanistan, Burma (Myanmar), China, Eritrea, Pakistan and Saudi Arabia are examples of countries where religious freedom is violated, Blinken told reporters at a briefing. Also, the rights of religious minorities "are under threat" in such countries as India, Nigeria and Vietnam, he said.
RELATED: John MacArthur Calls Religious Freedom 'Nonsense': 'We Support the Truth'
Yet, Iraq, Morocco, Taiwan and Timor-Leste are among the countries where "notable progress" was achieved, Blinken said.
Hussain, who received Senate confirmation in December 2021 as ambassador-at-large for international religious freedom, said, "From Jehovah's Witnesses in Russia; Jews in Europe; Baha'is in Iran; Christians in North Korea, Nigeria and Saudi Arabia; Muslims in Burma and China; Catholics in Nicaragua; and atheists and humanists around the world, no community has been immune from these abuses."
Southern Baptist public policy specialist Chelsea Sobolik told Baptist Press after the report's release: "As millions of people face persecution at the hands of their government and millions more are forcibly displaced, the role of the U.S. State Department is increasingly important to ensure that international religious freedom is a top foreign policy priority.
"We must always advocate for governments to cease persecution of their citizens and work to advance protection of life and conscience around the world," said Sobolik, director of public policy for the Ethics & Religious Liberty Commission, in written comments.
Hussain told reporters the primary themes in this year's report are:
"Too many governments use discriminatory laws and policies and abuse their own people.
"Rising societal intolerance and hatred are fueling violence and conflict around the world.
"Powerful collaboration among civil society, governments and multi-lateral partners has led to some progress and provides hope in addressing these complex challenges."
Civil society, which includes religious leaders and organizations, is essential to the work, Hussain said, adding: "Our greatest hope is that together we can unite our efforts to ensure respect for freedom of religion or belief for all people around the globe."
RELATED: Senator to USCIRF: Canada Needs to Be Put On Watch List for Religious Freedom
The report of more than 2,000 pages included this information on some of the worst violators of religious freedom:
Afghanistan has experienced both oppressive governance by the Taliban and increasing attacks against religious minorities by the Islamic State-Khorasan Province (ISIS-K) since the full U.S. withdrawal in August 2021. Religious freedom conditions "have deteriorated dramatically under the Taliban, particularly as they crack down on the basic rights" of females, Blinken told reporters. ISIS-K conducted 152 attacks in 16 provinces between Aug. 19 and the end of 2021, compared to 20 attacks in five provinces during the same time in 2020, according to the United Nations. No known Jews remain in the country, and Afghans who convert to or are studying Christianity reported being threatened, including death threats. Christians and Ahmadiyya Muslims said they still worship only in private and in small groups to escape discrimination and persecution.
Burma (Myanmar) saw "an alarming escalation of grave human rights abuses" by regime forces after a military coup in February 2021, the Office of the United Nations High Commissioner for Human Rights reported. A bombing of a church and a shooting at another, both in May by military forces, resulted in six deaths. The regime had confined 144,000 Rohingya, who are predominantly Muslim, in camps in Rakhine State at the end of 2021, according to the U.N. High Commissioner for Refugees. In March of this year, Blinken announced the designation of "genocide and crimes against humanity" for the Burmese military's campaign against the Rohingya.
China's Communist government "continued to assert control over religion and to restrict the activities and personal freedom of religious adherents that it perceived" as threats to its interests or those of the Chinese Communist Party (CCP), according to multiple reports. Nongovernmental organizations (NGOs) and media again reported deaths in custody, torture, imprisonment and other government harassment of members of registered and unregistered religious groups. "[S]evere societal discrimination in employment, housing, and business opportunities" was reported by Christians, Muslims, Tibetan Buddhists and Falun Gong adherents. In 2021, first the Trump administration and then the Biden administration issued genocide designations against the CCP for its repressive campaign against the Uyghurs, a primarily Muslim group in western China.
Russia's government maintained its favoritism toward the Russian Orthodox Church while continuing to investigate, imprison, torture and/or seize the property of people for their beliefs or membership in some faith organizations, according to religious groups and NGOs. Targets included multiple evangelical Protestant groups, as well as Jehovah's Witnesses and the Church of Scientology. Last year, Blinken placed Russia for the first time on the State Department's list of "countries of particular concern" (CPCs), a category reserved for the world's most severe violators of religious freedom.
In reiterating a pledge of continued U.S. leadership on global religious liberty, Blinken described respect for religious freedom as "a vital foreign policy priority." He said, "[E]ntire societies are better off" when religious freedom is respected, adding, "On the other hand, when governments deny this right, it ignites tension; it sows division; it often leads to instability and conflict."
RELATED: 2022 World Watch List: Afghanistan Is Now More Dangerous for Christians Than North Korea
The State Department report did not include its annual CPC list. Blinken announced the designation of 10 CPCs in November of last year – Burma (Myanmar), China, Eritrea, Iran, North Korea, Pakistan, Russia, Saudi Arabia, Tajikistan and Turkmenistan.
In its annual report in April, the U.S. Commission on International Religious Freedom (USCIRF) called for the State Department to place the same 10 countries on the CPC list this year and add five others: Afghanistan, India, Nigeria, Syria and Vietnam.
USCIRF, a bipartisan panel of nine members selected by the president and congressional leaders, tracks the status of religious liberty worldwide and issues reports to Congress, the president and the State Department.
This article originally appeared at Baptist Press.