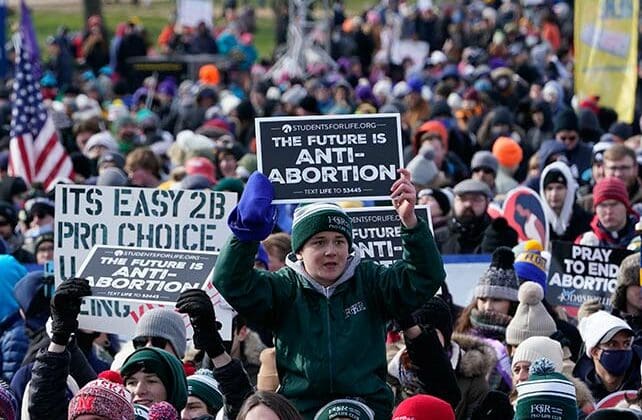 WASHINGTON (BP) – Pro-life lawmakers in dozens of states apparently are preparing for a day, maybe as early as this year, when legalized abortion is no longer the rule throughout the United States.
Legislators in 34 states have introduced at least 175 abortion-related bills – mostly pro-life proposals – already in 2022, according to Americans United for Life (AUL). That number is certain to increase. Five states did not open their legislative sessions until February, while the legislatures of Louisiana and North Carolina will not begin meeting until March and May, respectively. In addition, Texas and three other states do not have regular sessions scheduled this year.
State legislatures are addressing the abortion issue in anticipation of what could be a momentous decision by the U.S. Supreme Court. The justices are expected to rule by June or early July on a Mississippi law that prohibits abortion after 15 weeks' gestation. Many pro-life and abortion-rights advocates believe the justices are likely not only to uphold the law but to reverse the 1973 Roe v. Wade opinion that legalized the procedure nationwide. Such an opinion by the Supreme Court would return abortion policy to the states.
Most state lawmakers are focusing on "what happens after" that decision, said Katie Glenn, AUL's government affairs counsel. "A lot of states are introducing trigger laws or conditional laws that would take effect if Roe is overturned."
For some pro-life lawmakers, their legislative sessions may end before the high court issues an opinion in the case, Dobbs v. Jackson Women's Health Organization. "[T]hey want that law to take effect immediately," Glenn told Baptist Press. "They don't want to have to wait until next January, where the political pressure could be mounting."
Chelsea Sobolik, public policy director for the Southern Baptist Ethics & Religious Liberty Commission (ERLC), also called for state legislators to act now. 
RELATED: I Was Almost Aborted (But That's Not the Biggest Reason Why I'm Pro-Life)
"As we await the Supreme Court's ruling in the Dobbs case, we would encourage every state to prepare now for a potential post-Roe world where abortion becomes unnecessary and unthinkable," she told BP in written comments. "Life-saving laws matter because they rightly protect those who cannot protect themselves. And their passage in these states is proof that advocacy of the pro-life community is making a difference."
The message of AUL – which has written many of the hundreds of state, pro-life laws enacted in the last three decades – to lawmakers, Glenn said, is: "Now is the time to proceed boldly. It's the time to demonstrate to the court that this is well in hand."
The Supreme Court, Glenn said, took the issue out of lawmakers' hands with its Roe ruling and said, "We know better than state lawmakers. We know better than the American people. And we're going to make this decision for you."
"And I think the best thing that we can do right now is to say, 'We won't give up on this. You have not changed our minds,'" she said.
"If there is a bad outcome in this case, we will continue to be dedicated to passing state laws, to supporting women and families through pregnancy centers and through our churches, and [we] will not give up the fight. And I think that's the best thing the court needs to hear – to know that they need to get out of this business because it's not going away."
Some states already have laws in place that would outlaw abortion if Roe were overturned. The Guttmacher Institute, a research organization aligned with the abortion-rights movement, estimates 26 states are sure or likely to prohibit abortion if the high court reverses Roe.
If the justices overrule Roe, AUL's "number one goal is going to be working with states that have laws that are currently enjoined [by courts] to get those laws in effect," Glenn said. "There's no reason to pass a new law if you've got a great law on the books and you can finally enforce it."
Pro-life lawmakers also are giving attention early in 2022 to the dispensing of drugs for chemical or medical abortions, Glenn said.
RELATED: Pro-Lifers Celebrate SCOTUS Decision on Texas Abortion Law
In December, the U.S. Food and Drug Administration issued a permanent rule lifting the requirement a woman must appear in person to receive mifepristone, the first drug in a two-step process known as chemical or medical abortion. While mifepristone may still be dispensed in qualified health-care facilities, it also may be mailed or delivered to a woman by a certified pharmacy.
Many state legislators are opposed to the new rule, Glenn said. "[S]tates are saying, 'If the FDA and the federal government [are] not going to have this in their rules, we're going to pass this into state law."
State lawmakers also are seeking to provide resources for women and families in the event the high court reverses Roe, Glenn said. If abortion becomes illegal, there "will still be women and families that need support," she told BP. "So how can the government either get out of the way so that private charities, churches, pregnancy centers can really step up and help those women or how can the government partner with those groups to help facilitate the kinds of support that we know our neighbors are going to need."
Among proposals already receiving votes or preparing to receive votes this year in state legislatures:
The Indiana House of Representatives passed a bill that would outlaw coercive abortions and require women to be informed that procedures under such circumstances are illegal.
The Florida House is expected to vote Tuesday (Feb. 15) to prohibit abortions after 15 weeks' gestation.
A Georgia Senate committee approved legislation to require an in-person visit for a woman to receive abortion pills.
Meanwhile, New Jersey enacted legislation in January to protect abortion as a fundamental right.
RELATED: Texas Abortion Ban Is Saving 100 Unborn Lives per Day, According to New Data
Voters in Kentucky and Vermont will decide in November on amendments to their state constitutions that were forwarded by their legislatures. Kentucky citizens will vote on a measure that says the state constitution does not protect a right to abortion or require the funding of abortion. Vermont voters will make a decision on an amendment that would ensure the right to an abortion.
The Supreme Court's oral arguments in December regarding the Mississippi law raised the hopes of pro-life advocates and the concerns of abortion-rights defenders that the justices may be prepared to overturn Roe. Mississippi and many pro-life organizations, including the ERLC, asked the high court in briefs to reverse not only Roe but the 1992 Planned Parenthood v. Casey opinion that affirmed that decision but permitted some state regulation of abortion.
This article originally appeared at Baptist Press.