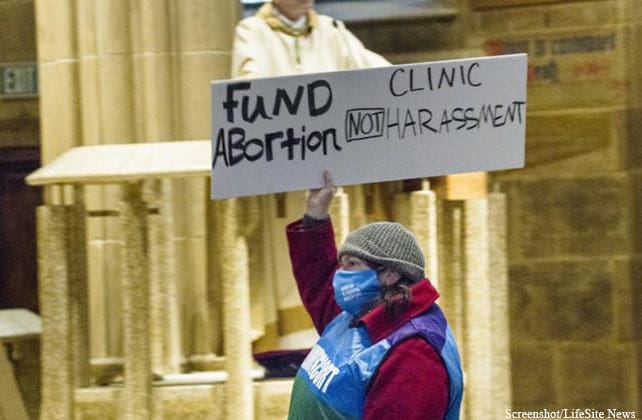 (LifeSiteNews) A group of pro-abortion activists this morning stormed St. Joseph Cathedral in downtown Columbus, Ohio, and disrupted a pro-life Mass that was being celebrated at the time.
During Mass, which was celebrated by local Bishop Robert J. Brennan, eight activists rushed into the Cathedral and then paraded around the pews before reaching the altar, displaying posters with messages that read: "Fund abortion, not cops," and, "Abortion on demand, end Hyde now."
The Hyde Amendment is a legislative provision barring the use of federal funds to pay for abortion, with the exception of certain cases like incest or rape. Pro-abortion President Joe Biden had long supported the Hyde Amendment, but in 2019 changed his position to appease radical pro-abortion voters.
The mostly female group inside St. Joseph Cathedral chanted, "Two, four, six, eight, this Church teaches hate," as they marched around the church before scuffling with police and security, who were trying to escort the protestors out.