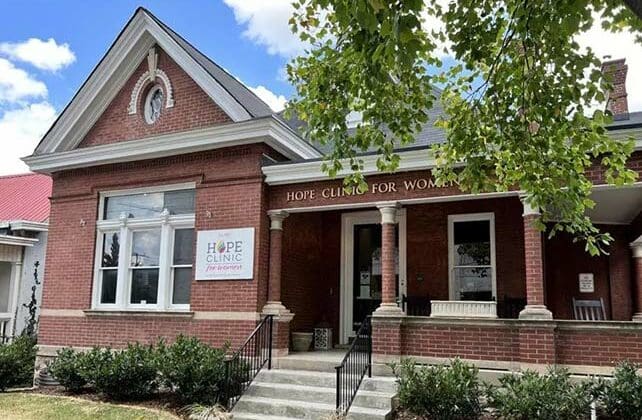 NASHVILLE (BP)—Ongoing attacks on pregnancy resource centers and other pro-life organizations have presented security challenges, but they have not thwarted continuing, faith-based efforts to minister to women in need.
A total of 87 attacks against pro-life entities – including 43 pregnancy centers and 32 churches – have been recorded by the Catholic News Agency since the May 2 leak of a U.S. Supreme Court draft opinion signaling the reversal of the Roe v. Wade decision. On June 24, the high court released its final ruling that returned the issue to the states by overturning the 1973 opinion that legalized abortion nationwide
In recent attacks, two pregnancy resource centers (PRCs) in Minnesota and two churches in Kansas were vandalized between July 31 and Aug. 2.
Southern Baptist pro-life leader Elizabeth Graham described herself as "deeply grieved by the unnecessary violence that is taking place against organizations whose main goal is to care for women."
RELATED: Violence Against Pregnancy Support Centers on the Rise
"Violence and hostility against such organizations does not foster a sense of care for anyone," said Graham, vice president of operations and life initiatives for the Ethics & Religious Liberty Commission (ERLC). "Such actions may actually hinder the ability of women to receive care and thus endanger the life of the mother and the baby."
The needs of mothers and other clients were foremost on Kailey Cornett's mind when Hope Clinic for Women in Nashville was attacked in the early hours of June 30. A Molotov cocktail-type device that failed to ignite was thrown through the front window, and the words "Jane's Revenge" were spray painted on an outside wall.
"[W]hat's been most important to me through all of this is that our focus remains on being a safe place for the women that we serve," said Cornett, Hope Clinic's chief executive officer.
After the vandalism occurred about 1:30 a.m., "it was real important to me that we get the building back into a shape that we could serve the full day of appointments that we had," she told Baptist Press. "And amazingly enough, we got the window replaced [and graffiti removed], and we were able to serve women by noon.
"For the women that are walking in for those appointments, they're not thinking about the politics of the issue," Cornett said. "They're not thinking about our building. They're thinking about their circumstance.  . . .  [A]nd so what I wanted to make sure was that they could rely on us and can continue to rely on us.
RELATED: How Pregnancy Resource Centers Offer Help and Hope in Jesus' Name
"And I am grateful to say we haven't had any hindrances" after that morning, she said.
Hope Clinic is one of two recipients of ultrasound machines through the Psalm 139 Project that have been attacked since the leak of the Supreme Court opinion. The Psalm 139 Project is the ERLC's ministry to help provide ultrasound technology to pregnancy centers and train staff members in its use.
The other Psalm 139 recipient — Agape Pregnancy Resource Center in Des Moines, Iowa – was victimized June 2 in an attack the group Jane's Revenge took responsibility for. The vandals broke windows and spray painted such messages as "God loves abortions" and "this place is not safe" on the outside walls.
The estimated 2,700 or more PRCs in the United States generally provide pregnancy tests, counseling on options, pregnancy and parenting classes, and material assistance. Many provide ultrasound exams, and some offer other health-care services. Ultrasound technology has proved to be a vital tool for PRCs in their ministry to abortion-minded women. The sonogram images of their unborn children have helped many women choose to give birth.
Hope Clinic has increased its security, Cornett said, and other PRCs have done the same.
RELATED: God Allows Women To Choose Abortion, Says Whoopi Goldberg on 'The View'; Elizabeth Hasselbeck Pushes Back
CompassCare Pregnancy Services in Buffalo, N.Y. reopened its building Aug. 1 after spending what a center official estimated at more than $400,000 on repairs and improved security, according to The Buffalo News. Jane's Revenge took credit for the June 7 attack, which included a firebombing of the building. The center maintained its services at another location beginning the day after the attack, The News reported.
Roland Warren – president of Care Net, a network of more than 1,200 Christ-centered PRCs — told BP, "[T]here obviously are some challenges because pregnancy centers don't have the budgets for 24-hour guards" and other security measures.
Care Net encouraged affiliated centers to participate in its Watch and Pray Initiative.
Care Net's view is that this is "a spiritual battle" and not a fight "against flesh and blood, so to speak," Warren told BP, citing biblical language in Ephesians 6:12. The program recommends centers have people, especially men, present in shifts over night at their sites hopefully to deter attacks and to pray for the ministry and for those who are seeking to do harm.
Warren described it as "sort of a biblical version of the Neighborhood Watch program."
Care Net already had a Center Relief Fund and asked supporters in a recent email to help with the $50,000 in damages to PRCs it knows of.
RELATED: Kansas Abortion Amendment's Defeat Prompts Disappointment, Resolve
Probably eight to 10 Care Net affiliates have been vandalized since early May, but the recent violence against PRCs is not unique, Warren said.
"This is being reported on now connected to Roe v. Wade, but we've had instances like this over the years where centers have been attacked," he said. "Unfortunately, it's taken something like this to kind of get this more into the public square."
Vandals broke glass doors and spray painted the message "If abortions aren't safe, neither are you" – a commonly used phrase used in defacing PRCs during the last three months – at Abria Pregnancy Resources in St. Paul, Minn., early Aug. 1, the St. Paul Pioneer Press reported.
Vandalism to the Northfield Women's Center in Northfield, Minn., occurred overnight Aug. 1 and included damage to and spray painting on the front of the building, according to Minnesota-based Alpha News.
Two Lawrence, Kan., churches – Victory Bible Church and Calvary Temple Assembly of God – were defaced overnight July 31, The Lawrence Times reported. Messages spray painted at Victory Bible Church included "Protect choice" and "no forced birth, according to the report." Among the phrases spray painted at Calvary Temple Assembly of God were "My body, my choice," The Times reported.
The vandalism took place before the Aug. 2 statewide vote on an amendment that would have affirmed the Kansas Constitution does not protect the right to abortion. The Value Them Both Amendment failed by a 59-41 percent margin.
RELATED: House Ok's Contraception Bill Despite Religious Liberty, Abortion Concerns
The ERLC's Graham told BP in written comments, "It's clear that the recent reversal of Roe has stirred up many emotions ranging from fear to anger in the minds of many. We shouldn't be surprised when we receive persecution from the world, but we can and will mourn for those affected. It is our job to demonstrate Christ's love, and the world is watching as we respond in this moment.
"We will continue to urge government authorities to care for and protect those faithfully serving their communities, advancing the kingdom of Christ."
This article originally appeared at Baptist Press.