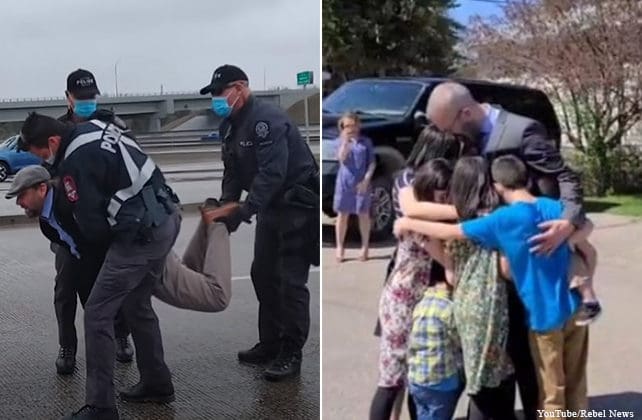 Recently arrested Pastor Artur Pawlowski gave listeners a stark warning in an interview with Rebel News: "They're going to come after you; it's just a matter of time."
Artur Pawlowski told reporter Adam Soos, "We have become political prisoners in Canada because we dare to challenge their corruption…if they can do this to me they can do this to you and anyone that they wish."
The Polish-Canadian pastor and his brother David were arrested on May 8, 2021 and charged with "organizing an illegal in-person gathering." Their crime was holding a church service that violated COVID-19 protocols. After approximately 40 plus hours in jail, they were both released.
The Pawlowskis Detail Their Jail Experience
The pastor said the jail cells they put the pastors in didn't have mattresses, pillows, or blankets–just bare concrete. "If you want to torture someone, deprive them of sleep. And that's exactly what they did." Explaining that after sitting on just concrete for 10 hours straight your body starts to hurt, and it's very uncomfortable.
After there was a shift change, the pastor and his brother's experience changed drastically. The new staff sergeant said, "This is wrong" in regard to the way they were being treated. He gave them Bibles, mattresses, and even made coffee for them. Instead of being treated like an animal, Artur Pawlowski said these guards "treated us like human beings."
Artur Pawlowski shared that one jailer mocked them for their faith. The jailer would walk by their jail cell and wave his hands back and forth in the air saying, "Praise the Lord" as he laughed and pointed at them.
The brothers were transferred to another facility which Artur Pawlowski called "hell." "I thought all of this is about health…about keeping people safe," he said, "What a hoax…what a big fat lie," because he said they were thrown in with 30 other inmates in a filthy cell. The brothers were told that they "were there for our safety and for the safety of Albertans in the middle of a pandemic." This seemed contradictory to COVID-19 regulations they keep being told they are violating.
Police Followed the Pawlowskis Home
After their release, Artur Pawlowski claimed they were followed by the police in a helicopter and asked why? He wondered if it was to make sure this pastor doesn't "feed another homeless man on the way home!"
"When is this insanity going to end? They're doing this to me. They're going to come after you; it's just a matter of time," Artur said. "I think we have fallen very, very low in our country."
Artur Pawlowski is scheduled to appear in court on Thursday May 17, 2021 for a contempt of court order, which he says was never presented to him.
Watch the full interview Artur Pawlowski gave after his release here.
Pastor Tim Stephens Arrested on Sunday
On Sunday May 16, 2021, Fairview Baptist Church's pastor Tim Stephens was arrested in Calgary after leading the 11 a.m. worship service. Like Pawlowski, Stephens was arrested for breaking COVID-19 public health rules that only allow a maximum of 15 people indoors with social distancing guidelines while wearing masks. Stephens has since been released.
Stephens wrote an article posted on the church's website stating, "Restricting the church to 15 people — which essentially restricts the church from gathering — is against the will of Christ and against the conscience of many who desire to worship the Lord of glory according to his Word."
Alberta Pastor Disagrees With Disobeying Restrictions
Rev. Ray Matheson is a retired pastor who is now a congregational care associate at First Alliance Church in Calgary, Alberta, is not supportive of Pawlowski and Stephens' actions. Matheson said, "I feel very sad about what these pastors are doing…it gives Christianity a bad name. I think those pastors believe they are doing the right thing, but I believe they're misguided and they're not following the principles of Scripture or the example of Jesus."
In an interview with Postmedia's Licia Corbella, Matheson told her, "Our persecuted brothers and sisters in Christ around the world would not call what is happening here persecution….Health restrictions placed upon us still allow us to worship God and follow all the essentials of our faith."