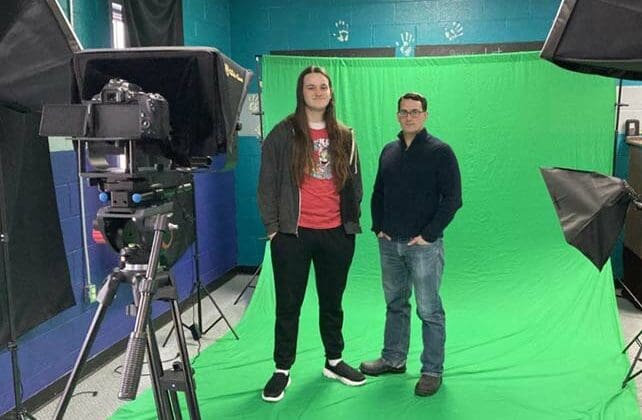 SUMMERVILLE, Ga. (BP) – The videos cover a lot of ground. In one, Sean Wegener goes over the basics of reading the Bible. In another, he explains the background of the Cooperative Program. In yet one more, he's running alongside Anakin Skywalker and Obi-Wan Kenobi on the lava planet Mustafar in a heated lightsaber duel.
All can be found in the Two Minute Doctrine videos Wegener, pastor of First Baptist Church, and video producer Stephen Peppers have been producing for about two years. The videos are actually two minutes-ish, but serve effectively in addressing matters of doctrine and informing church members about the Southern Baptist Convention.
As many churches shut down in 2020 due to the COVID-19 pandemic, Wegener became determined to maintain contact with church members, students in particular, through video. Peppers had proven his skill level as a videographer and, together, they thought of producing something for the church along the lines of "Some Good News," a video series at that time by actor John Krasinski.
RELATED: 10 Star Wars Quotes That (Might) Work in a Sermon
"It failed miserably," Wegener said, laughing.
"Nobody watched it because it was way too long," Peppers said of the 30-minute run time.
They sought an audience with students and the feedback was clear. The videos needed to be funny. They needed to be short and to the point.
"We decided succinct and entertaining at the same time was key," said Wegener.
Peppers, a student at Chattooga High School whose father, Barry, directs the Chattooga Baptist Association, already knew that was important. But it crystallized the direction the two should take.
They eviscerated videos to a run time of two minutes. (Typically, they now go a little longer to include elements like outtakes.) Each begins with Scripture and a doctrinal principle explained by Wegener and includes a quote by a theologian. A similar sense of humor and shared knowledge of pop culture references between the two have helped in writing and inserting jokes.
RELATED: The Pastor's Calling: Spiritual Formation and Discipleship
The results can be found on the Summerville First Baptist Instagram account (@summervillefirst), YouTube and Facebook pages. Two seasons of up to 46 episodes of Two Minute Doctrine are also available on the ACTS2 platform.
In addition to Two Minute Doctrine, videos have updated First Baptist members on mission teams and VBS. The church sent six messengers to the 2022 SBC Annual Meeting in Anaheim, where Wegener and others spoke on daily updates created by Peppers.
Videos from annual meetings have also included appearances by Southern Baptist leaders after an impromptu invitation from Wegener.
In Anaheim, Southwestern Baptist Theological Seminary President Adam Greenway and others from the school took part in one video titled "What is the Purpose of Seminary?" Last year in Nashville, Wegener caught Southern Seminary President Al Mohler in the hall for a similar set of questions.
"He was walking by with a group of people and took time to talk to us. He was kind, clear and concise and at the end asked if we were sure we had everything we needed and if we didn't, we could shoot the video again," Wegener said.
RELATED: Kevin and Sherry Harney: Why It's a Problem If Our Discipleship Does Not Lead to Evangelism
"People don't realize that these entity heads are just Christian guys wanting to tell you about what Christ is doing in the mission they are leading. We asked [International Mission Board President] Paul Chitwood about the IMB without calling or emailing him and basically interrupted his day. But he was so kind and accommodating to give us his time to talk to us."
Personal backgrounds for Wegener and Peppers have been key to their work.
Shortly after Wegener arrived at First Summerville in 2017, he spotted the skinny, 13-year-old Peppers while looking for someone to disciple. Wegener had witnessed the impact of intentional discipleship in the youth ministry at First Baptist Church in McKinney, Texas, under his student minister, Grant Byrd. He had also learned the importance of finding a student's interest, then engaging with that student through the interest in a discipling relationship.
Byrd also gave advice that, at the time, Wegener had no way of knowing would pay dividends today.
"I had felt called into the ministry. But he urged me to look for training in a skill not directly associated with that when I went to college," he said.
Wegener hoped his 10.85 in the 100 meters would be enough to make the Oklahoma State University track team. On looking at the competition, it became clear to him it wouldn't. So he went with in another direction – theater.
RELATED: 'More and More Discipleship'—Ben Roethlisberger Buys Farmhouse for Father-Son Retreats
"I had a little background in that and done some monologues in theater competitions," he said. That same day he auditioned for a theater scholarship and won it.
Those skills have helped him in presenting sermons as a pastor as well as the videos. He has also greatly benefitted from the Ph.D. in Systematic Theology he earned at Southwestern Seminary this spring.
Peppers' background includes online training in video production that led to his current part-time staff position at First Baptist. In taking note of Peppers' talent, a deacon at First Baptist recently contracted him to make videos for Motorola. That job, designed to coincide with the hurricane season, will require Peppers to travel to locations and create videos highlighting Motorola's communication capabilities before and after a storm hits.
All this as he gets ready for his senior year of high school.
"It's really cool for me to be in a church full people who say 'yes' if there's an idea you have," Peppers said. "If you have a passion for something that works to forward the Gospel, they'll support you.
"Last year it was great getting to make videos and be discipled by Sean. This year the church recognized how many hours I was putting into that and voted to pay me for the work. That meant a lot."
First Baptist is a typical county seat church. Summerville is experiencing growth, but in many ways remains a small town. The setting, however, has nothing to do with the capability of churches discipling young people, Wegener said.
RELATED: 11 Obstacles to Effective Discipleship
"I'd like for more teenagers to see that whatever God has given them a passion for, they can use to glorify Christ," he said. "If you want to be a doctor or lawyer, don't just be those things. Look for how you can glorify Christ through them. Your church already has someone involved or interested in those things who can lead you in learning more about that area and how Scripture guides them."
This article originally appeared at Baptist Press.