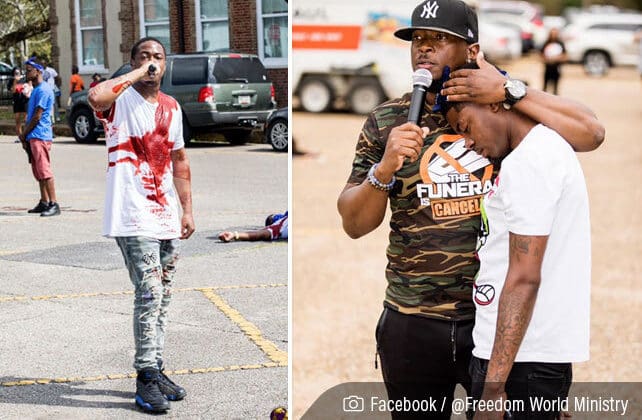 Lafayette, Louisiana's Freedom World Ministries' Pastor Lawrence Levy III brought his 'The Funeral Is Cancelled' live display to the city of Shreveport after experiencing a violent week. Sunday's event was hosted by Western Hills Baptist Church and was planned before Shreveport's deadly week that recorded 10 shootings that resulted in six deaths and others injured.
Pastor Levy said it's up to the people who aren't committing the violence to take charge, and he explained that "'The Funeral Is Cancelled' is basically a depiction of so many things that we deal with on a day to day basis in our country that I don't think we need to have to deal with if we learn how to come together and put it aside."
Described well on a 'The Funeral Is Cancelled's' Facebook post, the organization says, Pastor Levy "is on a mission to bring awareness to the many circumstances that plague our communities by re-enacting scenes and situations so we can visualize the major impacts that separate community unity."
The live display showcases powerful imagery of what violence on the streets really looks like in the hopes of raising the awareness in the community and providing hope to the hopeless. Still images using actors in live scenes of hate that feature KKK members, scenes of drug and alcohol abuse victims, gang-bangers shooting vehicles with victims covered in fake blood, police brutality, gang violence, and a mother holding her lifeless teenager are all depicted within yellow crime-scene tape.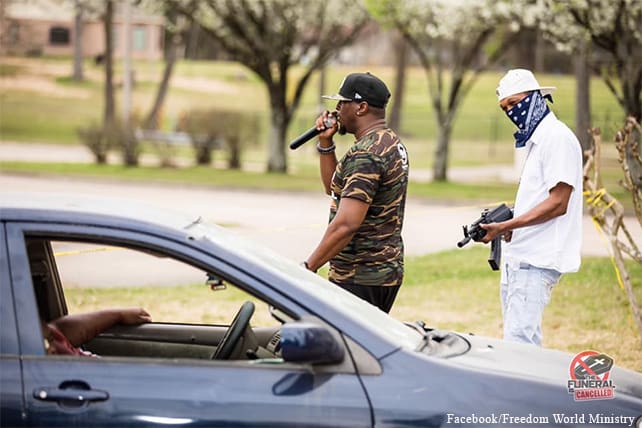 'The Funeral Is Cancelled' stands for more than just ridding the streets of gun violence, Pastor Levy said, "We're cancelling the funeral on racism. We're cancelling the funeral on poverty. We're cancelling the funeral on hatred. We're cancelling the funeral on Black on Black crime. We're cancelling the funeral on police brutality towards our young Black males…this is what 'The Funeral Is Cancelled' is basically geared around."
"We need to see more in our nation today [of] Black and whites unifying to do something to bring peace, awareness, love, joy, and more importantly the love of God to a dying community…a dying generation…and a dying nation," Pastor Levy said as he explained why it was so important to partner with the Shreveport Volunteer Network who serves within the community. The Shreveport Volunteer Network also provided meals and bottled water to the community at the event.
Pastor Levy shared in an interview that his whole message is geared around "unifying everybody…Whites, Blacks, Asians, Hispanics, business owners, ex-felons, ex-cons, drug-gang-bangers, and preachers…basically how can we cultivate a healthy society and a healthy community."
As someone who used to be in the streets, been shot at, attempted to kill someone, and spent time in prison, Pastor Levy said, "I understand the mindset" of the youth living on the streets choosing a violent lifestyle.
Pastor Levy has been doing 'The Funeral Is Cancelled' for over 10 years and travels throughout the United States putting on the event that provides a message of hope for those who are hurting.