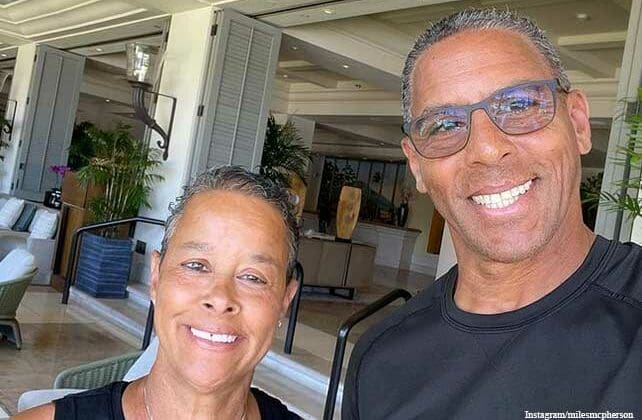 Megachurch lead pastor Miles McPherson of Rock Church in San Diego, California shared over the weekend that his wife Debbie is battling COVID-19 and had to be admitted to the hospital.
McPherson said his wife's complications are serious and cannot be by her side due to it being COVID-19 related.
The pastor posted an emotional video asking his Instagram followers to pray for his ailing wife. "How you doing family," McPherson gingerly started, "I have a special request from you…my wife is in the hospital…" Holding back tears he said, "..from complications from COVID and I just want you to pray for her. I've been in ministry for a long time and I've seen so many people get help and I just want to ask you to pray for my wife Debbie that God would heal and bring her home.
"God knows all the detail about her health," McPherson emotionally said. "I just pray that He will bring her home and she'll be able to breathe on her own."
He wrote this note to his followers that went along with his video:
"Hey family, I need to ask a big favor. I need prayer for my wife Debbie. She's in the hospital due to COVID complications. Needless to say this is serious. What's worse is that I can't be with her. My heart is broken. Please pray for God to heal her breathing and her oxygen levels to normalize and all of her other symptoms to be cleared. God knows what all that means. If you are a hospital worker, thank you for what you do and if you know she's in your hospital, please take good care of my wife. I believe that prayers work family. James 5:16 says "The prayers of the righteous are powerful and effective. Lord Please heal my wife, Your daughter Debbie McPherson. Please bring her home to me. Please fill her room n heart with your peace. I declare Your powerful healing on her life. Lord, you healed the blind, mute, deaf, crippled and even raised the dead. Please heal Debbie. I love my wife!"
On Monday McPherson shared that God was answering the prayers of His people because Debbie oxygen levels were improving. "Lets please give God praise.
Thank you Jesus for the progress in my wife's lungs. You are the great physician," he said.
McPherson posted an update on Wednesday thanking everyone who has been praying for his wife. He explained the effects of COVID isn't a linear process and described it as a roller coaster; going up and down. Although McPherson said he was discouraged, the pastor shared good news that he was able to see her on Tuesday from outside of her hospital room window.
"They rolled her to the window and she got to wave, but she looked very weak," McPherson shared and painted the picture of them both wiping tears from their eyes.
Rock Church's pastor told his followers he wanted to "boomerang" the prayers they have given to his wife back to them. "I'm praying for all of you."
Along with physical healing, protection from discouragement was one of the specific things McPherson asked prayers for Debbie as her emotional health is weary as well.
Debbie sent Miles a text while he was standing outside of her window wondering if he could get her some "In-N-Out" which brought a smile to the pastor's face.
Please keep the McPherson family in your prayers.
You can stay updated by checking in on his Instagram page.