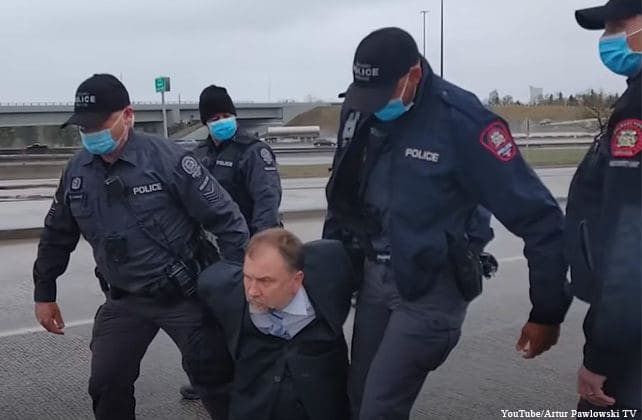 First, the viral video of Polish-Canadian Pastor Artur Pawlowski made it rounds on news outlets and internet screens for his yelling at police to leave the church's property. Then he called them "Nazis" during his church's recent Easter service. Since then, he hasn't been able to keep himself out of the news or watchful eye of the authorities.
This weekend was no different when both he and his brother Dawid Pawlowski were arrested and charged with "organizing an illegal in-person gathering," according to a Calgary police statement. "Including requesting, inciting or inviting others to attend an illegal public gathering, promoting and attending an illegal public gathering," the statement also read.
In a video taken by what appears to be some of Pawlowski's supporters, police can be seen handcuffing the brothers and dragging them off to police cars. Those taking the video can be heard asking the police for their names, badge numbers, and asking, "How do you feel being a Nazi now?" These onlookers accused the police of being part of the gestapo (the secret police of Nazi Germany). "Whatever happened to 'Canada? God keep our land glorious and free'," one of them said to the officers.
Pastor Pawlowski can be heard calling the police "Gestapo-psycho-bots" or "Gestapo-psychopaths" it's hard to tell, while he was on his knees in the middle of the street being handcuffed.
On Thursday April 6, 2021, the Alberta Health Services obtained an order that imposed new restrictions on organizers and demonstrations. The new orders, which apply to worship gatherings, require them to follow public health restrictions which include gatherers to wear masks, social distance, and limit attendance.
None of these orders were followed by the outspoken anti-mask wearing pastor during a worship gathering on Saturday morning prior to his arrest; congregants were without masks and disregarded social distancing guidelines.
In Calgary police's statement they said, "It is important to understand that law enforcement recognizes people's desire to participate in faith-based gatherings as well as the right to protest. However, as we find ourselves in the midst of a global pandemic, we all must comply with public health orders in order to ensure everyone's safety and well-being."