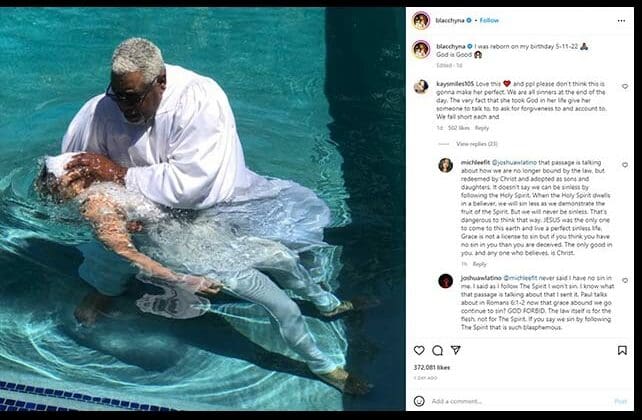 On Thursday (Mar. 23), well-known reality TV star, American model, socialite, former stripper, and OnlyFans star Blac Chyna, whose legal name is Angela White, shared in an Instagram post that she had been baptized.
"I was reborn on my birthday 5-11-22 🙏🏽 God is Good 🙌🏽," the 34-year-old said next to an image of her being immersed in the waters of a pool.
In a recent interview with Daily Mail, White shared that after getting baptized on her birthday last May, she realized that performing and sharing pornographic content wasn't something that God would want her to do. So she quit.
RELATED: 'God Was Just Waiting for Me'–'One Tree Hill' Actress Jana Kramer Shares News of Her Baptism
"I'm not doing OnlyFans anymore," she explained. "I'm kind of past that. It is one of those things where I did what I needed to do at that moment because of the circumstances I was in…besides, with me being baptized, that's just not what God will want me to do. It's kind of degrading."
White found God after searching for how to "become whole" and said that moving forward, she is trusting "God in every step."