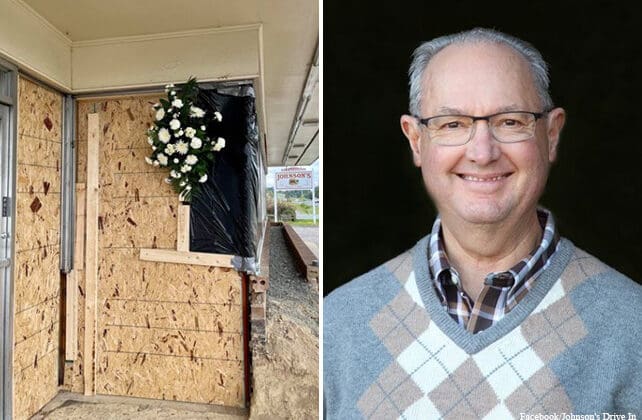 Mark McKinney, pastor of New Life Church in Sliver City, North Carolina, was fatally struck by a vehicle at local hamburger restaurant Johnson's Drive-In last Friday, October 8, 2021. He was 64.
McKinney and his wife Dee are the founding pastors of New Life Church and have served there for the last 22 years. Their son Matthew serves as the associate pastor, and Matthew's wife Jennifer serves as their preschool pastor.
The vehicle was driven by 60-year-old Silver City resident John Salvatore Graviano. According to WTVD News, Graviano was charged with "misdemeanor death by vehicle, failure to reduce speed to avoid an accident and driving left of center."
Graviano crashed into the building after colliding with another vehicle when he crossed the road's center line. Graviano continued driving into oncoming traffic, then into a grassy area near the Johnson's Drive-In's parking lot. His vehicle continued through the parking lot, striking the building, along with patrons who were waiting to receive their food orders.
In addition to striking McKinney and killing him instantly, three others were hit. A 77-year-old woman was airlifted to a nearby hospital and remains in serious condition. A 39-year-old woman and 18-year-old man were taken by an ambulance to be treated for minor injuries.
Related article: Pastor Gerry Standley Killed After Plane Crashes Into Home
Johnson's Drive-In owner Carolyn Routh was in the back of the restaurant at the time of the crash. Explaining what she saw, Routh said, "I was coming around the corner and coming into the front when I heard the commotion and looked out and saw customers scrambling — and then saw the car come through the building."
Routh grew up in Sliver City and took over the the eatery after her father retired this past January. Johnson's Drive-In was originally owned by her grandfather.
Routh said, "This is like seeing your home destroyed, so that's shaken me a little bit, too, but at the end of the day, it's bricks, it's mortar, it's glass; it can all be repaired." Routh sees most of her regular customers as family. "My focus right now, my primary concern are on the people that were hurt," she stressed.
Johnson's Drive-In's dining area is currently closed due to COVID-19 safety measures, so the customers wait outside to order and receive their food.
New Life Church's Statement
The church posted a statement on their Facebook page the day after McKinney's death.
It is with great sadness that we share this news on behalf of the McKinney family and New Life Church, that our Senior Pastor, Pastor Mark, passed away yesterday in a tragic accident that happened in Sliver City, NC. The life that he lived impacted everyone around him. He was an amazing husband to Pastor Dee, father to Pastor Matt and Cara, and Grandpa to four grandchildren. He was a great friend, teacher, Pastor, and mentor to hundreds of people.
He finished strong and he never quit. He fought the good fight of faith and stepped over to Heaven with joy. He won the crown that was laid up for him!!
As you may know, we are all in shock right now. Please continue to love, support, and care for his wife, Pastor Dee. We are looking to God and reflecting on what Pastor Mark would tell us to do in this situation. Thank you for your love, patience, and understanding during this difficult time.
Proverbs 3:5 TPT "Trust in the Lord completely, and do not rely on your own opinions. With all your heart rely on him to guide you, and he will lead you in every decision you make."
McKinney's wife, Dee, asked New Life Church's leadership to read 2 Corinthians 4:8 (TPT) the Sunday after her husband's death.
"Though we experience every kind of pressure, we're not crushed. At times we don't know what to do, but quitting is not an option. We are persecuted by others, but God has not forsaken us. We may be knocked down, but not out," one leader told the congregation. "[Dee] wanted us to reassure everyone that she is not quitting; she is not backing down."
A celebration of life service will be held at New Life Church this Saturday, October 16 at 1pm.