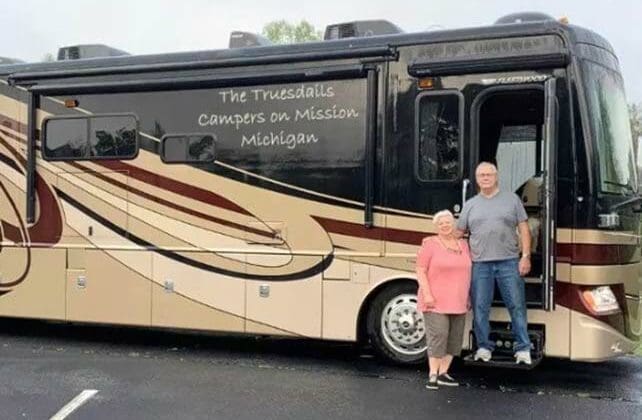 GRAND BLANC, Mich. (BP) – Rick and Cindy Truesdail's retirements a few years ago came with plans. They took their camper and drove to Florida, setting up close to the beach. The couple prepared to take life easy.
"We loved it," said Cindy, "but we also loved working for our church. We figured that God doesn't want us just sitting on a couch."
In 2019 a friend introduced them to Campers on Mission, a national ministry that includes many Southern Baptists. Chapters exist in 30 states and look for ways to connect missions opportunities to those who have made life on the open road anything but temporary.
The Truesdails, members of Heritage Baptist Church in Grand Blanc, had always camped with their kids. They built family memories courtesy of a 37-foot pull-behind camper before moving up to a 40-foot motorhome.
But soon after Cindy retired as a paralegal in Flint's 68th District Court and Rick after 32 years with General Motors, the couple joined others for a different kind of building.
RELATED: Rick Warren: How to Grow A Small Group On Mission
Campers on Mission (CoM) was formerly funded by the North American Mission Board, but now chapters generally fund themselves. The Michigan Baptist State Convention has pledged to help fund its chapter's annual meeting next month as well as the national gathering in 2023.
Speaking from Moorcroft, Wyo., CoM national directors Jerry and Renee McGovern noted that much of CoM's work is with helping Christian camp facilities. But they also work in nursing homes, pregnancy centers, Christian schools and other locations.
"We also communicate with pastors," Renee said. "You name it, they're dealing with it and need to talk to somebody about it. That takes a lot of our time."
The Truesdails lead the Michigan chapter of Campers on Mission, which will have its annual meeting Sept. 8-10 at Bambi Lake Baptist Camp in Roscommon. The chapter will also host the annual CoM meeting next year, June 7-9.
Like the Truesdails, the McGoverns did not feel God wanted them to slow down in retirement.
RELATED: 8 Warning Signs Your Church is Drifting from God's Mission
"I started working as a plumber when I was 19 and worked my whole life at it," Jerry said. "I owned my own business and retired as a master plumber at 55 but then realized, 'You're still young. Get up and go.'"
More are doing just that.
At CoM's most recent annual meeting, the McGoverns shared that membership had grown from 2,460 in 2020 to 3,256 in 2021 to partner with 146 churches and associations. Work hours increased as did the professions of faith, with 71 recorded in 2020 before jumping to 228 last year.
Like other ministries, the COVID-19 pandemic left its mark on CoM in several ways. A significant increase was noted in food ministry work, for instance. But COVID also made people want to get outdoors and go exploring.
According to Kampgrounds of America, Inc. (KOA), the number of people camping at least once during the year increased by 36 percent from 2019-2021. In 2021, 57 million households reported camping during the year.
Initiated in 2015, the KOA annual report revealed another significant finding. Most respondents said in the past that they rented or borrowed a recreational vehicle (RV). Now, 77 percent are owners. In addition, 32 percent said they want to purchase an RV in 2022.
RELATED: Dr. Charles Stanley Says Retirement Is Unbiblical in His Succession Announcement for Megachurch
CoM doesn't require you to have an RV. You can go glamping or stay at facilities nearby. But having your own space brings advantages.
RVs today like the ones used by the McGoverns and Truesdails are also mobile offices and need the space and amenities for one. This fits with the KOA report, which said 46 percent of campers work remotely.
And, of course, there's the mobility. Cindy Truesdail can continue her sewing ministry from their RV. Jerry McGovern had a wish list that he and Renee found in their 40-foot American Tradition – a Spartan chassis for a small turning radius, a Cummins diesel engine for more durability, service trays that slide out.
Many CoM members are retired, but not all. Kids can be involved. It's not unusual for members to take their pets on the road, though not to the work site. And again, you don't need a camper to be a member of Campers on Mission. Some members stay in a van or a camper on their truck bed. Some even stay in tents.
While the organization's strength is in the South and Midwest, it's expanding.
"We have strong chapters in California and Arizona," Renee said.
The strength is in the people, and the work they bring. Jim Shields is quick to correct his initial perspective on this.
"I've been here nine years, and when I heard there were some retirees going to be here for a week, I thought they might just piddle around," said Shields, Camp Team leader for Highland Lake Camp & Conference Center in Martinsville, Ind., which is part of the State Convention of Baptists in Indiana.
RELATED: Listen to John Piper's Iconic 7-Minute-Message that Inspired 'Don't Waste Your Life'
He proudly admits he was wrong.
"Honestly, our camps would not be able to function without them because of their dedication and tireless efforts. There's never a complaint. They park in the designated camping area and we provide their meals while they work for a week or two.
"They do a tremendous job, whether that's painting the interior of a building, hanging drywall or constructing a small building. They're skilled craftsmen and when we give them a project and materials, we just get out of the way.
"Every time they're here I'm amazed at what they accomplish."
This article originally appeared at Baptist Press.