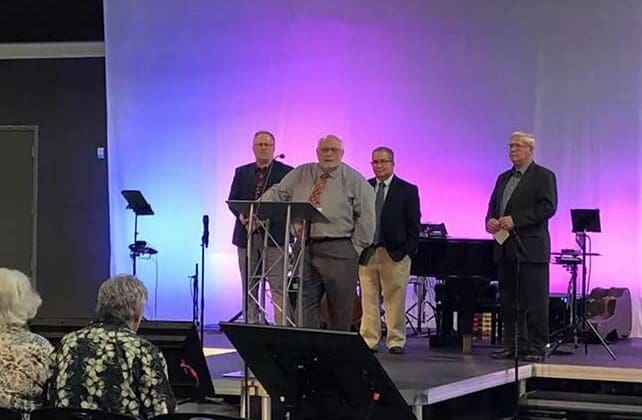 MOBILE, Ala. (BP) – Mobile Mayor Sandy Stimpson has assured Southern Baptist pastors that his appointment of two LGBTQ+ liaisons will not impede religious liberty enjoyed there, Mobile Baptist Association (MBA) Executive Director Thomas Wright told Baptist Press.
The assurance is the result of a meeting between six MBA pastors and Stimpson after the Republican mayor appointed the city's first ever LGBTQ+ liaisons in coordination with the Human Rights Campaign (HRC), a non-profit advocacy group working for the appointment of such liaisons in cities across the nation.
"It is important for biblical Christian citizens to communicate with leaders the individual liberty of the LGBTQ+ agenda does not have to include imposing universal endorsement of that lifestyle on the rest of the population," Wright told Baptist Press.
The MBA requested a meeting with Stimpson after liaison Natalie Fox pledged in a City of Mobile press release "to make sure everyone feels not just safe and supported but celebrated for who they are."
RELATED: Lifeway Research: Pastors Have Clarity on Same-Sex Marriage, Not the Role of LGBTQ+ People in Churches
The Alabama Center for Law and Liberty (ACLL), a Birmingham nonprofit public interest firm, has identified the goal of celebrating the LGBTQ+ lifestyle as consistent "with the Human Rights Campaign to impose restrictions on any one who presents biblical truth in contrast to LGBTQ+ goals," Wright said. "Other cities that began benignly have been encouraged to provide legal authority to silence dissent."
Wright described the MBA's Aug. 15 meeting with Stimpson as "very cordial."
"Mayor Stimpson agreed to uphold religious liberty protections for the significant portion of the population that does not celebrate the LGBTQ/Human Rights Campaign's agenda," Wright said Aug. 21. "Mayor Stimpson also rightly acknowledged the protection of individual liberty for LGBTQ+ persons without their agenda being imposed on others. Many people question the validity of the HRC Municipal Equality Index and why it should have any influence in municipal decisions."
In a letter to Stimpson, the ACLL pinpointed the appointment of LGBTQ+ liaisons in Birmingham in particular as a precursor to criminalizing Bible-based objections to LGBTQ lifestyles.
"In the City of Birmingham, such a move was a prelude to the city passing an ordinance that criminalized religious objections to homosexuality, transgenderism, and the like. It also created a human rights commission to enforce that ordinance," the ACLL wrote Stimpson. "Montgomery attempted to do the same last year after appointing liaisons, but that effort failed. A big part of the reason why is that ACLL led a coalition of seven conservative organizations whose lawyers threatened to sue if the ordinance passed.
RELATED: LGBTQ Artist Semler Joining Christian Band Relient K's Upcoming Tour
"For that reason, I wanted to reach out and send this letter with the pastors meeting with you today to explain why, if Mobile attempted to introduce such an ordinance in the future, it would hurt religious liberty, free speech, and the public safety," ACLL President Matthew Clark wrote. "I fear that the liaisons may try to persuade you that this is in Mobile's best interests and that you should support it. On the contrary, it would be neither prudent nor constitutional."
In addition to Wright, MBA pastors meeting with Stimpson were MBA Moderator Scott Griffith, pastor of Cypress Shores Baptist Church; MBA Second Vice Moderator Kevin Cobb, pastor of West Mobile Baptist Church; former MBA moderator Charlie York, pastor of Highpoint Baptist Church in Eight Mile, and David Roach, pastor of Shiloh Baptist Church in Saraland.
"We assured (Stimpson) of our support for any efforts to protect Mobile residents' liberty to hold and live out biblical convictions regarding human sexuality," Griffith said in an MBA press release.
MBA shared with Stimpson an MBA resolution on the "LGBTQ+ Agenda and Religious Liberty," imploring the city, county and state "to protect religious liberty by rejecting any attempts to compromise the longstanding Judeo-Christian and biblical convictions of the majority of our citizens," urging elected officials "to preemptively pass a religious liberty ordinance that will affirm and protect religious liberty to hold and live out biblical convictions regarding marriage and the family;" and pledging "active support, encouragement, prayers, and good will as our elected officials seek to make this city, county, and state a better place to raise our children."
RELATED: MN Church Hosts 'Drag Me to Church' Event to Attract LGBTQ Community
Wright described the resolution as an affirmation of the need to uphold First Amendment religious liberty protections.
"It encourages municipal authorities and business leaders that a significant portion of the population will never celebrate as normal any lifestyles that are contrary to biblical truth," Wright said. "We offer hope to sinners trapped in behaviors and activities biblical truth warns is not normal. … Jesus offers forgiveness for sin and will replace the fruit of the flesh with the fruit of the Spirit as described in Galatians 5:19-23."
Stimpson's office did not respond to Baptist Press' request for comment.
This article originally appeared at Baptist Press.