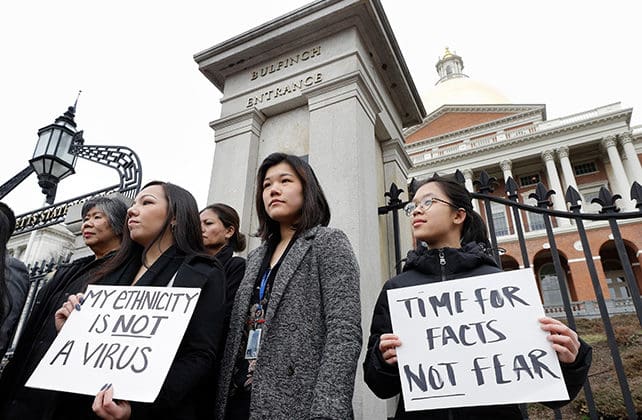 by Raymond Chang and Michelle Ami Reyes
(RNS) On Tuesday (Feb. 16), two Asian women were randomly attacked in New York City; one was punched in the face, the other in the back of the head. This is but the most recent in a spate of anti-Asian violence since the start of a pandemic that was harmfully characterized as the "China virus," the "Chinese Flu," or the "Kung Flu" by former President Donald Trump.
Vicha Ratanapakdee, an 84-year-old Thai American man, was killed in an unprovoked attack; a 64-year-old Vietnamese American woman was attacked and robbed in broad daylight in San Jose; and Noel Quintana, a 61-year-old Filipino American, was slashed in the face with a box cutter as he rode the subway.
These incidents have been skyrocketing at an alarming rate following historic patterns of anti-Asian sentiment and hate that have always been a part of the racialized American landscape.
Asian Americans are suffering under the weight of these mounting incidents. Many, including those in our own circles, have expressed concern about leaving their homes to perform everyday tasks. To add insult to injury is the gaping void of evangelical voices publicly speaking up about anti-Asian violence.
Tim Cook, CEO of Apple, was one of a relatively few well-known voices to speak out on Twitter, saying, "The rising violence against the Asian community is a painful & urgent reminder that we must unite against racism in all its forms. There is no place for hate in our society."
It's sad when you hear more from an economically motivated business leader than your siblings in Christ about the rise in anti-Asian hate.
The church is called to love all of its siblings and neighbors. This includes both its Asian American Christian brothers and sisters and its non-Christian Asian American image bearers of God. While some churches are growing in their support and allyship for the dignity and value of Black lives, the U.S. American church as a whole is still woefully behind in raising its voice for the dignity and value of Asian lives.
In our Black-white racially divided landscape, Asians are erased, expected to be silent and expelled from the imagination. Asian Americans are often forgotten and forsaken when it comes to issues of social import. We want to see the church as a whole declare that Asian Lives Matter.
It is exhausting to appeal over and again to the commonalities we have as image bearers of God (Gen. 1:27). When we ask others to care for us, we are often met with logical arguments minimizing our factually based, lived experiences. We can't tell you how many times we've shared instances where someone has called us a racist Asian slur or treated us in patterns consistent with how other Asian Americans have experienced life in America (in and out of the church), only to find someone say, "That couldn't be true. I'm sure you've misheard that. That's hard to believe it actually happened."
Even after we share evidence of anti-Asian racism on different occasions in different locations, we've had fellow Christians minimize it, argue against it or flat-out deny it. A commitment to the imago dei in everyone should at least make someone approach your situation with humility and compassion, instead of an immediate dismissal because they have never experienced it themselves.
To fully see Asian Americans as fellow image bearers will require an education and a robust understanding of how race operates in our society and within the church.
What is difficult about the conversation on anti-Asian racism is that it often flies under the radar. When racist acts are directed toward Asians, unless they are overt, widely understood racist acts, most people both inside and outside of the church struggle to identify it as racist.
Instead, we have a strong tendency to explain it away as isolated events that have nothing to do with race or minimize it by saying it wasn't really that bad. We often think racism directed toward Asian Americans won't get worse — until we find entire laws have been created to ban us, concentration camps constructed to contain us, juries formed to prevent justice from flowing to our communities, and words used to scapegoat us.
Anti-Asian racism is consistently argued away as never being that bad until it's really bad — and even when it's really bad, our warped nationalistic tendencies leave us neglectful to civically engage in powerful and sustained ways. Civic engagement by and for the Asian American community is often a flash in the pan over a sustained growing burn.
People also need to understand that racism in this country looks different for Asian Americans than it does for African Americans, Latinos and Native Americans. For Asian Americans, racism is often grounded in the "forever foreigner" designation and the "status quo-accepting," "model minority" trope. These two things keep us in a perpetual cycle of silence, minimization and mass dissociation.
This often leads us to say that what we experience isn't all that bad because it doesn't happen as often or in the same ways as it does to other communities of color. This is why there is relative silence and apathy by large swaths of the Asian American community when it comes to these attacks and assaults that have led to death. Many see it as a distant, far-off reality that has no bearing on them until it happens to them or someone they know or happens close to where they are.
The doctrine of the imago dei is the reformation of our time, and its application must extend to Asian Americans. All lives matter because they are made in the image of God. To this end the church must raise its voice. We need to hear an unwavering declaration from pastors in the pulpit that Asian Lives Matter. We also need to see small groups hold discussions on anti-Asian biases and attitudes that might be brewing under the surface.
Pastors and Christian leaders must disciple people away from racialized and racist postures and perspectives that leave Asian Americans (and all racialized minorities) in the margins of our church communities and the broader society. The church can and should take preemptive measures against anti-Asian racism.
In the AACC Statement on Anti-Asian Racism in the time of COVID-19, we called on the church to engage in whole-life discipleship and embrace the teaching and work of Jesus by actively combating anti-Asian racism from the pulpit, in congregational life and in the world. In addition to learning about the impact of racism against Asian Americans and reporting anti-Asian hate incidents to Stop AAPI Hate, we are pleading again with the church to live out this calling and declare with us: Asian Lives Matter.
(Raymond Chang is the president of Asian American Christian Collaborative ( @aachristcollab ) and a campus minister at Wheaton College in Illinois. Follow him on Twitter ( @tweetraychang ) and Instagram @raychang502. Michelle Ami Reyes is vice president of Asian American Christian Collaborative and co-executive director of Pax. She is also the scholar in residence at Hope Community Church. You can follow her on Twitter ( @drmichellereyes ), Instagram ( @michelleamireyes ) and at michelleamireyes.com. The views expressed in this commentary do not necessarily reflect those of Religion News Service.)