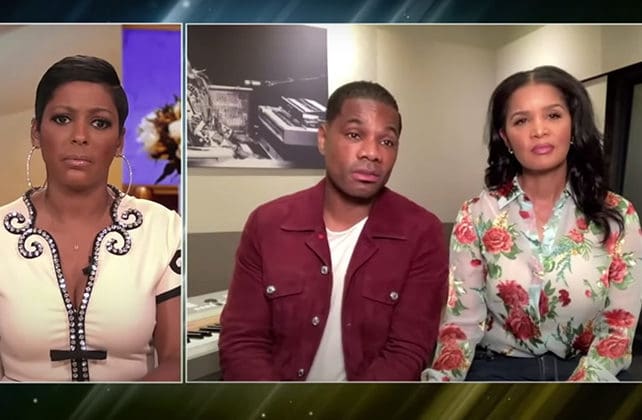 (RNS) Gospel artist Kirk Franklin, following a recently recorded argument with his oldest son, told a talk show host their relationship has not involved physical abuse.
"I'm confident that there hasn't been any physical abuse," Franklin told Tamron Hall in an exclusive interview on her syndicated program on Wednesday (March 17).
Hall interviewed Franklin and his wife, Tammy Collins, on her show that was already scheduled to feature gospel music, including a prerecorded performance by the gospel artist.
The entertainer posted a 59-second video apology on Saturday after one of his sons released an obscenity-laced and physically threatening argument he claimed was with Franklin. The gospel performer said in the video his family has had "a toxic relationship" with his oldest child for many years.
In the 45-second audio recording on the Instagram of @kerrionrashad, two voices can be heard having an argument and yelling at each other.
The older voice can be heard in the audio speaking of not wanting to be disrespected and saying he'd "break your neck" or "put my foot in your a—" if he is.
The younger voice says at the end of the recording, "He just hung up the phone. 'I'll break your neck.' Is that a threat?"
Hall asked Franklin how he responds to accusations of Kerrion Franklin, 32, about parental abuse.
"I'm confident that his mother, myself, Tammy, my family, there's never been anything physical that concerns me or even makes me uncomfortable because I know the truth, he knows the truth, and I love him," the elder Franklin told Hall. "And as a grown man, I am still his dad and when it becomes aggressive, I still have to have a level of respect."
He later added: "I mean, we've had therapy and counseling sessions and documentation long enough to know that the deeper issue is, we've been just trying to help our son."
Collins, who has a blended family with Kirk Franklin and four children, added she was not on the recent call that was posted on Instagram.
"I can tell you that it has been a very hard and difficult situation with our family for years," she told Hall.
The show attempted to reach Kerrion Franklin for comment but he did not respond before the taping occurred.
Shawn Ewing, Kerrion Franklin's mother, spoke about the situation Tuesday in an interview on the online program "The Heart Beat." She told host Ericka English that Kirk Franklin informed her of the latest developments with their son.
"Sometimes it's very difficult; sometimes we lose our cool," Ewing said. "We don't condone violence or threatening but discipline is important."
In her TV interview, Hall asked Kirk Franklin if he respects his oldest son. The father said he does but said sometimes they haven't spoken for one or two years.
"I respect Kerrion," he said. "I'm not Kerrion's equal, though. I'm not his equal. I'm his dad."
Kirk Franklin ended the interview by saying his fans had a right to be disappointed in his use of language.
"I have a history of a toxic, challenging, turbulent relationship with a grown man now that I'm still trying to fight for," he told Hall. "And in that fight it can become so difficult that my humanity, unfortunately that day, won. And I'm going to keep trying, while still continuing to admit that I am an imperfect man fighting to serve a perfect God."